Surgical treatment of deeply infiltrating endometriosis in tertiary treatment centers
By:
Demet Candaş Green
- Jul 5, 2019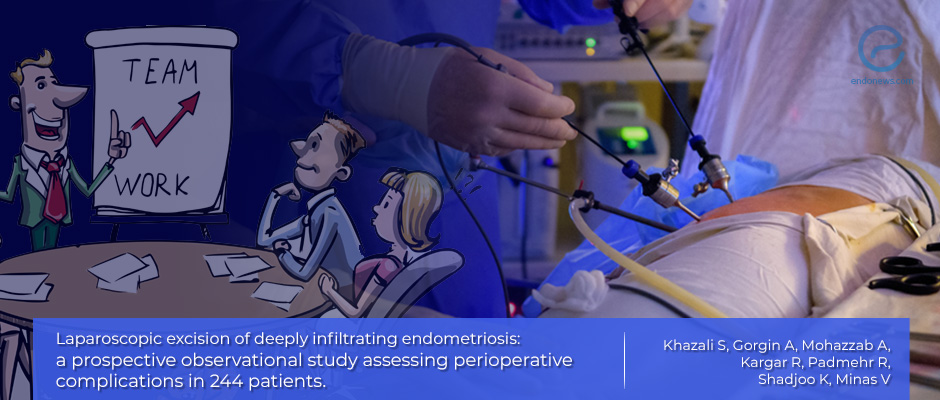 Multidisciplinary approaches that combine different laparoscopic techniques to excise all visible deeply infiltrating endometriosis produces the safest outcomes and low complication rates
Key Points
Highlights:
A combination of nodule shaving and bowel resection laparoscopic techniques for the complete excision of all visible deep ingiltrating endometriosis (DIE) within a tertiary referral center results in low complication rates.
Importance:
Laparoscopic excision of DIE is considered one of the most challenging procedures in gynecology.
What's done here?
A prospective study of 244 consecutive patients, who underwent radical laparoscopic excision of all visible DIE studied.
Surgical complications in patients undergoing laparoscopic excision of DIE examined.
Data collected: demographics, baseline characteristics, intraoperative and postoperative data up to 1 month following surgery.
Key results:
Major postoperative complications occurred in 3 and minor complications in 27 patients.
Segmental bowel resection was performed in 34, disc resection in 7, rectal shave in 53 patients.
A joint operation by a gynecologist and a colorectal and/or a urological colleague was required in 29.6% of cases.
The mean operating time was 223.8 min, and mean hospital stay was 2.9 days.
Limitations of the study:
This study examines the data from only one tertiary referral center. Data from other centers should also be evaluated to reach general conclusions regarding these centers' outcomes.
Lay Summary
In the present study, data from patients who were surgically treated for deep infiltrating endometriosis (DIE) in a tertiary referral unit, the Avicenna Centre for Endometriosis and Minimally Invasive Gynecology (ACEMIG, Tehran, Iran), were examined for rates of intraoperative and postoperative complications.
This observational study included 244 women, aged 15–55, who underwent laparoscopic surgery to DIE at ACEMIG between September 2013 and August 2016. "ACEMIG" is one of the very few referral centers for women with severe endometriosis in Iran and achieved accreditation as an endometriosis center by the British Society of Gynecological Endoscopy in 2015.
Laparoscopic excision of DIE represents one of the most difficult procedures in gynecological surgery. Given the complexity of the disease, the European Society of Human Reproduction and Embryology has recommended the creation of tertiary referral centers for the treatment of DIE. The multidisciplinary treatment approaches offered in such centers is thought to promote accurate diagnosis and safe management of women with DIE.
In this study, about one-third of the patients were operated jointly with a colorectal and/or urological expert. Simple shaving technique was used where the infiltration was superficial, and all the visible disease could be completely excised. Bowel resection was used for patients with a single nodule of more than 3 cm in diameter, or multiple nodules, or nodule(s) causing bowel stricture. Disc resection was considered for patients with an isolated single nodule of less than 3 cm in diameter. The final decision was reached jointly with the colorectal surgeon at the time of surgery, following the palpation of the nodule vaginally, rectally and laparoscopically, and assessment of bowel stricture.
The study focused on surgical complications occurring during the perioperative period, which includes the preoperative, intraoperative, and the postoperative phase (until one month postoperative in this study). The overall major complication rate was 2.8%. The mean length of stay in hospital following surgery was 2.9 ± 1.5 days (range 1–11 days).
"The multidisciplinary approaches taken by these tertiary treatment centers were instrumental in maintaining low complication rates in cases with extensive DIE involving the intestinal and/or urinary tract", concluded the authors.
---
---
Laparoscopic excision
deeply infiltrating endometriosis
complications
tertiary referral centers
DISCLAIMER
EndoNews highlights the latest peer-reviewed scientific research and medical literature that focuses on endometriosis. We are unbiased in our summaries of recently-published endometriosis research. EndoNews does not provide medical advice or opinions on the best form of treatment. We highly stress the importance of not using EndoNews as a substitute for seeking an experienced physician.
<< Previous Article

Next Article >>