Surgery for Deep Endometriosis
May 18, 2023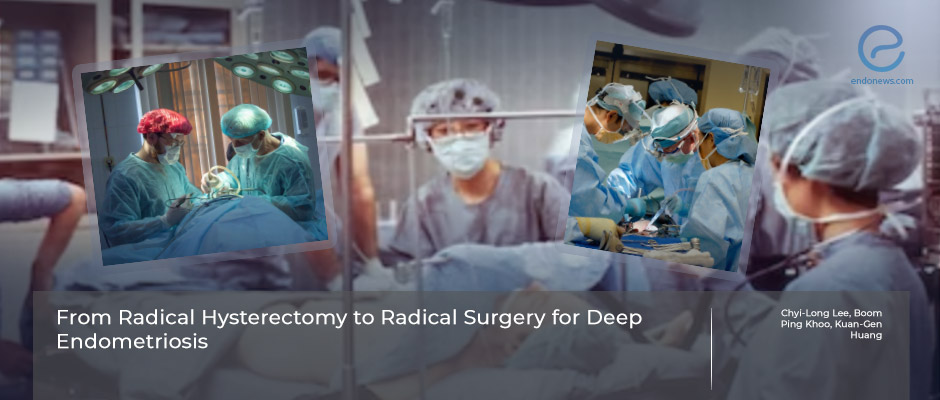 Laparoscopic radical hysterectomy techniques are promising for the cure of deeply invasive endometriosis.
Key Points
Importance:
Radical surgeries are important in treating deeply invasive endometriosis, besides gynecologic cancers.
Highlights:
The author's hospital data showed that "standardization and experience influence the survival of laparoscopic radical hysterectomy (LRH) for cervical cancer.
According to their data again, by applying laparoscopic radical hysterectomy techniques, DIE can be resected entirely without causing complications.
What's done here:
Outlines:
Surgeons' capability is a critical factor in the success of the surgery.
Training and certification of surgeons with standardized laparoscopic techniques are essential.
Following the routes for recommended minimally invasive laparoscopic surgeries will show the superiority of MIS to open abdominal surgeries in the future.
Asian countries will continue to train their junior doctors to preserve laparoscopic cancer and DIE surgery for the coming generations.
Lay Summary
In recent years, minimally invasive surgery has gained popularity, providing the best results in gynecologic cancers and deeply infiltrated endometriosis. With the help of a high-definition camera displayed on a TV monitor, the small structures are enlarged 4-7 times and create visibility for detailed dissection of tissues.
Based on several key reports, the National Comprehensive National Negatively impacted and changed the guidelines on managing cervical cancer. These guidelines recommend an open laparotomic approach to cancers instead of minimally invasive surgery.
Drs. Lee, Khoo, and Huang from the Department of Obstetrics and Gynecology of Chang Gung Memorial Hospital, Taiwan, wanted to share their divergent view on the issue and recently published this paper in a medical journal named Gynecology and Minimally Invasive Therapy.
After the change in surgery strategies for cervical cancers, European practices showed a threefold reduction in laparoscopic approaches in 2020. Instead, an increase was detected in open abdominal surgeries. Despite the European surgical strategies, Asian countries continue to work with laparoscopic radical hysterectomy techniques in both cervical cancers and deeply infiltrating endometriosis.
Their team created seven strategies for the surgical management of deeply infiltrating endometriosis, which is (1) restore pelvic anatomy, (2) identify uterosacral ligament, (3) identify ureters, (4) create pararectal space, (5) create pre-rectal space (6) excise DIE and (7) adhesion prevention.
---
---
deeply infiltrated endometriosis
radical hysterectomy
open abdomen surgery
minimally invasive surgery
endometriosis.
DISCLAIMER
EndoNews highlights the latest peer-reviewed scientific research and medical literature that focuses on endometriosis. We are unbiased in our summaries of recently-published endometriosis research. EndoNews does not provide medical advice or opinions on the best form of treatment. We highly stress the importance of not using EndoNews as a substitute for seeking an experienced physician.
<< Previous Article

Next Article >>