Searching new biomarkers for endometriosis
By:
Selma Oransay
- Jun 12, 2019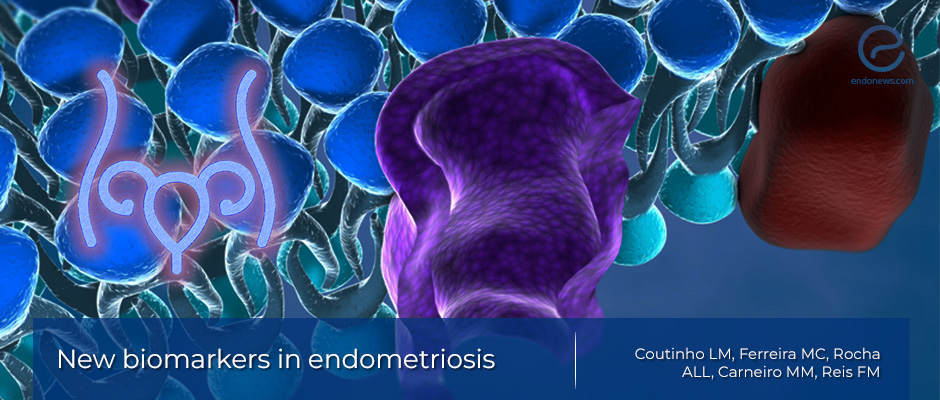 The lack of a biomarker in endometriosis is due to the heterogeneous nature of this disease.
Key Points
Highlights:
Although endometriotic implants may have specific potential products, no specific antigenic product or molecule found yet for diagnostic purposes.
Importance:
Like other inflammatory and systemic diseases, biomarkers for diagnosing endometriosis may result in false positivity depending on putative endometrial products and their biochemical signs.
What's done here:
Authors reviewed the database of endometriotic biomarkers in the literature and summarised their value and their weakness.
This is a meta-analysis examining more than 15,000 patients with a total of 122 biomarkers. After eliminating the studies with poor methodological quality and inconsistent studies, only 4 potential biomarkers were evaluated:

Anti-endometrial antibodies, Interleukin-6, CA-19-9, and CA-125.
Key results:
To determine a biomarker for endometriosis is difficult as other inflammatory conditions could alter the results. On the other hand, small or superficial endometriotic lesions usually do not lead to biomarker elevation in the peripheral blood.
Biomarkers which are produced by endometriosis foci can be obtained from peripheral blood, urine, peritoneal fluid, and uterine samples.
None of the above four markers have reached the criteria to be recognized as a replacement diagnostic tool or a triage test.
Currently, the most commonly used and efficient biomarker for endometriosis diagnosis is serum Ca 125, which has still unsatisfactory sensitivity and specificity.
Even if Ca 125 values may have a trend for higher specificity in advanced endometriosis, it still can not be used as a screening test (Hirsh et al).
Lay Summary
This recent article published in Advances in Clinical Chemistry, is an overall summary of characteristics, physiopathological theories, diagnostic approaches and variety of biomarkers to diagnose endometriosis and penned by Coutinho et al. from Universidade Federal de Juiz de Fora, Belo Horizonte, Brazil.
Endometriosis, a disorder with a broad spectrum of clinical presentation, varying from superficial implants in the peritoneum, to ovarian endometriomas, and deep infiltrating lesions and even outside the pelvis. The absence of a currently available non-invasive diagnostic method and the nonspecific clinical presentation of the disease makes the definitive diagnosis of endometriosis difficult and complicated, resulting in a long gap until the confirmation of appropriate diagnosis.
Accordingly, most studies intend to discover non-invasive or minimally invasive biomarkers to be used as diagnostic tools, rather than to understand its real pathophysiology. Although more than 15,000 patients included in the review along with the assessment of 122 biomarkers, most of the studies enrolled were either had a small size, methodological quality was poor or the results were inconsistent perhaps based on the different cutoffs or menstrual cycle phase alterations. Thus, the current meta-analysis was performed for four potential biomarkers, namely anti-endometrial antibodies, Interleukin-6, CA-19-9, and CA-125.
As the criteria for an accurate triage diagnostic test should have more than %95 sensitivity and %50 specificity, none of the markers investigated above could reach the criteria to be recognized as a diagnostic or a triage test.
The most commonly used biomarker for endometriosis diagnosis, currently, is serum Ca 125, still, does not have satisfactory sensitivity and specificity. Serum Ca 125 values have a trend for higher specificity in advanced endometriosis, but this can not be used as a screening test (Hirsh et al).
In this paper, the authors outlined all the factors known to be involved in endometriosis pathophysiology along with the discussion of their putative role as biomarkers, including hormones and hormone receptors, cytokines, chemokines, oxidative stress markers, angiogenic molecules, glycoproteins, molecular biology-bioinformatically determined molecules and the so-called "-omic" sciences (genomics, transcriptomics, proteomics, metabolomics, etc.), and recent imaging techniques, they mentioned that there is still a "long winding road from bench to bedside", and concluded that "The search for a biomarker or a set of biomarkers is still open and may benefit from novel molecular biology and bioinformatics approaches to mine and uncover molecular signatures specifically associated with the disease".
Being a heterogeneous entity and having several molecules altered in the peripheral blood of these patients it could be considered that search of new biomarkers to identify the different phenotypes of the disease should be continued.
---
---
biomarkers
hormones
cytokines
chemokines
oxidative stress
angiogenic factors
glycoproteins
omics technologies
heterogeneity of endometriosis
DISCLAIMER
EndoNews highlights the latest peer-reviewed scientific research and medical literature that focuses on endometriosis. We are unbiased in our summaries of recently-published endometriosis research. EndoNews does not provide medical advice or opinions on the best form of treatment. We highly stress the importance of not using EndoNews as a substitute for seeking an experienced physician.
<< Previous Article