Could a defect in phagocytosis cause endometriosis?
Jun 11, 2019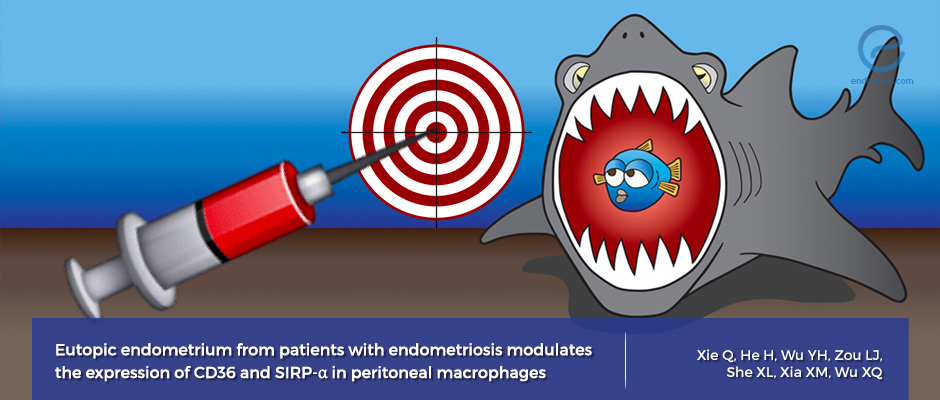 The macrophages are important immune cells in the peritoneal cavity because they function to remove aberrant cells or tissues by the process of phagocytosis.
Key Points
Highlight:
This study investigated the alterations in peritoneal macrophages derived from women with endometriosis by examining two molecules

signal regulatory protein-α (SIRP-α) and
CD36, which are important for macrophage phagocytic ability.
Importance:
By binding its ligand, SIRP‐α initiates a signal cascade, ensuing inhibition of phagocytosis by macrophages, conveying "don't eat me" message. CD36 serves as a scavenger receptor and destroys the phagocytic capacity of macrophages.
Accordingly, by modulating the above molecules, the phagocytic ability of peritoneal macrophages could be restored in women with endometriosis.
What's done here:
Peritoneal macrophages and peripheral blood mononuclear cells were isolated from women with endometriosis and control participants.
The expression of SIRP-α and CD36 was measured.
Intervention studies using nuclear factor kappa-B (NF-κB) and transforming growth factor (TGF-β) inhibitors examined.
Data:
Limitation:
A small number of participants may introduce study bias.
Lay Summary
The macrophages are important immune cells in the peritoneal cavity because they function to remove aberrant cells or tissues by the process of phagocytosis. In endometriosis, there is an increased number of peritoneal macrophages and heightened production of inflammation molecules such as cytokines and interleukin. The inadequate activation of macrophages in endometriosis can lead to their compromised function with reduced phagocytic capacity, thus contributing to poor clearance of endometrial lesions, resulting in endometriosis.
Two molecules important for the regulation of phagocytic capacity of macrophages are the signal regulatory protein-α (SIRP-α) and CD36. SIRP-α is a receptor selectively expressed in myeloid cells such as macrophages and neuronal cells. The expression of this receptor on macrophages inhibits the initiation of phagocytic events through binding its ligand, CD47 by conveying a "don't eat me" message.CD36 is a membrane glycoprotein expressed and serve as scavenger receptor involved in multiple processes to clear oxidized low-density lipoprotein and apoptotic neutrophils. It is important to mediate phagocytosis in macrophages and to promote degradation and clearance of ectopic cellular debris in endometriosis.
Xie et al. from the Departments of Obstetrics and Gynecology and Pathology, The Second Xiangya Hospital of Central South University, China, investigated the expression of SIRP-α and CD36 in peritoneal macrophages from women with endometriosis and control participants. In their paper published in "The Journal of Obstetrics and Gynaecology Research", the authors hypothesized that in endometriosis, the macrophages have abnormal receptor expression, resulting in poor phagocytosis of endometrial fragments shed during menstruation, ultimately leading to endometriosis. The expression of these receptors was further studied in conditions of endometrial homogenates or serum from patients with endometriosis or control participants. A total of 22 women with histologically diagnosed endometriosis participated in the study.
Peritoneal macrophages isolated from women with endometriosis had higher expression of SIRP-α and a decreased expression of CD36 compared to control participants. When macrophages derived from THP-1 cells were incubated with eutopic endometrial homogenate, SIRP-α expression was increased, whereas the CD36 expression was decreased. IL-6 induced the downregulation of SIRP-α and the upregulation of CD36, NF-κB inhibitor decreased the expression of both CD36 and SIRP-α, whereas TGF-β inhibitor increased the CD36 expression when these macrophages treated with eutopic endometrium.
This study is limited by a small number of the cohort which may result in study bias. Nonetheless, the data suggest that increased SIRP expression combined with a decreased CD36 expression in peritoneal macrophages may lead to impaired of phagocytosis and insufficient removal of endometrial lesions by peritoneal macrophages, which then contribute to the development of endometriosis. TGF-β inhibitor is a potential therapeutic target to enhance the CD36 expression on macrophages to support phagocytosis of eutopic endometrium.
---
---
immune cells
targeted treatment
CD36
NF-κB
TGF-β
DISCLAIMER
EndoNews highlights the latest peer-reviewed scientific research and medical literature that focuses on endometriosis. We are unbiased in our summaries of recently-published endometriosis research. EndoNews does not provide medical advice or opinions on the best form of treatment. We highly stress the importance of not using EndoNews as a substitute for seeking an experienced physician.