Racial and ethnic disparities and women health
By:
Selma Oransay
- Jun 30, 2020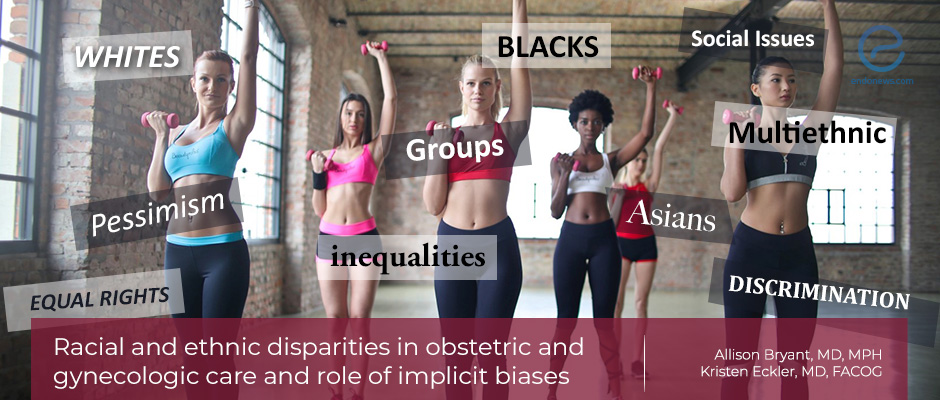 Implicit bias may play a role in inadequate healthcare in women health
Key Points
Highlights:
The American health system, despite reforms, doesn't allow proper access to health services more likely for racial/ethnic minorities.
Importance:
Socioeconomically disadvantaged populations, underserved rural populations, and gender minorities in the US have additional difficulties to take advantage of access to services for obstetrical complications and costly techniques such as Assisted Reproductive Techniques.
What's done here:
Dr. Bryant discussed racial and ethnic disparities in Obstetrics and Gynecology practice through documented examples.
Maternal death and morbidity, obstetrical complications, gynecologic cancers, and operations to indicate the present healthcare system in the US and the sources of health disparities are discussed.
Background:
A definition as "a health disparity population" made by "National Institutes of Health" is one of the clues that there is a significant disparity in the overall rate of disease prevalence, morbidity, or mortality in a specific population.
In the US these populations include Blacks/African Americans, Hispanics/Latinos, American Indians/Alaska Natives, Asian Americans, Native Hawaiians, and other Pacific islanders with sexual and gender minorities.
Biologic variation and socioeconomic differences are not quite enough to explain the discrepancies of health outcomes between black and white populations.
Health outcomes may be partially related to the patient-level variability such as genetics, education, environment, eating habits. But given health care for the patients is not working as standardized when they reach to the system in the US. Health screening, like screening breast and cervical cancer, are examples of these inequalities.
Lay Summary
The well documented racial and ethnic disparities in Obstetrics and Gynecology in the US make available to use them as an indicator of implicit bias in giving unequal health and care service to minorities.
Dr. Bryant from Massachusetts General Hospital, Boston, Massachusetts, USA, discussed the concerning inequalities of health care practices related to race/ethnicity globally and their effect on women's reproductive health in the US, in his recently updated study published in "Uptodate".
The author gave examples from the literature about the topics concerning obstetrics and gynecology practice such as maternal death, severe maternal morbidity, postpartum hemorrhage, preterm birth, gestational diabetes, obstetrical anal sphincter injury, hysterectomy routes and outcomes, gynecologic cancer mortalities. Statistics show great discrepancy when compared black to white women in all issues, in the US and the results indicate an unequal healthcare practice among a special population.
To reveal the reasons for inequality, the author explained the factors that contribute to health-care disparities as a patient's education level, implicit bias in a clinical meeting of the patients, the financial part of the health-care system, and sociocultural context. Examples of previous studies strengthen the malfunction of the health-care system.
Forced women sterilization and US Public Health Service Syphilis Study at Tuskegee are examples of constant abuse of why women took into account their beliefs about treatment and health care.
To overcome all these issues, strategies that can put into force are listed as mitigation of implicit biases, correction of the healthcare system, and changes in medical education.
"Ensuring access to equal and adequate medical interpretation services and informing quality efforts can reduce patients' disbelief in the system", concluded the author.
---
---
implicit bias
race
ethnic disparities
black women
Hyspanic women
Asian Americans
Latino women
health care
maternal morbidity
preterm birth
postpartum hemorrhage
health system.
DISCLAIMER
EndoNews highlights the latest peer-reviewed scientific research and medical literature that focuses on endometriosis. We are unbiased in our summaries of recently-published endometriosis research. EndoNews does not provide medical advice or opinions on the best form of treatment. We highly stress the importance of not using EndoNews as a substitute for seeking an experienced physician.
<< Previous Article

Next Article >>