Proposed algorithm for a clinical diagnosis of endometriosis.
By:
Selma Oransay
- May 10, 2019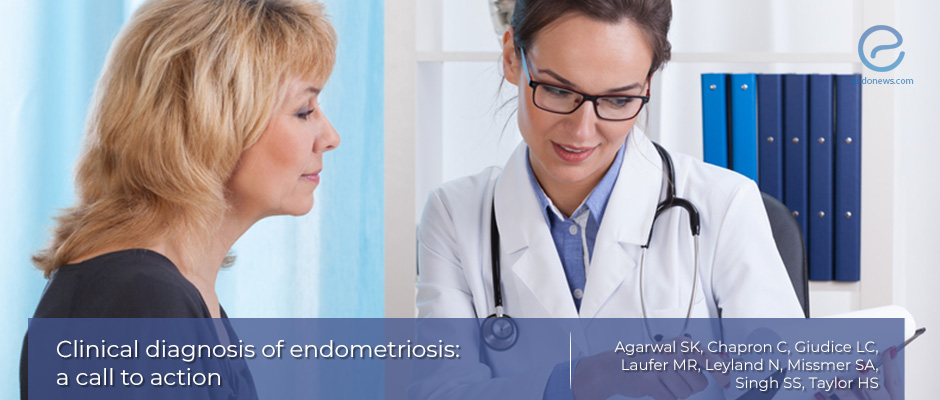 Clinical diagnosis of endometriosis leads to initiate effective early treatment.
Key Points
Highlights:
Endometriosis can only be definitely diagnosed after surgical removal and histopathologic confirmation of lesions.
In spite of the absence of specific pathognomonic clinical features or biomarkers to define it, an early clinical diagnosis may be possible with an appropriate algorithm for early treatment.
Importance:
The treatment of endometriosis, which is a chronic, systemic, inflammatory and heterogeneous disease, should begin in earliest possible stage, in order to prevent its progression and to reduce the major symptoms like pelvic pain and infertility.
What's done here:
A search for Med-line database was performed between 2008 to 2018 for endometriosis symptoms such as pain and infertility, for establishing an appropriate clinical diagnosis of endometriosis in order to shorten the diagnostic delay.
Algorithm:
Authors described the algorithm below suggestive for endometriosis, along with the additional features for the consideration of other additional diagnoses:
Evaluate the presence of symptoms: Although pelvic pain is insufficient alone as an indicator of endometriosis; the likelihood of endometriosis is increased when it is described as chronic, cyclic, persistent or progressive. Typically menstrual in the early stages, it may progress to include nonmenstrual pelvic pain, and usually described by the patient as "severe and progressive during menstrual and nonmenstrual phases." Also, deep dyspareunia, cyclic dyschezia, and dysuria are common compared to unaffected women. The presence of concomitant non-cycling cramp like symptoms necessitates the consideration of additional disorders.

Review patient history: family history, adolescent dysmenorrhea unresponsive to painkillers, infertility, are supportive for endometriosis diagnosis
Perform physical examination: retrovert uterus, cul-de-sac nodule, mass consistent with endometriosis, obvious endometrioma by a speculum or on the skin, should be searched
Order imaging: Endometrioma on ultrasound, presence of sliding sign or nodules, are consistent with endometriosis
On the other hand,
The merits of laparoscopy and its role in disease management should not be minimized;
Detection of endometriosis via laparoscopy relies on the visual identification of lesions, thus an expert practice considering lesion heterogeneity, and the location is necessary.
Surgical risks associated with laparoscopy are generally low, but from a pragmatic perspective, laparoscopy for endometriosis diagnosis and management must include a discussion of costs.
The algorithm above does not reduce the value of laparoscopy as a treatment option in those for whom medical therapy is insufficient, or as a diagnostic tool.
Lay Summary
This recently published article in the American Journal of Obstetrics and Gynecology is about the challenge of diagnosing endometriosis, its impact on women's daily life and authored by Agarwal et al. from The University of California, San Diego, CA, USA.
Authors called attention to the nature of endometriosis, including uncertain clinical symptoms such as pelvic pain and infertility that caused 4 to 11 years of well-established delay for diagnosis. In the USA last population-based data shows there are more than 4 million of endometriosis diagnosed women in their reproductive age. Regarding 6 of 10 cases of endometriosis are undiagnosed, the estimated number would be more than 6 million.
The gold standard for diagnosing endometriosis is laparoscopic operation and histopathologic confirmation. Diagnostic delays occur worldwide and are highly dependent on patients education level, awareness of her pain, physician-patient relations, prolonged intervals of visit beginning from the first consultation, delayed appointments of laparoscopic examinations.
Furthermore, the depth and location of endometriotic lesions may not correlate the pain that the patients suffer, and two main symptoms of pain and infertility are not specific and could reflect other diseases as well. The absence of key biomarkers led the authors a search for defining endometriosis clinically for diminishing the delay of the diagnosis.
This paper is a call for focusing attention to find a way to clinically diagnosed endometriosis. However, the authors added that "the merits of laparoscopy and its role in disease management should not be minimized, and the detection of endometriosis via laparoscopy necessitates an expert practice, surgical risks associated with laparoscopy are generally low".
---
---
chronic pelvic pain
cyclic progressive pain syndrome
infertility
pelvic pain
undiagnosed endometriosis
DISCLAIMER
EndoNews highlights the latest peer-reviewed scientific research and medical literature that focuses on endometriosis. We are unbiased in our summaries of recently-published endometriosis research. EndoNews does not provide medical advice or opinions on the best form of treatment. We highly stress the importance of not using EndoNews as a substitute for seeking an experienced physician.
<< Previous Article

Next Article >>