Progressive nature of ovarian endometrioma
May 14, 2020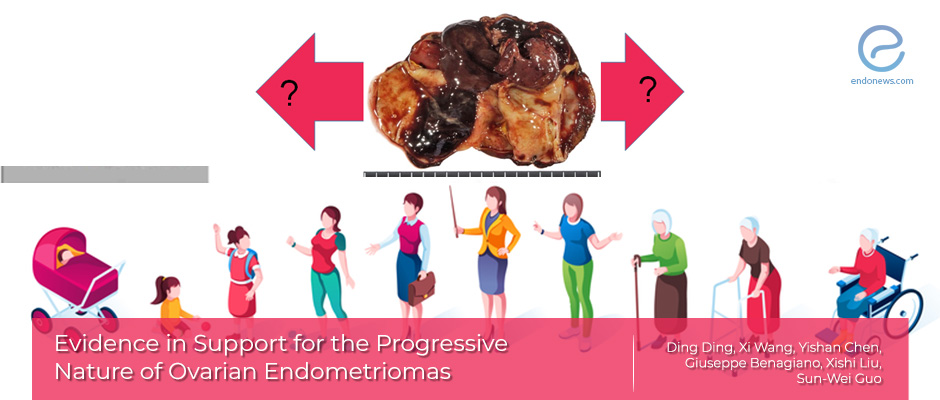 Watch-out girls do not ignore endometriosis symptoms.
Key Points
Highlight:
This study investigates whether ovarian endometrioma is a progressive disease.
Importance:
Understanding whether endometriosis is a progressive disease can refine clinical management.
What has been done:
Recruitment of adolescent females aged 15 to 19 years (n=30) and adult females aged 35 to 39 years (n=32) with laparo-histologically diagnosed ovarian endometrioma.
Ovarian endometrioma tissue samples collected and analyzed for E-cadherin, α-smooth muscle actin, desmin, and adrenergic receptor β2 expression.
The presence of fibrosis is confirmed using the Masson trichrome stain.
Demographic and clinical information also collected.
Results:
Ovarian endometriomas are substantially different in adolescent or adult females.
Adult endometriomas exhibit progression and fibrosis, suggesting that they are more advanced.
Adult endometriomas have a higher level of α-smooth muscle actin and adrenergic receptor β2 that are positively associated with fibrosis.
Lesion size and E-cadherin staining showed a negative association.
These data suggest that ovarian endometrioma is a progressive disease, where progression depends on lesion age and severity of endometriosis-associated dysmenorrhea.
Limitation:
Small sample size
Study conclusions may be quite limited to the age range specified (15 to 19 years and 35 to 39). This excludes a large number of women in their mid-20s.
Lay Summary
The effective management of endometriosis requires a proper understanding of how the condition progress as women age, especially for those women with early onset of endometriosis. Several studies have tried to characterize the evolution of endometriosis. Some of the key features that may convey about the history of ovarian endometriomas are color, size, and to a smaller extent, the invasion depth of the lesion. However, these factors are not always accurate.
Previous studies suggested that asymptomatic endometriosis was rarely progressive, but symptomatic deep endometriotic nodules that infiltrated the rectosigmoid did progress by evaluating lesion size, especially in menstruating women. Again, it is unclear how accurate these observations are.
At the molecular level, it may be possible to study ovarian endometrioma progression through the staining of certain molecules and the assessment of fibrosis in the tissues. Immunostaining of E-cadherin and α-smooth muscle actin stains for the epithelial and stromal component, respectively. These molecular stains and evaluation of the extent of lesion fibrosis represent ways to distinguish lesion age accurately in animal models of endometriosis.
In this study by Ding et al. at Shanghai OB/GYN Hospital, Fudan University, China, the authors hypothesized that by an assembly of ovarian endometrioma from adolescence and adult female, they may be able to capture features that are related to endometriosis disease progression. The study is published in The Journal of Clinical Endocrinology & Metabolism.
The investigation assembled two groups of patients with ovarian endometriomas, adolescent females aged between 15 to 19 years, and adult females aged between 35 to 39 years. Ovarian endometrioma tissue samples were collected, and the extent of fibrosis was determined using the Masson trichrome stain. In addition, the immunoexpression of E-cadherin, α-smooth muscle actin, desmin, and adrenergic receptor β2 (as a possible marker of severity of dysmenorrhea) was also determined.
The results showed that in comparison to adolescent ovarian endometriomas, the adult lesions had a more complete epithelial-mesenchymal transition, fibroblast-to-myofibroblast transdifferentiation, and smooth muscle metaplasia. Adult lesions also had more extensive fibrosis. In relation to the symptom, the duration of dysmenorrhea correlated with advanced lesion progression, and together with adrenergic receptor β2 staining levels, were associated with the severity of dysmenorrhea.
In conclusion, the results of this study provided further evidence that ovarian endometrioma has a progressive nature. Therefore, early intervention for adolescent girls with endometriosis is critical.
---
---
endometrioma
endometriosis stages
endometriosis pain
chocolate cyst
adolescent
DISCLAIMER
EndoNews highlights the latest peer-reviewed scientific research and medical literature that focuses on endometriosis. We are unbiased in our summaries of recently-published endometriosis research. EndoNews does not provide medical advice or opinions on the best form of treatment. We highly stress the importance of not using EndoNews as a substitute for seeking an experienced physician.
<< Previous Article

Next Article >>