Progesterone Receptors and Endometriosis.
Aug 26, 2020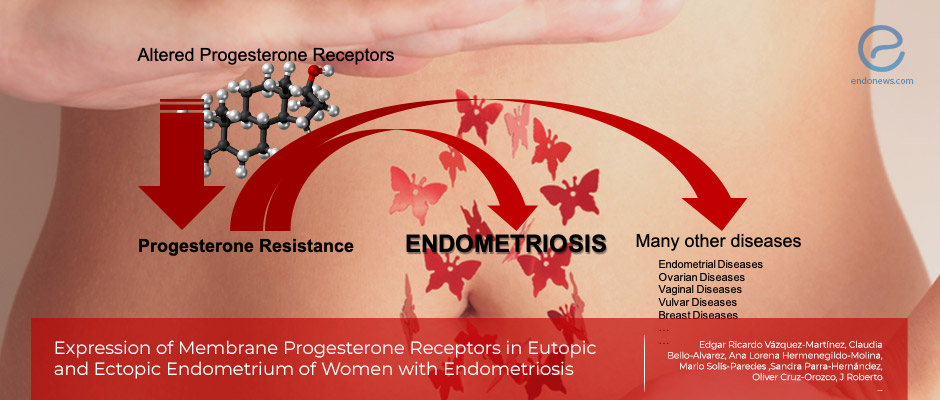 Progesterone Receptors are Decreased in Endometriosis
Key Points
Highlight
The downregulated activity of membrane receptors in ectopic endometrium resulted in progesterone resistance.
Importance
The findings of the study reinforce the theory that progesterone resistance as part of the etiology of endometriosis.
What is done here?
Total RNA and total protein were isolated from control endometrium (n=17), eutopic endometrium (n=17), and ectopic endometrium (n=9).
The expression of the mPRs encoded PAQR7 (mPRα), PAQR8 (mPRQβ), PAQR6 (mPRδ), and PAQR5 (mPRγ) at mRNA and protein levels were evaluated.
Key results
The expression of PAQR7, PAQR8, PAQR5, and PAQR6 genes was significantly downregulated in the eutopic and ectopic endometrium of patients with endometriosis compared with women without the disease.
mPRα and mPRQβ protein contents were significantly lower in the ectopic endometrium.
Limitations of the study
The tissue biopsies used in the study were not isolated from a particular phase of the menstrual cycle of women.
Lay Summary
Endometriosis is characterized as a chronic and inflammatory disease in which the specific cause has not been completely understood. Nonetheless, altered estrogen signaling and progesterone resistance are the common attributes of endometriosis. Progesterone resistance is partly attributed to a decrease in the expression of the intracellular progesterone receptors in the ectopic endometrium.
Progesterone function is mediated by membrane progesterone receptors (mPRs), which are G-protein-coupled receptors that encoded by five different genes PAQR7 (mPRα), PAQR8 (mPRQβ), PAQR5 (mPRγ), PAQR6 (mPRδ), and PAQR9 (mPRε). These mPRs are expressed in the female reproductive embryonic tissues mainly in endometrium, myometrium, ovaries, and placenta. The activation of mPRS is necessary to achieve the full effects of progesterone in some responsive tissue for this hormone.
The authors of the study lead by Dr. Camacho-Arroyo entitled "Expression of Membrane Progesterone Receptors in Eutopic and Ectopic Endometrium of Women with Endometriosis" aimed to evaluate the expression at mRNA and protein levels of mPR family in the eutopic and ectopic endometrium of women with endometriosis.
The results recently published in the "Biomed Research International" showed that the mPR coding genes are downregulated, and the protein content of mPRα and mPRβ are decreased in the ectopic tissue of women with endometriosis compared to those without endometriosis.
"Further studies are required to fully understand the functional role of mPRs in normal, eutopic, and ectopic endometrium", concluded the authors.
---
---
Progesterone
progesterone resistance
eutopic
ectopic
genes
membrane progesterone resistance
DISCLAIMER
EndoNews highlights the latest peer-reviewed scientific research and medical literature that focuses on endometriosis. We are unbiased in our summaries of recently-published endometriosis research. EndoNews does not provide medical advice or opinions on the best form of treatment. We highly stress the importance of not using EndoNews as a substitute for seeking an experienced physician.
<< Previous Article

Next Article >>