Benefits of Nerve-Sparing Hysterectomy
Aug 25, 2020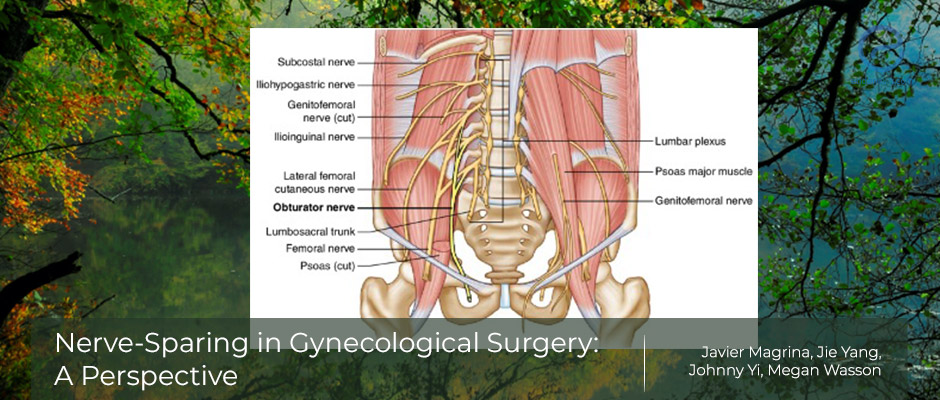 Nerve-sparing radical hysterectomy is preferable to preserve bladder function.
Key Points
Importance:
Pelvic autonomic nerves are difficult to see during laparotomy without magnification. For this reason, nerve-sparing hysterectomies performed by laparoscopy are preferable and effective.
Highlights:
Based on the current literature, nerve-sparing excision during the laparoscopic approaches of deeply infiltrated endometriosis can reduce vaginal and bladder dysfunction with a similar improvement in pain.
What's done here:
Systemic reviews and meta-analyses from the literature were collected by the authors to provide a perspective on nerve-sparing excision for gynecologic oncology, endometriosis, and urogynecology.
They compare nerve-sparing radical hysterectomy to conventional hysterectomy to execute their perioperative differences and their postoperative outcomes on the dysfunction of the bladder, rectum, and vagina.
Results from literature:
The results indicate that the rectal dysfunction and postoperative constipation are significantly lower with laparoscopic nerve-sparing hysterectomy when compared to conventional hysterectomy.
Overall sexual function and sexual interest are also higher after nerve-sparing hysterectomy.
There is no difference between different hysterectomy processes in terms of dyspareunia, orgasm, satisfaction, and vaginal dryness.
During laparoscopic surgical resection of deeply infiltrated endometriosis, nerve-sparing procedures becoming to be a more common practice.
Limitation:
Extreme heterogeneity and various organ involvements of deep infiltrating endometriosis cases contribute to the difficulties to carry out randomized trials.
Lay Summary
The retroperitoneal spread of endometriosis or cancer may involve pelvic autonomic nerves situated on the lateral aspects of uterosacral ligaments, vesicouterine ligaments, and medial aspects of parametria.
During the conventional open hysterectomy operations, nerve-sparing excision is very difficult, simply because pelvic autonomic nerves are thin and difficult to see to the naked eye. On the contrary, during the laparoscopic hysterectomy, high definition endoscopic camera eases to perform nerve-sparing.
Magrina et al. from the Department of Medical and Surgical Gynecology, Mayo Clinic, Phoenix, USA, penned a paper in the "Journal of Minimally İnvasive Gynecology", under cover of systematic reviews and meta-analysis studies. The summarised results of 6 types of research for oncology and endometriosis lead to the idea that nerve-sparing operations should be preferable to conventional hysterectomy to reduce postoperative bladder, rectal, and vaginal dysfunction.
In deep infiltrating endometriosis, the anatomic alterations resulting in the scarring and encasement may prevent the identification of nerves, making their preservation impossible. The cohort studies, two prospective studies, and a systematic review and meta-analysis that compared nerve-sparing surgeries reported not only pain improvement and sexual function, but also a major benefit in bladder function. Overall, severe bladder and sexual neurologic pelvic dysfunctions were less in the nerve-sparing surgeries compared to the conventional group. There are no randomized control trials comparing conventional excision of deep endometriosis to nerve-sparing surgeries.
The question is not "Why to perform a nerve-sparing operation", but instead "why NOT?" asked researchers.
---
---
pelvic autonomic nerves
nerve sparing hysterectomy
radical hysterectomy
nerve-sparing
endometriosis.
DISCLAIMER
EndoNews highlights the latest peer-reviewed scientific research and medical literature that focuses on endometriosis. We are unbiased in our summaries of recently-published endometriosis research. EndoNews does not provide medical advice or opinions on the best form of treatment. We highly stress the importance of not using EndoNews as a substitute for seeking an experienced physician.
<< Previous Article
Next Article >>