Progesterone Receptor Status in Endometriosis
Dec 11, 2018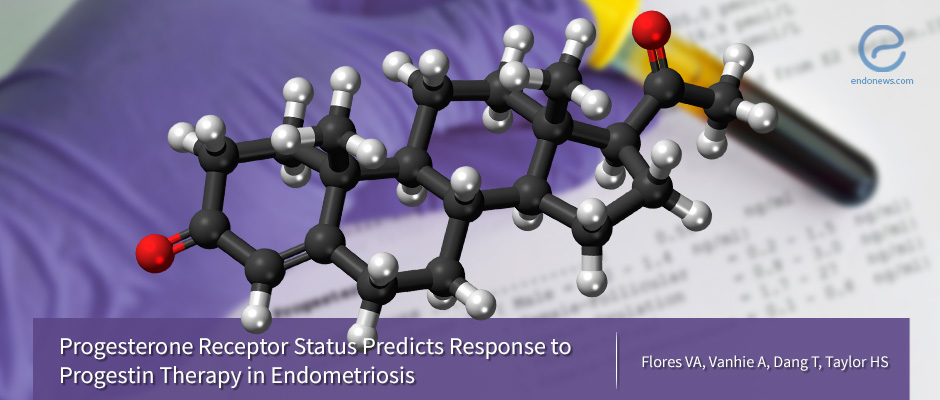 Tissue progesterone receptor levels may predict therapy response in endometriosis
Key Points
Highlights:
A clinicopathological study comparing tissue progesterone receptor (PR) levels and hormonal therapy response in endometriosis: PR status is strongly associated with the response of endometriosis to progestin-based therapies.
Importance:
If supported by further prospective studies, PR status in tissues may be used as a surrogate marker to predict the hormonal therapy response.
Background:
Response to progesterone therapies varies among endometriosis patients.
Authors aimed to find an individualized approach to predict the variability in therapy response.
The hypothesis was that the progesterone receptor expression status in endometriotic tissues may be correlated with the progesterone treatment response.
Key Results:
A retrospective cohort study included 52 patients with available tissues and known therapy outcomes, immunohistochemistry used to stain and evaluate the tissue PR status.
All patients with high PR Status (7/7) had a response to hormone therapy whereas the response rate was 21% (6/28) in moderate PR status and 6% (1/17) in low PR status.
The eutopic endometrial tissue from endometriosis patients did not show any correlation with PR expression of endometriosis tissues.
During the time of tissue collection, some patients were also on hormonal medication. The authors have made a subgroup analysis to overcome this potential confounding effect.
The study revealed that there are intersubject and intrasubject variations in the PR levels of endometriotic lesions. The authors recommend sampling several lesions per patient to have multiple lesions available for analysis.
Limitations:
Retrospective nature of the study; response to therapy that was obtained from patient records, the small number of high PR status group in the study.
Medications or intrasubject variations affecting the PR levels of endometriotic lesions should be considered.
Lay Summary
Some patients do not respond to progesterone hormone therapy. In this study recently published in the Journal of Clinical Endocrinology and Metabolism, the authors led by Hugh S. Taylor from the Department of Obstetrics, Gynecology and Reproductive Sciences from Yale School of Medicine, New Havens, Connecticut, try to identify the reason behind this variation.
Progesterone shows its effect when it binds to its receptor, which is located in the nucleus of the cells. If progesterone receptor levels are high, the cell is expected to better respond to progesterone. The researchers use an immunohistochemistry technique, to show this receptor levels in endometriotic tissues.
The hypothesis is: "progesterone receptor levels in endometriotic tissues predict the treatment response". To test their hypothesis authors have conducted a retrospective study using 52 endometriotic and 17 matching eutopic endometrium tissues, and compared with the progesterone therapy outcomes.
In this study group, progesterone receptor levels were found to be correlated with response to therapy.
Take home message:
This is a small retrospective study. Further studies are necessary to confirm the results.
In the future progesterone expression levels may be useful in therapy decisions.
---
---
endometriosis
immunohistochemistry
progesterone receptor
progesterone therapy
therapy response
DISCLAIMER
EndoNews highlights the latest peer-reviewed scientific research and medical literature that focuses on endometriosis. We are unbiased in our summaries of recently-published endometriosis research. EndoNews does not provide medical advice or opinions on the best form of treatment. We highly stress the importance of not using EndoNews as a substitute for seeking an experienced physician.