Prevalence, Risk factors and Management of Bowel Fistula after Rectosigmoid Surgery for Deep Endometriosis
By:
Selma Oransay
- Aug 11, 2020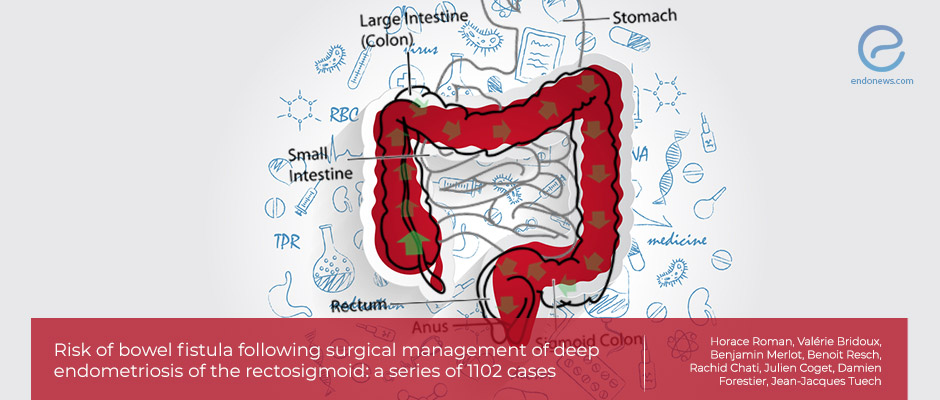 Colorectal deep endometriosis surgery may result in rectovaginal fistula or leakage
Key Points
Highlights:
The risk of bowel fistula is increasing by bowel opening surgery such as segmental resection or disk excision, and management of rectovaginal fistula is more difficult compared to bowel leakage.
Importance:
In the case "bowel procedure" can be chosen, shaving is preferable when the fistula risk is concerned. Postoperative fistula repair is challenging and may require up to four additional surgery.
What's done here:
1102 women with deep rectosigmoid endometriosis operated by segmental colorectal resection, disk excision, and shaving in three tertiary centers were retrospectively evaluated.
The prevalence and risk factors for bowel fistula were assessed, and the success of the management strategies are summarized.
Key results:
Overall 37 patients (3.4%) had bowel fistula after their colorectal operation, either as rectovaginal fistula (n=23) or bowel leakage (n=14).
Women with postoperative fistula had larger rectal endometriotic nodules and also underwent some additional procedures such as ureter reimplantation or parametrial/vaginal excision, resulting in longer operative time.
The logistic regression model showed rectal lumen opening (segmental resection or disk excision) increased the risk of fistula, compared to shaving, regardless of the nodule size.
Repair of rectovaginal fistula required up to 4 additional surgery, however, the management of leakage was generally easier.
Limitations:
The heterogeneity of the surgical techniques for both colorectal surgery and the fistula repair is the main limitation.
The lack of information about the level of the endometriotic nodules and the distance from the anal verge.
Lay Summary
Bowel fistula is a severe complication after the colorectal endometriosis surgery, but little is known about its prevalence, and reports on large series are lacking.
To discuss specific management on colorectal deep endometriosis, Roman et al. conducted a retrospective study that consists of 1102 patients who underwent colorectal surgery for deep infiltrating endometriosis in French tertiary centers from 2009 to 2019.
Follow-up of patients after colorectal operation ranged 4 to 124 months since authors concerned only the fistula outcome after surgery and the further repair steps of these fistulae. The article describing patients' characteristics, intraoperative findings, surgical procedures, immediate complications, and management of rectovaginal fistula were recently published by Dr. Horace Roman in "Human Reproduction".
One thousand one hundred and two patients with the diagnosis of colon deep infiltrating endometriosis were operated with various technics of colorectal surgery. One gynecologist and one experienced colorectal surgeon performed all the operations, and the decision to create a primary stoma by ileostomy or colostomy was based on intraoperative findings.
All the patients had benefitted from surgical management, and the incidence of postoperative fistula formation in the bowel-opened procedures (disk excision and/or segmental resection) was 5% while this complication occurred in only 0.9% for bowel shaving.
Based on the data in such a large series of deep infiltrating endometriosis surgery, the postoperative bowel fistula risk is low in experienced hands. The results revealed that the shaving procedure is the better way compared to disk excision or bowel resection to manage colorectal endometriosis laparoscopically, when possible. Furthermore, the repair of the rectovaginal fistula is challenging and requires up to four additional operations and a long period of healing.
---
---
deep infiltrating endometriosis
rectum
sigmoid colon
full-thickness excision
disk excision
fistula
rectovaginal fistula
bowel suture
delayed coloanal anastomosis (DCAA)
DISCLAIMER
EndoNews highlights the latest peer-reviewed scientific research and medical literature that focuses on endometriosis. We are unbiased in our summaries of recently-published endometriosis research. EndoNews does not provide medical advice or opinions on the best form of treatment. We highly stress the importance of not using EndoNews as a substitute for seeking an experienced physician.