Preoperative factors to predict unresponsiveness in women undergoing endometriosis surgery
By:
Hale Goksever Celik
- Apr 8, 2019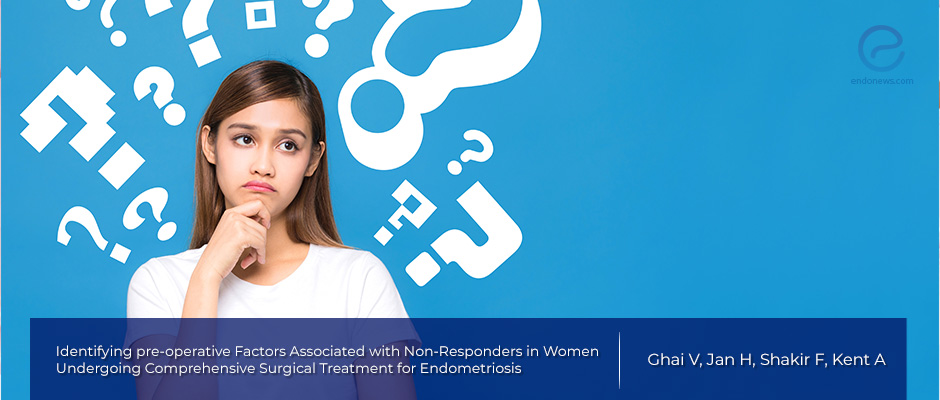 The severity of pain experienced preoperatively is the only predictive factor associated with non-response for surgery.
Key Points
Highlights:
Importance:
What's done here?
Key results:
Strengths and Limitations
Lay Summary
Endometriosis is defined as the localization of endometrial glandular and stromal cells outside the uterine cavity. Despite extensive research, the optimal management of endometriosis still remains unclear. Several treatment options include analgesic medication, hormonal treatments, and surgical intervention. There is still a risk of relapse despite extensive surgery for endometriosis.
Ghai et al, a group of scientists from the United Kingdom, published a study titled as "Identifying pre-operative Factors Associated with Non-Responders in Women Undergoing Comprehensive Surgical Treatment for Endometriosis" in the "Journal of Minimally Invasive Gynecology".
The authors sought to evaluate the factors to predict non-responsiveness in women who underwent endometriosis surgery. They performed a secondary analysis of data from two trials using VAS, EHP-30, GIQLI, EQ-5D and HADS preoperatively and at 12 months postoperatively.
Women treated for superficial endometriosis were more likely to be non-responders compared to those treated for advanced endometriosis, and no predictive factor of unresponsiveness could be detected in women with superficial endometriosis using all of the above scores.
However, in women with severe and advanced endometriosis, only two significant predictive factors predicted non-response: less preoperative pain and feelings.
The authors suggested the severity of pain as the only factor associated with non-response. "A holistic approach needs to be adopted by health professionals that address physiological, psychological and social aspects of pain management," they added.
---
---
endometriosis
rectosigmoid endometriosis
superficial endometriosis
recurrence
non-response
pain improvement
rectal shaving
discoid resection
segmental rectosigmoid resection
visual analogue scales (VAS)
Endometriosis Health Profile 30 (EHP-30)
Gastrointestinal Quality of Life Index (GIQLI)
EuroQol-5 (EQ-5D) and Hospital Anxiety and Depression Score (HADS)
DISCLAIMER
EndoNews highlights the latest peer-reviewed scientific research and medical literature that focuses on endometriosis. We are unbiased in our summaries of recently-published endometriosis research. EndoNews does not provide medical advice or opinions on the best form of treatment. We highly stress the importance of not using EndoNews as a substitute for seeking an experienced physician.
<< Previous Article