Predictors of voiding dysfunction after surgery for deep endometriosis
By:
Selma Oransay
- Sep 16, 2020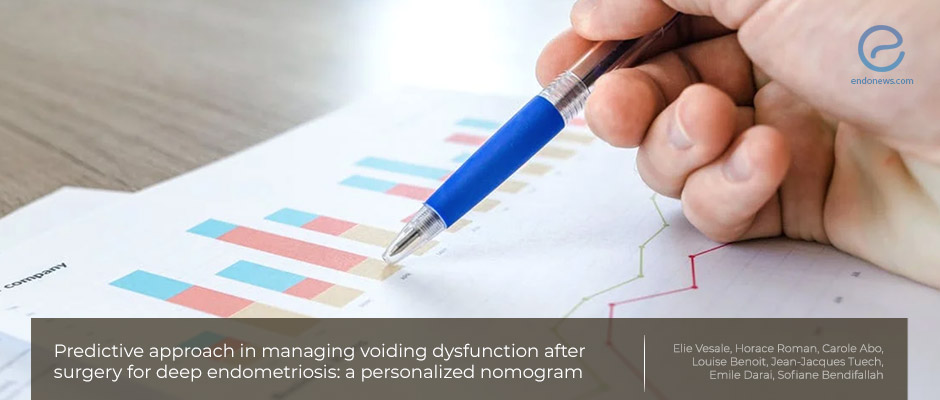 Building a nomogram is useful to predict voiding dysfunction after DE operations.
Key Points
Importance:
Defining risk factors of lower urinary tract dysfunction, specifically voiding dysfunction is crucial in clinical practice and is a major issue due to its impact on the quality of life.
Highlights:
A nomogram that predicts the postoperative complications after deep endometriosis surgery could help both the patient and clinicians about postoperative risk.
What's done here:
This retrospective study included 789 endometriotic patients with colorectal involvement who underwent deep endometriotic surgery at Tenon Univerity Hospital.
The aim of the study was to construct a nomogram to predict postoperative voiding dysfunction.
Key results:
One hundred and eighty patients from the study group developed postoperative voiding dysfunction with a ratio of 23%.
Age, colorectal involvement, colpectomy, and parametriectomy were the main factors that affect the nomogram and increased risk factors of voiding dysfunction after surgery.
Limitations:
The surgeon's technical skills developed during the data collection period, and the authors started to combine the deep endometriosis surgery with nerve-sparing surgery to reduce the postoperative complications. These different techniques could affect postoperative voiding dysfunction probability and could raise suspicion on their nomogram.
Bladder endometriosis itself could be an independent predictor of urinary low bladder compliance and could confuse predictions of postoperative voiding dysfunction.
Lay Summary
While surgery for deep endometriosis provides relief and improves the quality of life in symptomatic patients for whom medical therapy has limited effect, it may also create postoperative lower urinary tract dysfunction. Moreover, postoperative voiding dysfunction could affect the quality of life as many as 20-30% of patients. If clinicians have a useful nomogram to predict the aforementioned dysfunctions preoperatively, they could better inform their patients about these postoperative risks.
Vesale and Roman et al. from the Department of Obstetrics and Gynecology, Tenon University Hospital, Paris, France studied on a nomogram based on four clinical and imaging characteristics to help determine the postoperative risk of voiding dysfunction following surgery for deep infiltrating endometriosis.
This retrospective study consists of 789 patients with deep infiltrating endometriosis, who were operated in a tertiary referral center from January 2005 to December 2007. The surgical procedures were performed according to protocol guidelines and include ovarian cystectomy or salpingo-oophorectomy, uterosacral ligament resection, hysterectomy, ureterolysis, and bowel resection when required. In the presence of multifocal lesions, the decision for segmental or discoid resection was made intraoperatively.
When the post-void residual urine volume measured more than 100ml. during the postoperative period, the need arises for intermittent self-catheterization, and this situation named "voiding dysfunction".
In this study group, postoperative voiding dysfunction overall occurred in 23% of patients composed of several types of colorectal surgery such as rectal shaving, discoid resection, and segmental resection. The authors observed that parametrectomy and partial colpectomy are two strong predictors for voiding dysfunction. After multivariate logistic regression analyses, the nomogram derived to identify patients at low or high risk and according to their parameters that can easily be established preoperatively.
This recent paper was published in the "International Urogynecology Journal" points attention to pre and postoperative evaluation of voiding dysfunction for patients who are going to have an operation of deep endometriosis.
---
---
colorectal involvement
colpectomy
parametrectomy
lower urinary tract dysfunction
voiding
dysfunction
nomogram
predictive model
endometriosis.
DISCLAIMER
EndoNews highlights the latest peer-reviewed scientific research and medical literature that focuses on endometriosis. We are unbiased in our summaries of recently-published endometriosis research. EndoNews does not provide medical advice or opinions on the best form of treatment. We highly stress the importance of not using EndoNews as a substitute for seeking an experienced physician.
<< Previous Article

Next Article >>