Postoperative outcomes of laparoscopic rectosigmoid resection for bowel endometriosis.
By:
Selma Oransay
- Jul 31, 2023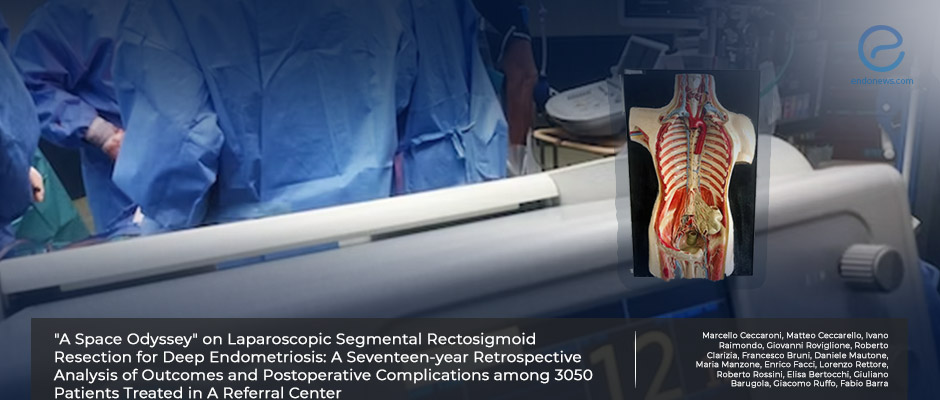 A seventeen-year retrospective outcomes analysis showed the importance of the use of nerve-sparing surgery for rectosigmoid resection.
Key Points
Importance:
Individual patient evaluation, careful preoperative workup, and tailored surgical strategy are important for patients with bowel endometriosis.
Highlights:
Adapting nerve-sparing techniques to laparoscopic rectosigmoid resection operations could reduce some major complications.
What's done here:
This retrospective cohort study included 3050 patients with symptomatic bowel endometriosis requiring surgical treatment. The study reports 17 years of experience at a tertiary Italian referral center.
Nerve-sparing laparoscopic rectosigmoid resection was performed by a multidisciplinary team, and postoperative complications were evaluated using multivariate analyses.
Postoperative complications were classified according to the Clavien-Dindo grading system. Postoperative (first 28 days, early) and late complications were reported.
Key Results:
A nerve-sparing laparoscopic rectosigmoid resection was performed in 2224 women (with the Negrar technique), 826 patients operated by classic segmental bowel resection.
Clavien-Dindo I-II complications were postoperative fever (14.2%), urinary tract infection (4.1%), and anemia (3.9%).
Clavien-Dindo IIIb complications (hemoperitoneum, pelvic abscess, vaginal suture dehiscence) were observed in 436 patients, most were early and were addressed by laparoscopy.
Statistically significant improvement of dysmenorrhea, dyspareunia, dyschezia, nonmenstrual chronic pelvic pain, and dysuria was observed during postoperative follow-ups.
Lay Summary
Rectosigmoid endometriosis comprises 80-85% of all bowel endometriosis cases and can be localized in the rectovaginal septum, uterosacral ligaments, retro-cervical region, and parametrium. Symptoms of rectosigmoid endometriosis include abdominal bloating, constipation-diarrhea, lower-back pain, dyschezia, and sometimes cyclic rectal bleeding.
Minimally invasive surgical treatment has become the standard care of rectosigmoid endometriosis, which has a portfolio from rectal shaving to disc excision or techniques that combine transanal resection with concomitant laparoscopic rectal shaving. In cases with nodules more than 3 cm. with deep muscular infiltration or multifocal nodules, the preferred surgery would be segmental resection. Nerve-sparing techniques are essential for the last-mentioned surgery to avoid the potential severe postoperative complications and visceral dysfunctions.
Ceccaroni and colleagues from Departments of Obstetrics&Gynecology, Gynecologic Oncology, and Minimally Invasive Pelvic Surgery, Verona, Italy, aimed to report surgical and short-term postoperative outcomes of 3050 patients with suspected rectosigmoid endometriosis who underwent rectosigmoid resection in their tertiary clinic. Postoperative complications were collected first year every six months and then in yearly follow-ups. All patients got GnRH for 3 to 6 months after the surgery, and subsequently, a long-term regime of oral progestin or combined estrogen-progestin therapy based on women's childbearing desire.
The cases of this study showed an improvement in their symptoms related to deep endometriosis after the laparoscopic rectosigmoid resections. Postoperative complications requiring another surgical approach under anesthesia were observed in 13.1% of the study population. İnterestingly, this study highlights major postoperative complications such as anastomotic leakage, rectovaginal fistula, and bladder retention and their possible correlation with intraoperative variables. For example, anastomotic leakage was correlated with the anastomotic distance from the anal verge. On the other hand, temporary ileostomy seemed to be a protective factor against the development of anastomotic leakage.
The authors underlined that adapting nerve-sparing techniques to laparoscopic rectosigmoid resection will reduce postoperative complications. This recently published interesting paper appeared in the Journal of Minimally Invasive Gynecology.
---
---
rectosigmoid resection
bowel endometriosis
nerve sparing surgery
laparoscopy
ileostomy
postoperative complications
pain score
deep endometriosis.
DISCLAIMER
EndoNews highlights the latest peer-reviewed scientific research and medical literature that focuses on endometriosis. We are unbiased in our summaries of recently-published endometriosis research. EndoNews does not provide medical advice or opinions on the best form of treatment. We highly stress the importance of not using EndoNews as a substitute for seeking an experienced physician.
<< Previous Article