Planning surgery for recto-sigmoid endometriosis with 3D virtual models.
Apr 28, 2022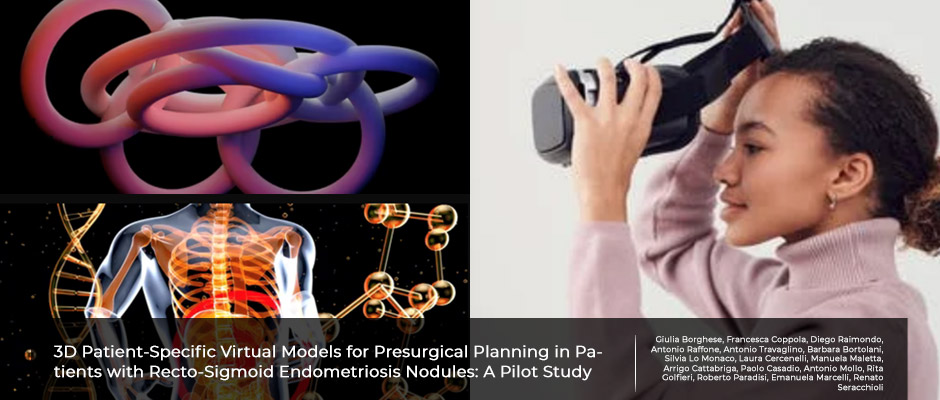 Patient-Specific 3D Virtual Models for rectosigmoid endometriotic nodules hold promise for the future.
Key Points
Importance:
Advances in diagnostic imaging and computer technology have led to progressively wider use of 3D technologies and 3D printing to support surgical planning in various surgical specialties.
Highlights:
The presurgical 3D virtual anatomical model reconstruction of rectosigmoid endometriotic nodules could be a feasible, and useful tool to support surgical planning.
What's done here:
This is a pilot study in a single-center, prospective, observational cohort (n=7), that was conducted at the University of Bologna, Italy.
The aim is to compare the preoperative 3D printing of recto-sigmoid endometriotic lesions to intraoperative findings.
3D printings of the endometriotic lesions were prepared based on the preoperative MRI of the patients and focused on the degree of bowel stenosis, endometrial nodule circumferential extinction, and the bowel angulation caused by the lesion.
Intraoperative findings were compared to these 3D printings and were evaluated by the surgeons as "low", "moderate" and "high" degrees of correlation.
Key Results:
All of their preoperative 3D virtual models of RSE nodules were reported highly correlated with the intraoperative findings of the surgeon.
Lay Summary
Efforts to reduce the high complication rate of rectosigmoid surgery in deeply infiltrated endometriosis are of great interest to gynecologists. 3D printing, currently used in various surgical specialties to support surgical planning and guide intraoperative procedures may be a way out.
Borghese and colleagues from the Department of Medical and Surgical Sciences of the University of Bologne, Italy came up with the idea of using 3D models based on preoperative MRI segments of patients with recto-sigmoid endometriosis and comparing them with intraoperative findings. The results of this single-center, prospective, observational, cohort, and pilot case study were recently published in the journal named Medicina (Kaunas).
Each structure of interest in the MRI slices of the patients was labeled using a modular software package designed to create 3D digital anatomic models from medical imaging data.
Three-dimensional virtual models of endometriotic lesions that can be rotated, zoomed, and navigated are investigated preoperatively by surgeons to clarify their judgment and to compare their intraoperative findings with or without correlation.
"This study underlined that 3D models can closely be related to intraoperative findings especially referring to the nodule's circumferential extinction, bowel angulation induced by RSE implant, and degree of bowel stenosis", concluded the authors.
---
---
3D image
anatomical models
magnetic resonance imaging
minimally invasive surgical procedures
recto-sigmoid endometriosis.
DISCLAIMER
EndoNews highlights the latest peer-reviewed scientific research and medical literature that focuses on endometriosis. We are unbiased in our summaries of recently-published endometriosis research. EndoNews does not provide medical advice or opinions on the best form of treatment. We highly stress the importance of not using EndoNews as a substitute for seeking an experienced physician.
<< Previous Article

Next Article >>