Pharmacological Therapy for Endometriosis Pain
By:
Eylül GÜN
- Dec 14, 2021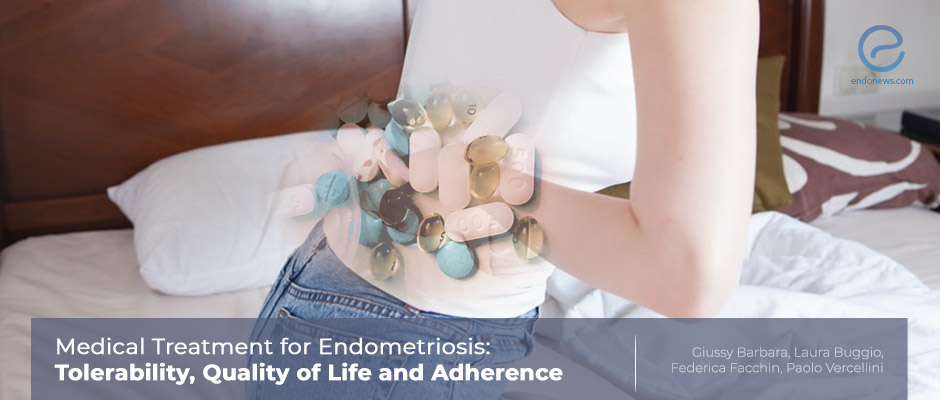 Different pharmacological agents being used in the treatment of endometriosis symptoms show different efficacy, tolerability, and side-effects
Key Points
Highlight
Estrogen-progestins and progestins may offer a good outcome in terms of reducing the pain and their high tolerability among the patients.
Importance
Pharmacological treatment of endometriosis-associated pain is shown to improve the quality of life of the patients.
The agents should be picked carefully by the clinicians depending on their efficacy, patient tolerability, patient adherence, costs, and side effects.
Key results
The most commonly used therapy in endometriosis-related pain is combined oral contraceptives also known as estrogen-progestins.
The estrogen-progestins have an anti-inflammatory and pro-apoptotic effect on endometriotic lesions.
They also inhibit ovulation and menstrual flow, therefore the reflux of endometrial cells through the tubes is also prevented.
Studies show that two-thirds of the patients who receive estrogen-progestin therapy benefit from it, and the rest of the patients who do not benefit might have progesterone resistance.
GnRH agonists are found to be useful, however, their high rate of side-effects limit patient tolerability.
And add-back therapy of progestins is recommended with GnRH agonists.
What's done here
This is a mini-review study from Milan, Italy assesses different pharmacological agents in terms of tolerability, efficacy, cost-effectiveness, and side effects when used in endometriosis patients.
Lay Summary
The negative effects of endometriosis on women's quality of life are indisputable. Women who suffer from endometriosis might have to deal with problems in many aspects such as psychological, sexual, social, and economic. Pain which is one of the most common symptoms in endometriosis is known to cause a greater deal of problems for the suffering patients compared to their asymptomatic counterparts. Pharmacological therapy may help these patients carry on with their lives, however, the efficacy, side effects, costs, and tolerability of the drugs should be well known.
Barbara et al. from Milan, Italy have published a mini-review where they evaluated the advantage and disadvantages of the pharmacological agents that are used in the treatment of endometriosis symptoms. The study was published in the September 2021 issue of the journal Frontiers in Global Women's Health.
The guidelines recommend the usage of hormonal contraceptives, progestins, anti[1]progestogens, GnRH agonists, and GnRH antagonists. One of the most commonly used medical therapy methods in endometriosis patients with pain is combined oral contraceptives. With a low level of ethinylestradiol, they offer a diffuse progestin effect which is anti-inflammatory and pro-apoptotic on both eutopic and endometriotic tissues. Inhibiting the menstrual flow, also help in preventing the reflux of endometrial cells through the tubes. There are several methods of delivery of these drugs (oral, vaginal, transdermal) that patients can choose from which makes compliance easy.
In the cases where the patients don't respond well to estrogen-progestins, or there are contraindications for estrogen administration such as susceptibility to thrombosis, only progestins can be used. Because of their androgenic effects, some side effects are reported but studies show that patients have high adherence rates with progestins.
GnRH agonists on the other hand are known to be very effective in reducing the symptoms owing to the hypoestrogenic state they cause, however, they are not tolerated well because of the side-effects such as hot flushes, sleep problems, and mood changes. Add-back therapy is suggested to reduce these side effects. GnRH antagonists are trying to be used more commonly in the treatment as well. Even though they do not cause flare-up symptoms like GnRH agonists, the fact that they do not provide contraception might be a downside of these drugs.
In conclusion, the authors recommend that more studies comparing other progestins or comparing GnRH antagonists to progestins should be performed. The clinicians should start medication not only depending on the symptoms but also the patient's choice, the efficacy, side-effects, cost, and tolerability of the drugs.
---
---
endometriosis
pain
dysmenorrhea
medical treatment
oral contraceptives
progestins
GnRH agonists
GnRH antagonists
DISCLAIMER
EndoNews highlights the latest peer-reviewed scientific research and medical literature that focuses on endometriosis. We are unbiased in our summaries of recently-published endometriosis research. EndoNews does not provide medical advice or opinions on the best form of treatment. We highly stress the importance of not using EndoNews as a substitute for seeking an experienced physician.