Pelvic pain, congenital genital tract anomalies and endometriosis
Jan 11, 2019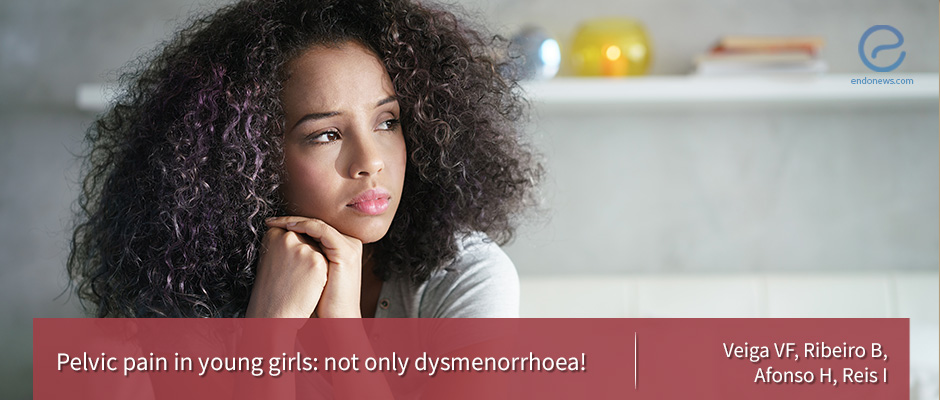 The early diagnosis-management of congenital genital tract anomalies prevent the development of pelvic endometriosis and infections.
Key Points
Highlights:
Amenorrhea and recurrent pelvic pain are the most frequently encountered symptoms of congenital genital tract anomalies that can lead to the development of pelvic endometriosis and infections if not diagnosed and managed as soon as possible.
Importance:
The young women with congenital genital tract anomalies should be evaluated considering the risk of associated pelvic endometriosis.
What's done here?
This case report presents two patients with symptoms of recurrent pelvic pain and who were diagnosed as having genital tract anomalies.
The first case, 13 y-o, had menarche 6 months ago. She had cyclic abdominal and pelvic pain. On perineal examination, an imperforate hymen was noticed. Uterine cavity was normal, the vagina was distended by the use of suprapubic ultrasound.
The second case, 14 y-o, had no menstrual bleeding yet. The reason for consultation to the emergency room was painful abdominal distention and dysuria. The pinkish bulging imperforate hymen on perineal examination and the vaginal distention on endorectal ultrasound were also detected in this patient.
A simple star incision in the central portion of the hymenal membrane and fixation of the edges of hymen was performed in both patients.
Both patients were discharged without any postoperative complication. On the postoperative control at the eighth week, they had no complaints.
Lay Summary
Any failure during development and differentiation of female genital tract results in congenital tract anomalies.
The origin of the hymen is the union of the caudal portion of the paramesonephric ducts and the urogenital sinus. It functions as a mechanical barrier to infections during infancy. If the central portion of the hymen does not rupture before birth, it becomes imperforate, micro-perforated, septate or cribriform. These girls are often asymptomatic until menarche. Then the vagina becomes distended with the accumulation of menstrual fluid resulting in cyclic abdominal and/or pelvic pain, urinary symptoms and low back pain.
All of these symptoms are non-specific and cannot be differentiated easily from any other diseases such as endometriosis. Detailed history, careful physical and perineal examination and ultrasound are sufficient for the differential diagnosis.
Veiga et al, a group of scientists from Portugal published a case report titled as "Pelvic pain in young girls: not only dysmenorrhoea!" in the journal named as British Medical Journal Case Reports. These authors sought to remind clinicians of the diagnosis of the imperforate hymen in young women with cyclic abdominal or pelvic pain. They emphasized that the underdiagnosis of genital tract anomalies have a possibility of pelvic endometriosis and infections
"A potential effect in fertility, due to a greater risk of infections and pelvic endometriosis, must be considered in these patients," they added.
---
---
endometriosis
pelvic pain
abdominal pain
genital tract anomalies
imperforate hymen
hymenectomy
DISCLAIMER
EndoNews highlights the latest peer-reviewed scientific research and medical literature that focuses on endometriosis. We are unbiased in our summaries of recently-published endometriosis research. EndoNews does not provide medical advice or opinions on the best form of treatment. We highly stress the importance of not using EndoNews as a substitute for seeking an experienced physician.
<< Previous Article

Next Article >>