Novel surgical solutions for catamenial pneumothorax
By:
Eylül GÜN
- Sep 1, 2023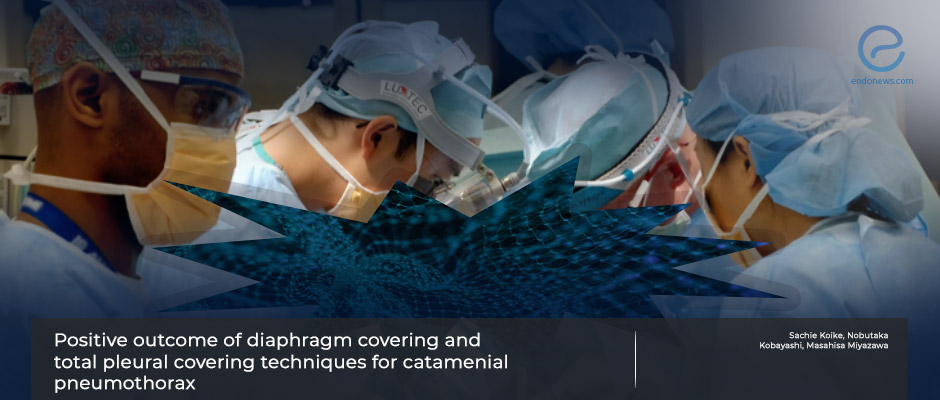 Total diaphragm covering and total pleural covering show promising results in two cases
Key Points
Highlight
Two new surgical techniques have been used to prevent the recurrence of endometriosis and related complications in patients with catamenial pneumothorax.
Called "total pleural covering (TPC)" and "total diaphragm covering (TDC)", these methods have been shown to be effective in two cases.
Importance
Surgical removal of the endometriotic lesions in thoracic endometriosis cases is usually not enough for a cure and the endometriosis recurs after some time.
The possible causes of recurrence are thought to be rest endometriotic tissue or re-dissemination.
What's done here
TPC and TDC techniques were used in two cases with catamenial pneumothorax to overcome the recurrence issue after surgical removal of endometriotic lesions in the diaphragm, lung, and pleura.
The first case had a history of catamenial pneumothorax due to endometriosis of the diaphragm and parietal pleura, whereas the second patient had a similar medical history with lesions on the diaphragm and lung.
Key results
Both cases showed no recurrence during the one-year follow-up.
The outcome did not change even in the case where some endometriotic foci were too many to resect.
The techniques were proven to be effective.
Lay Summary
Catamenial pneumothorax is a spontaneous pneumothorax that occurs during or right after menstruation and is thought to be caused by thoracic endometriosis that includes the diaphragm, lung, and parietal pleura. The solution is surgical removal of endometrial lesions, however, a high incidence of recurrence rates has been reported after surgery, possibly caused by the rest endometriotic tissue or the re-dissemination of pelvic endometriotic tissue.
To overcome this issue, Koike et al. from Japan performed a surgical technique called "total pleural covering" that has been reported to be previously used for lymphangioleiomyomatosis in two cases with endometriosis. They published a case report in the July 2023 issue of the Journal of Case Reports.
The first case was a 42-year-old woman with a history of recurrent pneumothorax which led the clinicians to a diagnosis of the diaphragm and parietal pleura. After the surgical removal of the endometriotic foci, mesh sheets of oxidized regenerated cellulose were used to cover the entire diaphragm and lung.
The second patient had a similar history of endometriosis and pneumothorax and was discovered to have endometriotic lesions on the diaphragm and lung. She underwent the same procedure, however, she had more endometriotic lesions than those that could be resected. The remnants were also covered with oxidized regenerated cellulose mesh.
The authors reported that both patients were followed up for one year and did not have any recurrence indicating the effectiveness of the procedure. They added that in addition to total pleural covering, they extended the use of the mesh to cover the diaphragm, and called it "total diaphragm covering" as well with the thought of it preventing any overlooked or re-disseminated endometriotic tissue.
They also add that the procedure has also been proven to be useful in cases that had unresectable endometriotic foci. They suggested that these methods could also be used in these cases. More procedures should be performed and reported to prove its use as a new treatment method for catamenial pneumothorax.
---
---
endometriosis
catamenial pneumothorax
total diaphragm covering
total pleural covering
DISCLAIMER
EndoNews highlights the latest peer-reviewed scientific research and medical literature that focuses on endometriosis. We are unbiased in our summaries of recently-published endometriosis research. EndoNews does not provide medical advice or opinions on the best form of treatment. We highly stress the importance of not using EndoNews as a substitute for seeking an experienced physician.