Non-pharmacological self-care: dietary modifications in women with endometriosis.
By:
Selma Oransay
- Sep 2, 2021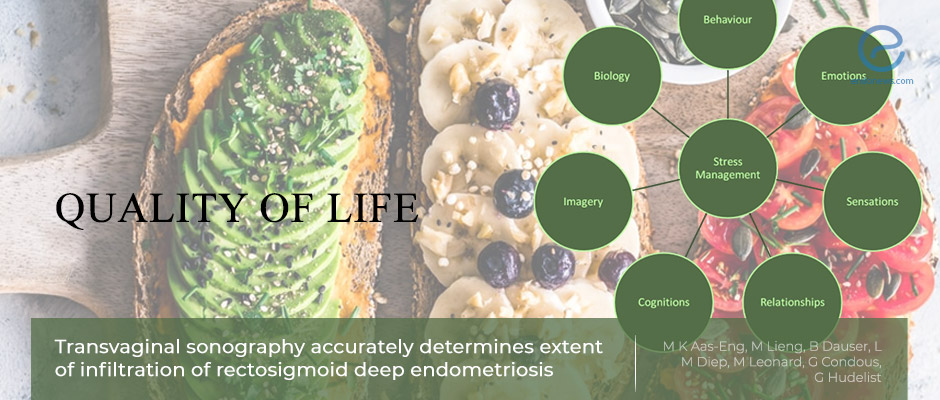 Women with endometriosis reported benefits, especially on GI symptoms when they eliminate gluten, dairy, and carbohydrates from their diet.
Key Points
Importance:
To reduce fatigue and bowel symptoms, eliminating gluten, dairy, and carbohydrates or their combination are the most common self-management strategies for women with endometriosis, and it may improve the quality of life.
Highlights:
Two-third of women with endometriosis use a self-management strategy, and almost half use dietary regimens in Australia.
What's done here:
A cross-sectional survey was conducted in the NICM Health Research Institute Sydney, Australia, and included 484 surgically confirmed women with endometriosis.
Demographic properties, self-management technique for endometriosis and its frequency, adverse events, self-rated effectiveness, and reduction in endometriosis medication usage were evaluated.
A pelvic pain impact questionnaire (PPIQ) was used to evaluate the benefits of a variety of diets.
Key Results:
Women with endometriosis frequently use dietary modifications as a self-management strategy in Australia.
The three most popular dietary strategies are a gluten-free diet, a low carbohydrate diet, and a dairy-free diet.
Two-third of women with surgically confirmed endometriosis used a self-management strategy and 44% used dietary strategies for endometriosis symptom management.
Although there was no difference between diet users and non-users, the self-rated effectiveness of diet on pelvic pain was 6,4+2,4 on a 0-10 rating scale.
No specific diet is found to be the most effective in this study group.
The effect of diet on pharmaceutical medication use was minimal in 1/4th and moderate in another 1/4th of subjects, while 1/5th reported more than 50% reduction.
Lay Summary
The academic interest on the role of diet in endometriosis has grown due to its possible relation with inflammation, estrogenic activity, and menstrual cycles. Multiple dietary strategies and prescriptions are being used to deal with the pelvic pain and gastrointestinal symptoms of patients with endometriosis. Current evidence suggests the regular intake of fish oils, green vegetables, and fruits reduces the risk of endometriosis. On the other hand, women who consumed regularly red meat have a higher risk of endometriosis.
The benefit of reducing red meat from the diet after the diagnosis of endometriosis is not yet known. This survey was conducted to investigate the benefits of self-management strategies and dietary modifications for symptom management in women with confirmed endometriosis. Armour et al from NICM Health Research Institute, Western Sydney University, Australia set up a cross-sectional online survey and published the results in the Journal of Alternative and Complementary Medicine.
Overall, 484 women who had surgically confirmed endometriosis within 5 years participated in the study by completing the online survey, named "Patient-Professional Interaction Questionnaire (PPIQ)" to assess the patient-centered care from the patient's perspective. Two-third of participants used a self-management strategy and about 44% were dietary strategies. Although there was no statistical difference between the patients who implemented dietary strategies versus those who did not, the pelvic pain was reduced by diet by self-rated scale, about 6,4+2,4 on a 0-10 rating scale. However, no specific diet was found to be the most effective. Besides pelvic pain, gastrointestinal disturbance, nausea-vomiting, fatigue, depression, and sleep disorders were the five most significant healing symptoms.
After evaluating the statistical results, the authors discussed the benefits and the restrictions of the low-carbohydrate diet which were commonly used among the student responders. "Dietary strategies that are not superior to each other in terms of reducing pelvic pain and other symptoms are common self-management strategies among women with endometriosis" is the conclusion of the research.
---
---
pelvic pain
gastrointestinal symptoms
diet
saccharides
polyols
self-managment
endometriosis
carbohydrates
survey
gluten
DISCLAIMER
EndoNews highlights the latest peer-reviewed scientific research and medical literature that focuses on endometriosis. We are unbiased in our summaries of recently-published endometriosis research. EndoNews does not provide medical advice or opinions on the best form of treatment. We highly stress the importance of not using EndoNews as a substitute for seeking an experienced physician.
<< Previous Article

Next Article >>