Neglected needs of endometriosis and infertility patients during COVID-19 pandemic
May 29, 2020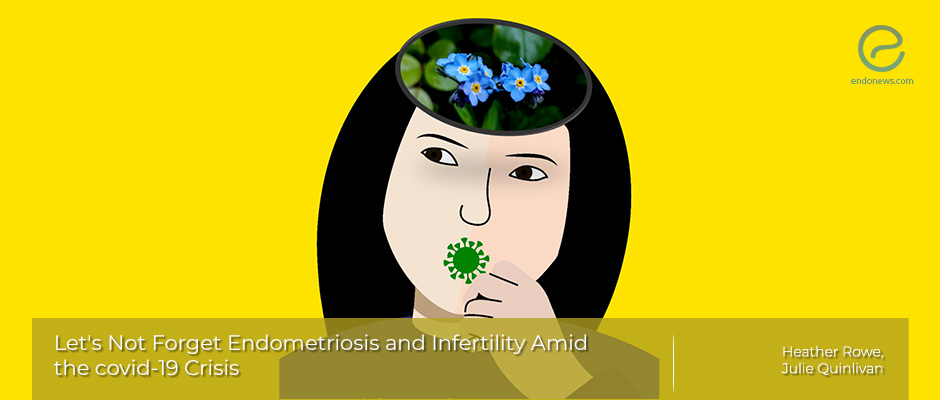 Endometriosis is a chronic disease which should not be forgotten during global coronavirus pandemic
Key Points
Highlights:
The burden of chronic disease due to endometriosis and infertility remains to be managed.
Importance:
Attention should be drawn to the ignored needs of women with endometriosis in the course of ongoing coronavirus outbreak.
What's done here:
The physical and psychological distress of women with endometriosis amid the COVID-19 crisis is underlined.
Key Results:
Economic changes, social restrictions, and fears about COVID-19 may aggravate chronic pain in women with endometriosis.
Since elective surgeries are canceled and consultation services are reduced in many countries, women with endometriosis and infertility are worried about the delay to receive services.
Endometriosis is a chronic disease that should still be managed even if all efforts are diverted to COVID-19 management.
Symptom control and counseling can be offered to help endometriosis patients to cope with this difficult time.
Lay Summary
With the global outbreak of the COVID-19, hospitals canceled surgeries and people are afraid of going to hospitals. However, chronic diseases still need to be managed.
Rowe H. and Quinlivan J., researchers from Australia, pointed out the neglected needs of women with endometriosis during the global COVID-19 pandemic. Their paper has been recently published in the Journal of Psychosomatic Obstetrics & Gynecology.
Here, the authors shortly reviewed endometriosis and its link to infertility as well as the emotional cost.
Endometriosis patients suffer from anxiety, aggravated chronic pain because of economic changes, social restrictions, and fears about coronavirus. Women with infertility are worried since treatments are paused during the pandemic.
The authors stated that patients with endometriosis need integrated physical and psychological care during the COVID-19 pandemic. "To cope with this difficult time, symptom control and counseling should be continuously provided for endometriosis patients", they added.
---
---
COVID-19
coronavirus
endometriosis
infertility
pain
chronic disease
go away
what does endometriosis feel like
fatigue
pregnancy
DISCLAIMER
EndoNews highlights the latest peer-reviewed scientific research and medical literature that focuses on endometriosis. We are unbiased in our summaries of recently-published endometriosis research. EndoNews does not provide medical advice or opinions on the best form of treatment. We highly stress the importance of not using EndoNews as a substitute for seeking an experienced physician.
<< Previous Article

Next Article >>