NAT2 as potential biomarker for the diagnosis and treatment of endometriosis
May 20, 2020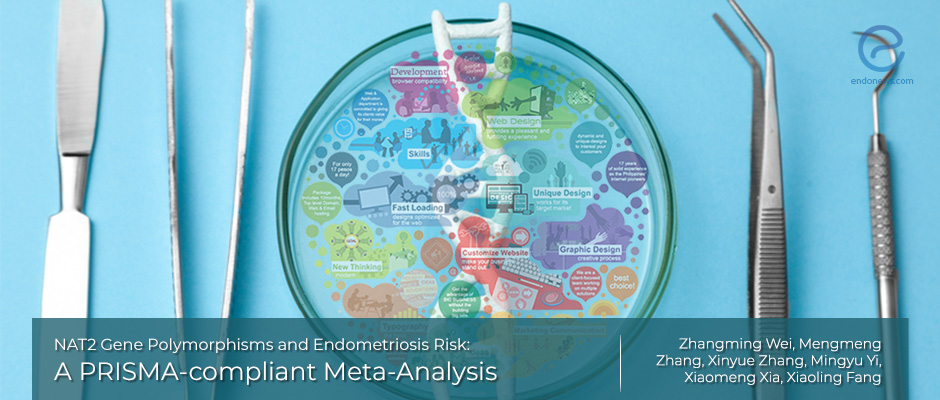 NAT2 gene polymorphisms and endometriosis risk
Key Points
Highlights:
The role of N-acetyltransferase 2 (NAT2) polymorphism in endometriosis is not clear. This study clarifies the contradictory results obtained by previous studies about the link between NAT2 polymorphisms and the risk of endometriosis.
Importance:
The study presents NAT2 phenotypes and polymorphisms as potential biomarkers for the diagnosis and treatment of endometriosis.
What's done here?
The role of genetic factors, especially toxic metabolic enzyme genes on the pathogenesis of endometriosis is examined.
The meta-analysis of nine case-control studies, investigating the NAT2 phenotypes, and SNPs were evaluated to shed a light on the role of NAT2 in endometriosis.
A subgroup analysis was also performed to elucidate the association between NAT2 phenotypes and endometriosis risk based on ethnicity.
Key results:
NAT2 slow acetylation phenotype increased the risk of endometriosis by 130% in Asian individuals. No such association was found in Caucasians.
Some individuals with a specific SNP had a decreased risk of endometriosis by 26% demonstrating a significant association between NAT2 and the risk of endometriosis.
Limitations of the study:
The study includes a limited number of databases.
The databases report Asian and Caucasian populations only, thus no information is available for other ethnicities.
The study ignored the heterogeneity in the NAT2 phenotype between different ethnicities.
More samples and data are required to draw more accurate conclusions and the data should be strengthened by taking into consideration the different stages of endometriosis.
Lay Summary
Endometriosis affects 5–10% of women of reproductive age causing several discomforts, pelvic pain, menstrual disorders, ectopic bleeding, infertility, and sometimes even malignant transformation but its etiology remains unclear.
Accumulating evidence point a key role for genetic factors and there is ongoing research on identifying the genes associated with the pathogenesis of endometriosis.
The N-acetyltransferase 2 (NAT2) group molecules function to both activate and deactivate drugs, carcinogens and the polymorphism result in rapid, intermediate, and slow function. These are different single nucleotide polymorphisms (SNPs). Polymorphisms in NAT2 have also found to be associated with diseases including some cancers and asthma.
Furthermore, several studies investigated the link between NAT2 polymorphisms and the risk of endometriosis but ended up with contradicting results. This study, authored by Wei et al. and published in PlosOne, aimed to clarify the role of NAT2 phenotypes or SNPs in the risk of developing endometriosis.
By performing a meta-analysis that comprised of nine case-control studies including a subgroup analysis according to Asian and Caucasian ethnic groups, the authors showed that there is a significant association between the NAT2 slow acetylation phenotype and risk for endometriosis in the Asian population.
In the Caucasian population however, there was no significant association between the slow, intermediate, or fast acetylation NAT2 phenotypes and endometriosis.
Moreover, the analysis confirmed that there is a link between endometriosis and a specific type SNP (rs1799930), which decreased the risk of endometriosis by 26%.
The authors mentioned that with further research, NAT2 phenotypes and SNPs have the potential to be used as biomarkers for the diagnosis and treatment of endometriosis. Finally, "Our research suggests that there is still room for improvement with respect to studies on the genetic basis of endometriosis", they concluded.
---
---
endometriosis
N-acetyltransferase 2
single nucleotide polymorphisms
acetylation
DISCLAIMER
EndoNews highlights the latest peer-reviewed scientific research and medical literature that focuses on endometriosis. We are unbiased in our summaries of recently-published endometriosis research. EndoNews does not provide medical advice or opinions on the best form of treatment. We highly stress the importance of not using EndoNews as a substitute for seeking an experienced physician.