Monitoring eating behavior is important
Nov 16, 2023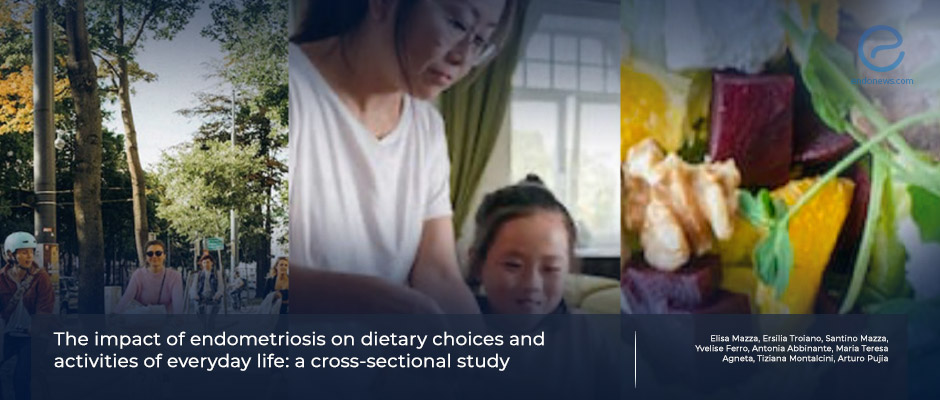 Eating behaviors are being modified by endometriosis patients to improve clinical symptoms.
Key Points
Importance:
Women with a diagnosis of endometriosis usually prefer to change their lifestyle interventions: rest, meditation, heat therapy, exercise, and dietary changes may help to cope with chronic pelvic pain and social relations.
Highlights:
The dietary shift of women with endometriosis, with increased consumption of vegetables, fruits, and fish while reducing soy-containing food, high saturated fat, and dairy products proved beneficial effects.
What's done here:
A southern Italian team conducted an online survey to evaluate self-reported clinical findings, dietary habits, and daily life after the diagnosis of endometriosis.
More than four thousand Italian residents over 18 years participated in this cross-sectional study.
The authors developed a semi-structured online questionnaire with predefined answer options.
Key Results:
After an endometriosis diagnosis, two-thirds of the endometriosis patients reported changes in eating habits, and almost all the patients had a decline in their daily life.
For improving health and reducing symptoms, different dietary interventions were used, such as gluten-free (15%), anti-inflammatory (8%), Mediterranean (7.1%), or ketogenic (4%).
There was an apparent shift in the eating habits of the patients, with increased consumption of vegetables, fruits, cereals, and fish, along with a reduction in dairy products, soy-containing foods, and saturated fats.
Almost half of the patients were between 36 and 45 years old. One-third of the population had the severe stage of the disease.
Statistical evaluation showed that changes in eating habits were correlated with endometriosis stages.
Furthermore, educational level, endometriosis stages, symptom duration, and eating habit changes are linked to changes in daily life.
Lay Summary
The relationship between dietary products and endometriosis gained interest after the recognition that a proper diet can improve pathological and physiological processes. There is also a belief that the benefits of some anti-oxidants may have a therapeutic effect on the chronic inflammatory process and reduce visceral pain perception.
Mazza et al. from Magna Grazia University, Italy, aimed to investigate the potential effect of endometriosis on dietary habits and daily activities in a cross-sectional study based on 4078 patient data collected in 2021.
The authors created an online questionnaire form to evaluate demographic and clinical characteristics. The critical finding was the change of dietary habits in most patients (66,4%) after the diagnosis of endometriosis. Almost all (92%) reported worsening daily life and social activities, reduction of working capacity, and difficulty managing pelvic pain.
Although some studies demonstrated the anti-inflammatory effects of nutrition-containing vitamin B3, Omega-3/6, quercetin, calcium salt, 5-methyltetrahydrofolate, parthenium, and turmeric in women with endometriosis, prolonged use cannot be recommended. Currently, no supportive nutritional guidelines exist to improve the symptoms to highlight the patients' needs.
The authors believed in the necessity of nutritional guidance to prevent malnutrition for these women who shifted their diets after the diagnosis of endometriosis. This paper was recently published in the journal named "Frontiers in Nutrition".
---
---
dietary
habit
daily activity
gluten-free
ketogenic diet
quality of life
endometriosis
anti-inflammatory
DISCLAIMER
EndoNews highlights the latest peer-reviewed scientific research and medical literature that focuses on endometriosis. We are unbiased in our summaries of recently-published endometriosis research. EndoNews does not provide medical advice or opinions on the best form of treatment. We highly stress the importance of not using EndoNews as a substitute for seeking an experienced physician.