Migraine, endometriosis and plasma "Calcitonin Gene-Related Peptide"
Jul 2, 2021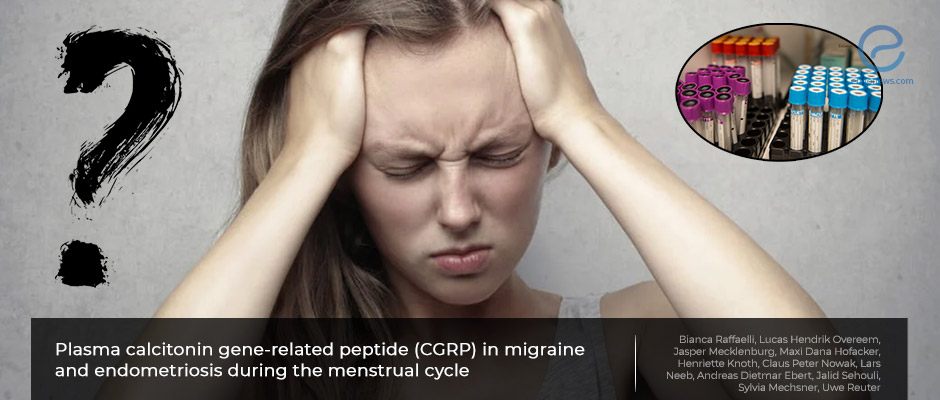 Plasma CGRP levels rise during the menstrual period in patients with migraine and endometriosis comorbidity
Key Points
Highlight
Calcitonin gene-related peptide (CGRP) levels have different pattern in endometriosis patients suffering from migraine compared to the healthy individuals.
Importance
Calcitonin gene-related peptide (CGRP) is the main neuropeptide responsible for headache in migraine patients and it is also found in high densities around endometriotic lesions.
CGRP is known to be hormone-dependent and its effects change in different phases of the menstrual cycle.
Key results
In patients with both migraine and endometriosis, the health-related quality of life is affected significantly.
What's done here?
Researchers assessed the plasma CGRP levels in different groups including patients with migraine, endometriosis, and both in order to determine whether the levels differ throughout the menstrual cycle and get affected by hormonal changes.
Strength and Limitations
The careful selection of the patients with endometriosis confirmed by histopathological diagnosis and the selection of patients with migraine constitutes the strong points of the study.
Lay Summary
Calcitonin gene-related peptide (CGRP) is a neurotransmitter that takes part in migraine and is now thought to have a role in endometriosis. The role of CGRP is well known in migraine, it is released from neurons during acute attacks and some findings indicate it also plays a role in the pain in endometriosis. Migraine and endometriosis are frequently seen together, however the role of CGRP during the menstrual period where both of these diseases present with pain has not been studied before.
Dr. Raffaelli et al. from Berlin, Germany assessed the plasma CGRP levels of 110 women during two phases of the menstrual cycle – at menstruation and periovulatory period. The study results were published in the latest issue of Annals of Clinical and Translational Neurology. The study groups consisted of patients with only episodic migraine, patients with only endometriosis, patients with both migraine and endometriosis, and healthy controls.
To determine the effects of the diseases on the quality of daily life in patients with migraine and endometriosis, researchers performed tests named "Headache Impact Test-6" and "Endometriosis Health Profile-30 (EHP-30)", respectively. Results shows the symptoms worsen when migraines and endometriosis occur together.
The study states that the plasma CGRP levels change during the menstrual cycle, increase during the menstruation in the patients with both migraine and endometriosis, while decrease in healthy controls indicating specific pathophysiological conditions for this comorbidity. The increase of CGRP levels in only the comorbid group was thought to be linked to specific genetic alterations causing a different hormone-dependent release of the neuropeptides. There was not a relationship between the pain frequencies of migraine and endometriosis and CGRP levels.
The authors also argue that higher plasma CGRP levels were expected in endometriosis patients because endometriotic lesions show strong immunohistochemical CGRP staining.
With these findings, the hypothesis that the comorbidity of migraine and endometriosis most likely has a different genetic profile was supported.
---
---
migraine
endometriosis
comorbidity
calcitonin gene-related peptide
DISCLAIMER
EndoNews highlights the latest peer-reviewed scientific research and medical literature that focuses on endometriosis. We are unbiased in our summaries of recently-published endometriosis research. EndoNews does not provide medical advice or opinions on the best form of treatment. We highly stress the importance of not using EndoNews as a substitute for seeking an experienced physician.
<< Previous Article

Next Article >>