Medical databases yield 32 published cases of surgically treated liver endometriosis
By:
Engin Aydin
- Dec 11, 2019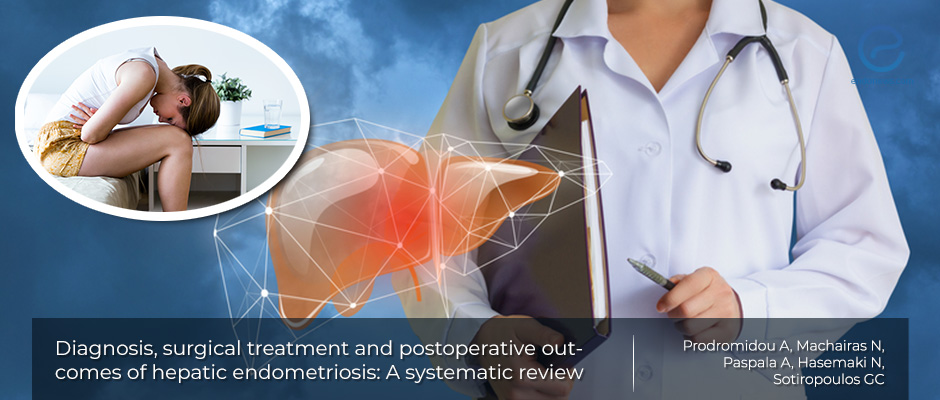 A diagnostic challenge: liver endometriosis
Key Points
Highlights:
Though variable features and clinical symptomatology may be hard to solve, liver endometriosis must be in the differential diagnosis of liver masses especially in premenopausal women with a history of endometriosis.
Importance:
Endometriosis located in the liver is a very rarely diagnosed form of extrapelvic endometriosis.
What's done here:
This comprehensive review has shed light on clinically challenging cases of liver endometriosis.
A meticulous search of electronic databases for articles published on liver endometriosis revealed only 32 cases.
Patients who received conservative treatment other than surgery were excluded in this review.
Data:
A total of 27 studies yielded a number of 32 patients with liver endometriosis were in the final compilation of the review.
The mean age of patients was 39.7 years, eleven patients (36.7%) had a history of pelvic endometriosis of various sites. Abdominal pain was the primary symptom in 28 patients.
Lay Summary
Prodromidou and colleagues from Greece have published a review of surgically diagnosed, histopathologically proven liver endometriosis cases published worldwide, in the journal "Annals of Hepatology".
Searching at three electronic medical databases namely, PubMed (1966–2019), Scopus(2004–2019), and Google Scholar (2004–2019) for observational studies and case reports, there were 27 studies which yielded 32 patients with surgically treated liver endometriosis.
Histopathological examination of surgical specimens revealed the presence of endometrial stroma and glands. In cases in which immunochemistry was performed, estrogen and progesterone receptor positivity were found as well as CK7 positive epithelial staining.
The majority of patients underwent open surgical procedures, which ranged from simple cyst resection to major hepatic resections based on the location and size of the lesions. There were four patients who underwent laparoscopic cyst resection successfully. Regardless of the type of surgery, cumulative morbidity and mortality rates were 3% and 0%, respectively, whereas recurrence was merely in one patient.
Diagnosis of liver endometriosis is challenging due to variable features and clinical symptomatology, however, it should be considered in the differential diagnosis of liver masses especially in premenopausal women with a history of endometriosis.
The authors conclude that that liver resections for the treatment of endometriosis are safe and efficient procedures by experienced surgeons.
---
---
liver endometriosis
hepatic endometriosis
histopathology
DISCLAIMER
Endonews is designed to strictly highlight the most recently published scientific research that focuses on endometriosis. It is not designed to provide medical advice or an opinion on the best form of treatment. We highly stress the importance of not using this site as a substitute for seeking an experienced physician, which is highly recommended if you have any questions or concerns regarding your endometriosis needs. We believe in the consciousness of our reader to discriminate that research is different than "standard of care," and trust that they can keep in mind that here at Endonews, we summarize the newest peer-reviewed scientific medical literature, without bias.
<< Previous Article