Is continuous hormonal treatment safe and healthy method for endometriotic patients?
By:
Selma Oransay
- Sep 6, 2023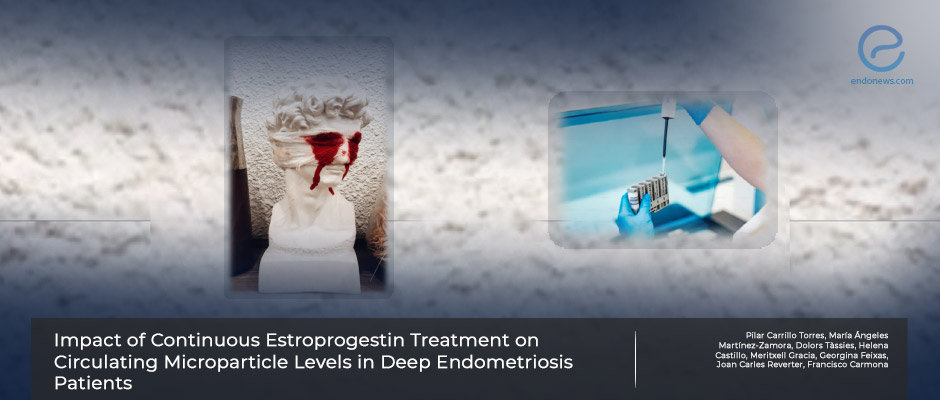 The blood level of circulating microparticles and tissue factors would help decide the impact of hormonal treatment in patients with endometriosis.
Key Points
Highlights:
Deep-infiltrating endometriosis could present with a hypercoagulable state with high proinflammatory and procoagulant markers, including circulating microparticles, released by cells in response to damage.
Importance:
Hormonal treatments for endometriosis may be the cause of high levels of those circulating microparticles, questioning the hormonal treatment.
What's done here:
A single-center, longitudinal, prospective, observational case-control study was conducted in a tertiary hospital in Spain.
The study aimed to evaluate the impact of hormonal therapies on circulating microparticles and tissue factor levels in deep endometriosis patients.
A total of 129 consecutive women diagnosed with deep endometriosis were divided into three study groups (the continuous combined oral contraceptive treatment group, the patients without hormonal treatment group, and the control group).
Key Results:
The number of patients in the continuous combined oral contraceptive treatment group, without hormonal treatment group, and control group, were 41,45, and 43 retrospectively.
The total circulating microparticle levels were higher in deep endometriotic women without hormonal treatment when compared to controls.
Deep endometriotic patients in the hormonal-treated group showed statistically significantly lower cMP plasma levels than those without treatment.
Higher tissue factor levels were found in the first group compared to the second, but no statistical differences were noted in cMP-TF levels compared to the first group with controls.
Limitations:
The hormonal therapy given in this study consists of combined oral contraceptives, while no data could be presented as the "only progesterone therapy" in deep endometriosis patients.
Lay Summary
One of the studies related to the search for new markers in pathophysiologic causes of endometriosis is circulating microparticles and their subset "tissue factor". In response to damage, activation, or apoptosis, these microparticles are found in human plasma, urine, saliva, and cerebrospinal fluid. Higher cMP levels are found in conditions where vascular dysfunction and inflammation are critical vital findings, such as cardiovascular disease, diabetes, preeclampsia, thrombotic disorders, and deep endometriosis. TF, also known as coagulation factor III, initiates the coagulation cascade by forming a complex with coagulation factor VIIa. A local elevation of TF has been reported in endometriotic lesions, such as glandular epithelial cells of ectopic and eutopic endometrium.
Long-term hormonal treatments are preferred to improve the patient's complaints about endometriosis. However, little is known whether the estroprogestins adversely affect the coagulative situation of endometriotic lesions.
To evaluate the impact of hormonal treatment on circulating particles that addressed increased coagulation activity in DE patients, Torres et al. from the Gynecol Dept of Barcelona University, Spain, set up a prospective observational-controlled study in their clinic.
Their findings confirmed the existence of higher levels of total cMP in deep endometriosis patients. On the other hand, when DE patients are cured with continuous hormonal therapy, total plasma cMP levels decrease significantly, whereas cMP-TF levels increase. The role of estrogens could be reducing tissue factor pathway inhibitor (TFPI) and subsequently increasing cMP-TF levels.
A significant decrease in cMP levels in endometriotic patients treated with estroprogestins indicated hormonal treatment can suppress cyclical bleeding inside the lesions and inactivate the platelets, which cause cMP formation and inflammation.
This interesting prospective study was recently published in the International Journal of Molecular Sciences.
---
---
hormonal therapy
combined oral contraceptives
estroprogestin treatment
coagulation
circulating microparticules
tissue factor
endometriosis.
DISCLAIMER
EndoNews highlights the latest peer-reviewed scientific research and medical literature that focuses on endometriosis. We are unbiased in our summaries of recently-published endometriosis research. EndoNews does not provide medical advice or opinions on the best form of treatment. We highly stress the importance of not using EndoNews as a substitute for seeking an experienced physician.
<< Previous Article