Iron and toxic environmental elements in ovarian endometriomas
By:
Selma Oransay
- Feb 7, 2023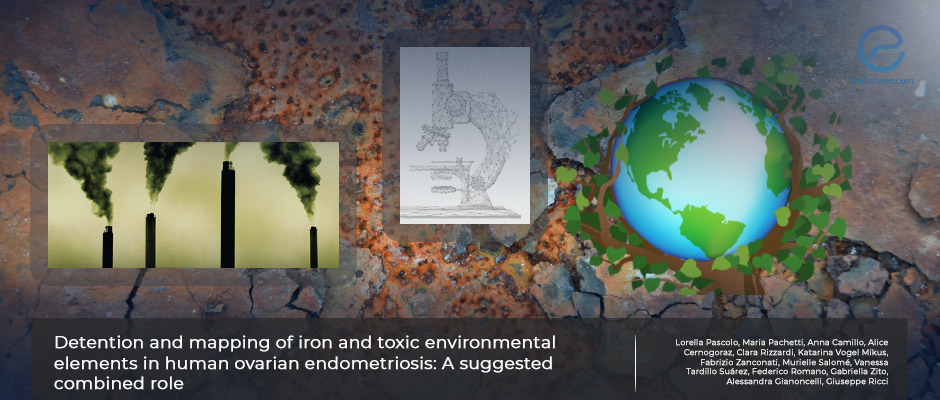 Combined accumulation of iron and environmental metals can play a role in the development of ovarian endometriosis.
Key Points
Importance:
An increasing number of studies suggest a link between altered iron metabolism and endometriosis.
Highlights:
Nano-X-Ray-Fluorescence microscopy revealed deposits of iron and some exogenous metals in human ovarian endometriosis suggesting a possible role in the etiopathogenesis.
What's done here:
A research team from Italy and France conducted a prospective controlled study to compare the aggregation of iron and toxic metals in the ovaries of endometriotic patients and healthy ones.
X-ray fluorescence microscopy was used in formalin-fixed paraffin-embedded samples of human ovarian endometriosis (12) and healthy controls (8) to see the iron accumulation and other exogenous elements.
Key Results:
Histological samples of all twelve patients affected by endometriosis and seven controls were stained with hematoxylin and eosin to evaluate the morphological features of the components.
Ferric iron staining showed iron accumulation mostly concentrated in glandular epithelium inside the stroma and macrophages.
X-Ray-Fluorescence microscopy evidenced that the iron was specifically accumulated in multiple micro aggregates of the endometriosis lesions.
The same analyses also revealed the retention of Pb, Br, Ti, Al, Cr, Si, and Rb, which are exogenous and potentially toxic metals.
These findings suggested that iron, combined with other toxic metals may play a role in etiopathogenesis.
Limitations:
The study and control group numbers are relatively small to draw a definitive conclusion.
Lay Summary
It is well-known that the growth of endometriotic lesions is estrogen-dependent and supported by inflammatory processes. In addition to oxidative stress, it is believed that several other factors, including chemicals and environmental factors, and genetic predisposition may play a potential role in the pathogenesis of endometriosis.
Pascolo et al. from the Institute for Maternal and Child Health, Trieste, İtaly set up a histological and histochemical study regarding the evidence between endometriosis and altered iron metabolism with the truth of frequent bleeding can cause iron deposition inside endometrial lesions and peritoneal macrophages.
After the histopathological analyses, the authors used 12 ovarian endometrioma samples and seven endometrial tissue of healthy women. Under the X-ray Fluorescence microscope guidance, they investigated the distribution of iron and other elements in the glands and stroma of these tissues and inside the macrophages.
Histochemical staining of iron was performed to detect the ferric ions and to show the iron deposition. The authors found the iron accumulation concentrated mostly in the glandular epithelium, inside the stroma, and inside macrophages, respectively. Among 12 endometriomas, only one was negative. On the other hand, the controls were almost always negative for the staining except for one case that showed rare positive siderophages.
X-Ray-Fluorescence intensity maps of controls and endometrioma samples were also compared to detect iron deposition. Notably, iron concentration can reach extremely high levels, while control samples had no evidence of iron. Thus, the presence of high amounts of iron can be named a characteristic of endometriosis.
In this study that was recently published in the journal named Science of the Total Environment, the X-Ray-Fluorescence revealed for the first time the retention of a number of exogenous and possibly toxic metals, such as Pb, Br, Ti, Al, Cr, S, and Rb, co-localizing with iron.
---
---
etiopathogenesis
iron
exagenous metals
ovarian endometriosis
synchrotron XRF
FFPE samples
Pearl's staining
endometriosis.
DISCLAIMER
EndoNews highlights the latest peer-reviewed scientific research and medical literature that focuses on endometriosis. We are unbiased in our summaries of recently-published endometriosis research. EndoNews does not provide medical advice or opinions on the best form of treatment. We highly stress the importance of not using EndoNews as a substitute for seeking an experienced physician.
<< Previous Article

Next Article >>