International definition and standardization for endometriosis
By:
Selma Oransay
- Dec 29, 2021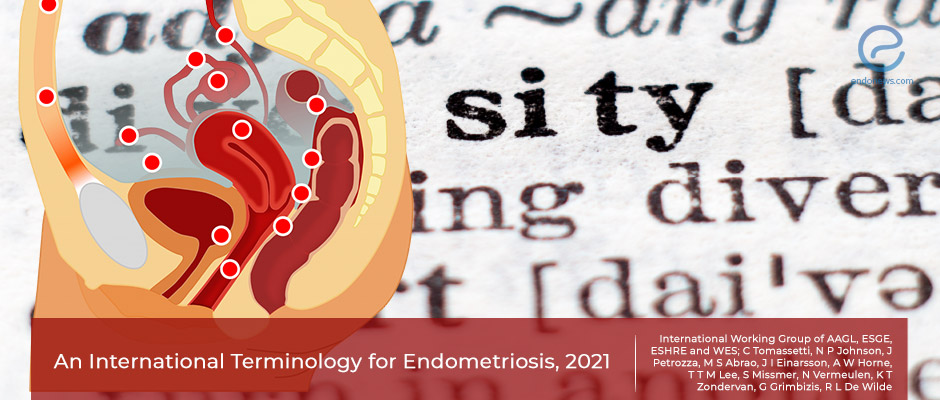 Standard terminology for endometriosis is a sine qua non.
Key Points
Highlights:
Various definitions of endometriosis within international glossaries and publications have necessitated the need for standardization by experts in this field.
Importance:
The implementation of designated terminology will facilitate harmonization both in endometriosis research and clinical practice.
What's done here:
This is a consensus paper by an international working group including members of AAGL, ESHRE, ESGE, and WES with collaborating organizations and individual experts.
The list of terms in the published literature to develop a set of definitions for standardized description, classification, and research for endometriosis.
Results of the consensus:
The definition for endometriosis adapted from the International Glossary on Infertility and Fertility Care with the addition of WHO, 2021 stating that endometriosis causes a chronic inflammatory process resulting in a formation of scar tissue.
Extrapelvic endometriosis, iatrogenic endometriosis, peritoneal adhesions, and adenomyosis were defined separately after the definition of superficial, ovarian, and deeply infiltrating endometriosis.
Under the heading of treatment and interventions, surgical terminology such as bowel shaving, ablation, partial or full-thickness discoid excision is defined.
A standardized definition is not yet available for the outcome parameters of endometriosis such as pain, infertility, and Quality of Life, whereas the definition of recurrence depends on the symptom or lesion occurrence.
Lay Summary
There is huge heterogeneity in classifications, subtypes, diagnostic and therapeutic interventions of endometriosis in published literature. The lack of a uniform and widely accepted terminology of the disease rose the necessity to argue and reach a common consensus with organizations, experts, and a working group of recognized international societies.
Four international societies including AAGL, ESHRE, ESGE, WES started to work on the terms and definitions with their elected group members. All collected definitions were discussed and adaptations were made to give the final form for the 49 terms working with collaborating organizations and individual experts. The consensus paper was recently published on Facts Views Vision in Obstetrics and Gynecology and is also available on society's website.
In order to guide and simplify the findings, the results were structured in four sections of terms and definitions that can be used universally for endometriosis.
The list of these terms and definitions that were tabulated in 4 sections are (i) endometriosis subtypes and locations, (ii) anatomical spaces, and other locations where endometriosis can be detected, (iii) endometriosis treatment and interventions, and (iv) outcome parameters of endometriosis. The aim is to provide a standardized language for all terms and descriptions of endometriosis and lead to harmonization in endometriosis research.
"Further refinement of the definitions may be required as information develops on diagnosis and pathology of endometriosis" concluded the paper.
---
---
terminology
standardization
classification
research
glossary
excision
ablation
cagulation
endometriosis.
DISCLAIMER
EndoNews highlights the latest peer-reviewed scientific research and medical literature that focuses on endometriosis. We are unbiased in our summaries of recently-published endometriosis research. EndoNews does not provide medical advice or opinions on the best form of treatment. We highly stress the importance of not using EndoNews as a substitute for seeking an experienced physician.