Inflammatory mediators in endometriosis pathogenesis
By:
Yu Yu
- Mar 22, 2018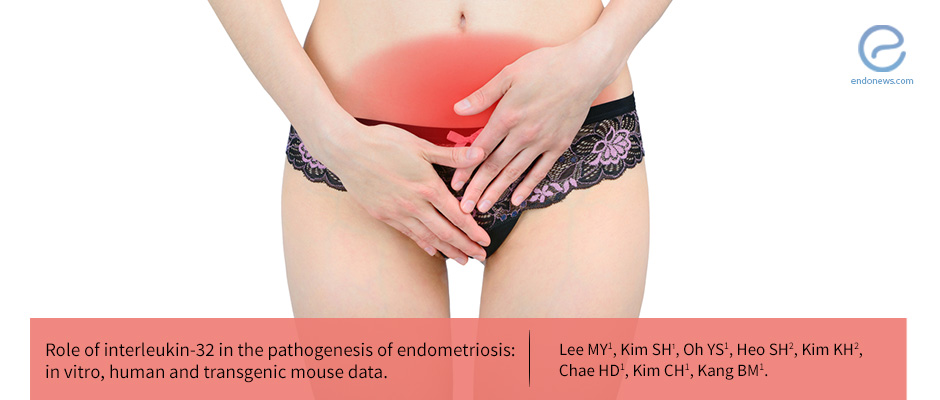 Could proinflammatory Interleukin-32 be our new target?
Key Points
Highlight:
This research article examined the role of interleukin-32 (IL-32) in endometriosis pathogenesis.
Importance:
IL-32 increased endometrial cells viability, proliferation and invasion thus might be involved in endometriosis.
What's done here:
Comparison of IL-32 levels in the peritoneal fluids between women with and without endometriosis
Endometrial cells viability, proliferation, and invasion in the presence and absence of IL-32 were investigated.
Experiments to determine the size of ectopic endometriotic lesions in IL-32 transgenic and wild-type mice with induced endometriosis.
Data:
IL-32 concentration in peritoneal fluid was significantly higher in patients with advanced stage endometriosis than the controls.
Endometrial cells treated with IL-32 caused increases in cellular viability, proliferating cell nuclear antigen (PCNA) expression, and invasiveness.
IL-32 transgenic mice had larger ectopic endometrial lesions than wild-type mice.
Limitation:
The study cannot conclude if IL-32 is the main regulator or only part of a proinflammatory cytokines network causing endometriosis progression.
More studies are needed to use information regarding IL-32 to develop effective treatment.
Lay Summary
Proinflammatory cytokines play an important function in mediating inflammatory reactions in chronic inflammatory diseases and in endometriosis. IL-32 is a new proinflammatory cytokine, and can also induce other proinflammatory cytokines in the body such as Tumour Necrosis Factor-α (TNF-α) and IL-8.
This article by Lee et al. published in Human Reproduction journal from Department of Obstetrics and Gynecology, University of Ulsan College of Medicine, Seoul, Korea determined the role of IL-32 in the pathogenesis of endometriosis using endometrial cell models, human peritoneal fluid and transgenic mouse experiments, based on the emerging functions of IL-32 in several inflammatory conditions.
The study compared IL-32 levels in the peritoneal fluid between women with and without endometriosis. Peritoneal fluid was collected from advanced stage endometriosis (n = 45) and from controls (n = 40) during laparoscopic surgery. The effects of IL-32 were tested on cell viability, proliferation, and invasiveness of an endometrial adenocarcinoma cell line and endometrial stromal cells. The IL-32 function was also examined in an animal model by comparing endometriotic lesion size in IL-32 transgenic and wild-type mice after autologous endometrial transplantation. IL-32 concentration in patients peritoneal fluids were measured.
The results showed that IL-32 levels were significantly higher in the peritoneal fluid derived from endometriosis cases than the controls. Treatment of endometrial cells with IL-32 led to elevated cellular viability, proliferation, and invasiveness. Moreover, IL-32 transgenic mice had larger ectopic endometrial lesions with higher proliferative markers staining than wild-type mice. Therefore, these data suggest that IL-32 may contribute to the pathogenesis of endometriosis.
This study is supported by data from cellular, animal and human models, showing that IL-32 could play a significant role in endometriosis. Given these findings, future work will be necessary to determine whether we can target the IL-32 activity to generate new therapeutics in endometriosis.
---
---
endometriosis
inflammation
interleukin
pathogenesis
DISCLAIMER
EndoNews highlights the latest peer-reviewed scientific research and medical literature that focuses on endometriosis. We are unbiased in our summaries of recently-published endometriosis research. EndoNews does not provide medical advice or opinions on the best form of treatment. We highly stress the importance of not using EndoNews as a substitute for seeking an experienced physician.