Inflammatory and genetical background of endometriosis may yield new therapeutic approaches
Dec 6, 2021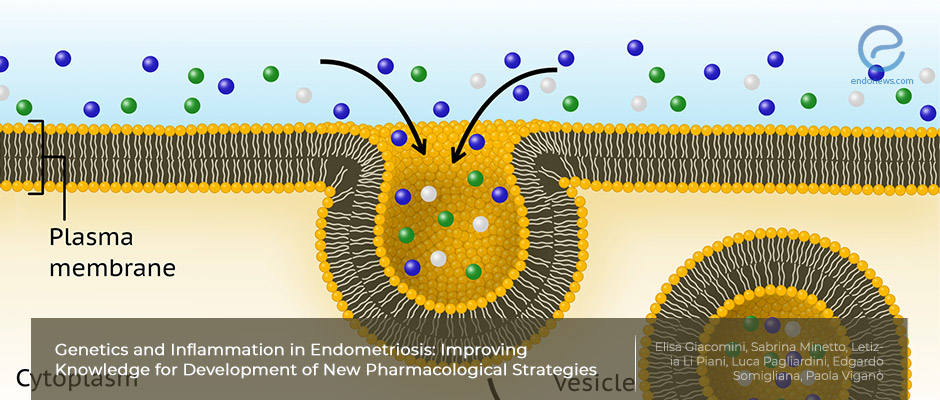 "Extracellular vesicle-associated molecules" have potential clinical implications for endometriosis
Key Points
Highlights:
Endometriosis is complex but has a well established important inflammatory component.
Several immune-regulation and inflammation-related gene polymorphisms have been reported to be linked to endometriotic lesions.
Importance:
Both immune and inflammatory dysfunctions could well be therapeutic targets in endometriosis.
If genetic evidence supports the involvement of functional pathways, targeting them via next-generation inhibitors may yield therapeutic options as well.
What's done here
This is a comprehensive review of published data on the pathogenetic pathways in endometriosis revealing the intersections between inflammatory and genetical components that could yield possible vanguard therapeutic approaches.
Key results
As our knowledge on endometriosis pathogenesis involving inflammatory and genetic components develops, new therapeutic approaches could be possible in alleviating symptoms, stopping the progression, preserving fertility and finally reducing recurrence rates.
Particularly extracellular vesicle-associated molecules are interesting in this regard as potential biomarkers and therapeutic potentials for endometriosis patients.
Lay Summary
Elisa Giacomini and colleagues from medical centers in Milan, Italy have published their review manuscript on the inflammatory and genetical pathogenetic background of endometriosis in a recent issue of "International Journal of Molecular Sciences", suggesting also new therapeutic approaches.
The inflammatory basis of endometriosis with research supporting local and systemic immune cell dysfunctions is a widely accepted opinion. The published data of endometriosis research groups yields local and systemic immune cell dysfunctions, and an inflammatory component in all kinds of endometriosis.
Macrophages have a special role in this regard, as they have been shown to secrete adhesion molecules, growth factors and pro-inflammatory cytokines in endometriotic lesions and the peritoneal fluid also. Alterations in transcripts and proteins immune cell populations, besides interaction between cytokines and their receptors, cellular adhesion and apoptosis have been demonstrated in endometriotic lesions.
Analysing via genome-wide association studies (GWAS) technology emphasises the mitogen-activated protein kinase (MAPK) and signalling by the Wnt family of secreted glycolipoproteins via the transcription co-activator β-catenin cascades in the pathogenesis of endometriosis. These signalling pathways have been put forward for the disease establishment through several mechanisms such as apoptosis, migration and new vessel formation.
As a result, immune/inflammatory dysfunctions are promising attractive therapeutic targets in endometriosis and these could well yield new therapeutic insights if genetic evidence supports the involvement of functional pathways at the basis of these alterations.
Accordingly, the authors have suggested that extracellular vesicle-associated molecules are promising candidates for clinical trials as potential biomarkers and therapeutic approaches for endometriosis patients.
---
---
endometriosis
genetics
inflammation
extracellular vesicles
clinical trials
MAP kinase
Wnt
β-catenin
DISCLAIMER
EndoNews highlights the latest peer-reviewed scientific research and medical literature that focuses on endometriosis. We are unbiased in our summaries of recently-published endometriosis research. EndoNews does not provide medical advice or opinions on the best form of treatment. We highly stress the importance of not using EndoNews as a substitute for seeking an experienced physician.
<< Previous Article

Next Article >>