Indocyanine green in endometriosis surgery
By:
Selma Oransay
- Oct 21, 2020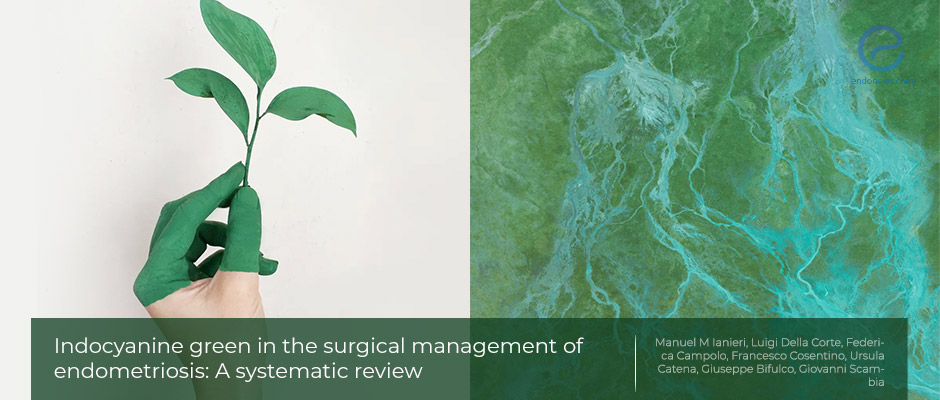 During a laparoscopic surgery for endometriosis, detection of the lesions with the guide of ICG dye efficiency is controversial.
Key Points
Importance:
The difficulties in identifying peritoneal endometriosis and the high complication rate of deep infiltrating endometriosis (DIE) directed surgeons to use indocyanine green as a supportive tool during surgery.
Highlights:
With the help of a near-infrared camera, the indocyanine green application is helpful in the evaluation of vascularization in intestinal anastomosis during DIE operations, and after ureterolysis.
The usefulness of the detection of endometriosis lesions with indocyanine green has contradictory results.
What's done here:
Two authors from Italy separately screened Medline databases between 2000 2020, fusing the keywords " indocyanine green", "endometriosis", "deep endometriosis", "robotic surgery"," laparoscopy" and "ureter".
Their main goal was to offer an overview of indocyanine green use in the management and surgical treatment of endometriosis.
Key results:
The intravenous administration of indocyanine green, if associated with a near-infrared camera, allows an accurate intraoperative real-time assessment of tissue vascularization.
Due to the neovascularization characteristics, endometriosis appears dark green after indocyanine green injection, while it is not visible during conventional laparoscopy.
Due to variability among various studies, the visualization of fluorescent after the administration of indocyanine green varies from a few seconds to 30 minutes.
The studies showed a wide range of variability about the effectiveness and usefulness of indocyanine green injection during superficial and deep infiltrating endometriosis cases depending on the case characteristics, localization of lesions, and surgeon skill.
Lay Summary
Recently, indocyanine green is well studied and used safely in real-time perfusion to organs or tissues, after taking into consideration its binding capacity to the plasma proteins. The usefulness and the effectiveness of near-infrared camera guided indocyanine green is proved with its common use in colorectal surgery in case of assessing the perfusion of the bowel and visualizing the transecting line.
Using indocyanine green to evaluate the peritoneal endometriosis lesions is in its infancy and no current clear indications to use for endometriosis detection. Additionally, the dosage of dye to be used, the waiting time for injection, and its effectiveness are still unclear.
Ianeri and his colleagues from Rome, Italy, reviewed the literature to put forward the usefulness of indocyanine green application during laparoscopic surgery of endometriosis detection. The results are recently published in "Acta Obstetricia and Gynecologica Scandinavica".
Seventeen studies included in this review after a careful selection are original papers that reported specific experience data on the topic. The result of the analysis of the studies showed great heterogeneity when taking into account the different locations of endometriotic involvement and disease stage.
Indocyanine green fluorescent imaging has been both reported in laparoscopy and robotic surgery during DIE operations that consist of bowel and ureter intervention.
The best part of Indocyanine green use in endometriosis surgery is that it appears useful in the evaluation of vascularization in intestinal anastomoses after segmental resection, however, its effectiveness as a tool in the detection and visualization of endometriosis lesions is inconsistent.
---
---
indociyanine green dye
deeply infiltrated endometriosis
superficial endometriosis
bowel endometriosis
near-infrared
ureterolysis.
DISCLAIMER
EndoNews highlights the latest peer-reviewed scientific research and medical literature that focuses on endometriosis. We are unbiased in our summaries of recently-published endometriosis research. EndoNews does not provide medical advice or opinions on the best form of treatment. We highly stress the importance of not using EndoNews as a substitute for seeking an experienced physician.
<< Previous Article

Next Article >>