Independent development of endometrial epithelium and stroma within the same endometriosis
By:
Murat Osman
- Apr 10, 2018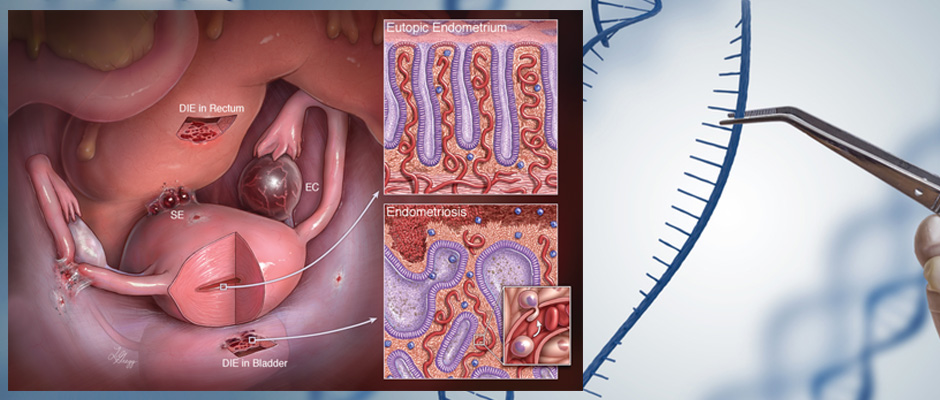 New insight on the origin and pathogenesis of endometriosis
Key Points
Highlights:
Stromal and epithelial components of endometriosis may develop independently of one another.
Importance:
Understanding the evolution and the development will help us to understand the etiopathogenesis of the disease better, to armament against the occurrence of the disease.
Key Results:
Genetic analysis using PCR presented 19 mutations that were selectively in epithelial but not stromal components of endometriotic lesions.
The development of epithelial and stromal components in endometriotic lesions could be independent of one another.
What's done here?
Sequencing of endometriotic components has shed light on the pathogenesis of endometriosis.
Limitations:
There may be other molecular and developmental reasons to reflect these alterations as if the development is independent, thus need to dig.
A further genetic analysis is needed to confirm the results of this study
Lay Summary
Endometriosis is one of the leading causes of chronic pelvic pain in women during their childbearing years. A popular theory for the pathogenesis of endometriosis posits that circulating progenitor cells differentiate into the endometrial stroma and glandular tissue once they attach onto a surface outside the uterus. However, the understanding of the origin of the components that make up these lesions is still being elucidated.
This article elucidates the evolution of endometriotic stroma and glandular tissue by tracking synonymous and missense somatic passenger mutations. These passenger mutations do not increase the selective growth advantage of the cells and thus can be used as a marker to track clonality.
Whole genome sequencing in 24 endometriotic lesions that contain both stromal and epithelial components was microdissected and used to screen for passenger mutations. Lesions from five deep infiltrating endometriosis and one ovarian endometriotic cyst were included in the analysis. All 19 mutations were seen in the epithelial component of endometriotic lesions compared to the stromal component. Mutant allele frequencies (MAF) of these mutations varied among the samples included in the analysis, suggesting multi-clonality.
These findings go against the view that endometriosis originates from a single progenitor or stem cell which then differentiates into the stromal and epithelial components of endometriotic lesions.
---
---
endometriosis
genetics
pathogenesis
clonality
DISCLAIMER
EndoNews highlights the latest peer-reviewed scientific research and medical literature that focuses on endometriosis. We are unbiased in our summaries of recently-published endometriosis research. EndoNews does not provide medical advice or opinions on the best form of treatment. We highly stress the importance of not using EndoNews as a substitute for seeking an experienced physician.
<< Previous Article

Next Article >>