Implantation failure in endometriosis patients - Jovana Lekovich, MD., PhD.
By:
Hale Goksever Celik
- Dec 11, 2020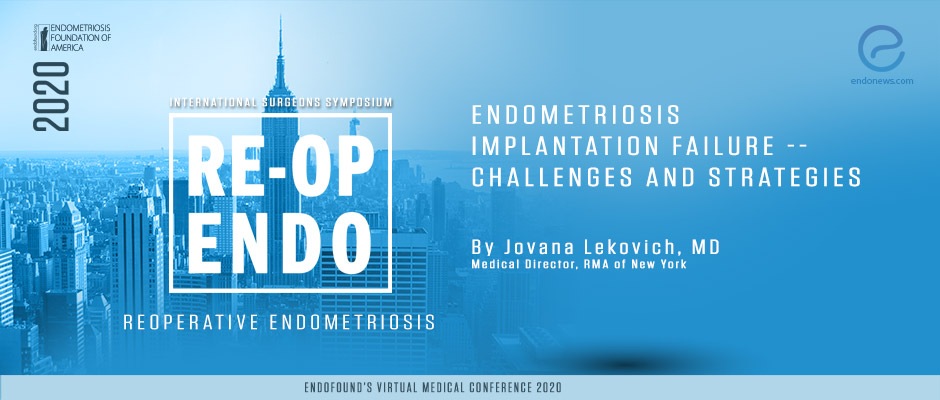 Diminished endometrial receptivity in patients with endometriosis is still a challenge that needs further research.
Key Points
Information for the presentation: This presentation by Dr. Jovana Lekovich, MD., PhD., a double-board certified OB/GYN and a reproductive endocrinologist at RMA of New York. She is the Director of the Oncofertility Program at Blavatnik Family-Chelsea Medical Center at Mount Sinai, and an assistant professor at the Icahn School of Medicine at Mount Sinai. Her presentation at the 2020 Endofound Medical Conference is about "Implantation failure in endometriosis patients: Challenges and Strategies".
Highlights:
Endometriosis-associated inflammation has a negative effect on ovarian, peritoneal, tubal, and endometrial functions leading to defective folliculogenesis, fertilization, and implantation.
Importance:
Eutopic endometrium in endometriosis patients functions abnormally, depending on different molecular and hormonal mechanisms, which could impair implantation.
Remarks:
The presentation about implantation failure in endometriosis patients, as an important reason for the decreased success of fertility treatments.
The flow chart includes the relationship between endometriosis and infertility, and underlying mechanisms based on evidence.
Endometriosis is diagnosed in 9-50% of women undergoing laparoscopy for infertility and 30-80% of women undergoing laparoscopy for chronic pelvic pain.
Infertility is the second most common symptom of endometriosis after pain.
The most accepted underlying mechanisms of infertility in endometriosis patients are decreased oocyte/embryo quality, fertilization ability, tubal function, and aberrant endometrial receptivity.
Infertility was thought to be caused by the oocyte and/or embryo in previous publications.
However, recent studies showed that aberrant implantation also has an impact on pregnancy outcomes in endometriosis patients.
Progesterone resistance plays an important role in defective implantation by reducing the effect of progesterone.
Lay Summary
Endometriosis is one of the leading reasons for infertility due to decreased oocyte/embryo quality, fertilization ability, tubal function, and aberrant endometrial receptivity. Whether this failure is caused by oocyte/embryo or eutopic endometrium is one of the investigated topics in endometriosis research.
Although previous studies claimed that abnormal oocyte/embryo development results in infertility in endometriosis patients, it is known that the endometrium has an important role in the clinical pregnancy rate and live birth rate based on recent publications.
When eutopic endometrium was compared between the women with endometriosis to those without endometriosis, overexpression of estrogen receptor beta and lower expression of progesterone was observed leading to inadequate decidualization and reduced implantation. Progesterone resistance develops from the reduced expression of Progesterone, and blunted expression of progesterone-targeted genes.
A proto-oncogene and transcriptional repressor named Bcl-6 has been found to be overexpressed in progesterone resistance. Bcl-6 increases cell proliferation and inhibits apoptosis. In one study, Bcl-6 expression is significantly increased in non-pregnant women compared to pregnant women. Thus Bcl-6 overexpression decreases clinical pregnancy-rate and the live-birth-rate significantly. It could be proposed that gonadotropin-releasing hormone pretreatment or surgical management in endometriosis patients improve fertility outcomes by reducing Bcl-6 expression.
---
---
endometriosis
infertility
endometrial receptivity
progesterone resistance
Bcl-6 expression
assisted reproductive technology
in-vitro fertilization
clinical pregnancy rate
mc2020
DISCLAIMER
EndoNews highlights the latest peer-reviewed scientific research and medical literature that focuses on endometriosis. We are unbiased in our summaries of recently-published endometriosis research. EndoNews does not provide medical advice or opinions on the best form of treatment. We highly stress the importance of not using EndoNews as a substitute for seeking an experienced physician.
<< Previous Article

Next Article >>