The Effect of Imbalanced Progesterone Receptors-A/B on Gelatinase Expressions in Endometriosis
Jul 22, 2019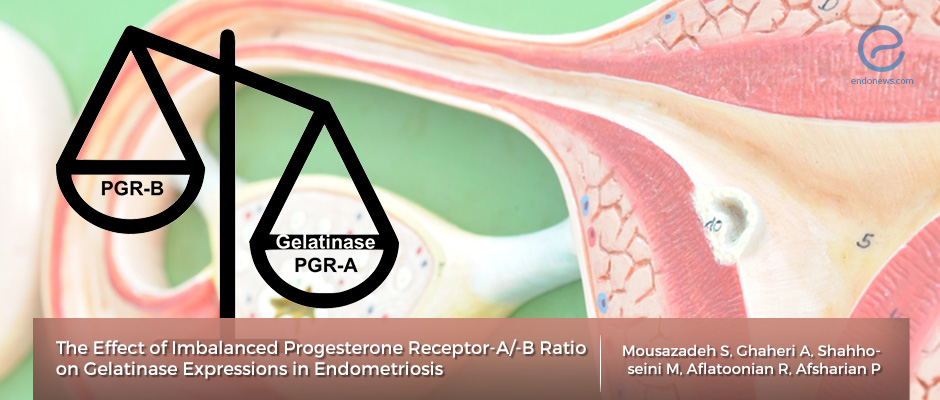 Does gelatinase expression matter?
Key Points
Highlight:
Background:
Key points:
Conclusions:
Lay Summary
Endometriosis is a benign disease which affects approximately 10% of reproductive-aged women and is one of the most common reasons for infertility. Though the underlying mechanisms of disease progression have not been clearly understood, it develops as a consequence of ectopic implantation of retrograded menstrual tissue. Endometriosis significantly decreases the quality of life. The frequency of endometriosis in females with complaints of pain, infertility, or both symptoms is between 35 and 60%. Among the many problems caused by endometriosis, the most persistent and frustrating problem is infertility. Extensive remodeling in the endometrial layer and extracellular matrix (ECM) is known as one of the reasons for infertility in endometriosis. The matrix metalloproteinases (MMPs) are highly involved in this ECM changes.
In normal condition, MMPs are very important to maintain regular remodeling of the endometrium. During the menstruation, proliferation, angiogenesis, and apoptosis, MMPs are activated to degrade ECM and change the endometrial layer. Due to the such an important role, dysregulation of MMPs is linked to several diseases including endometriosis. Many studies have shown that MMPs expression in endometriosis is highly different from the pattern in healthy women. Specifically, gelatinases (MMP-2 and MMP-9) are involved in the initial development of endometriosis through ECM degradation.
Progesterone inhibits MMPs activation and prevents endometrial breakdown. In endometriosis, however, it is suggested that there is a certain degree of resistance to the action of progesterone. As the progesterone activity highly depends on their receptor ratio (PR-A/PR-B), it is important to investigate the expression of their receptors. If there is an imbalanced PR-A/PR-B ratio in endometriotic tissue, this might affect the activity of MMP-2 and MMP-9 leading to the change of the endometrial layer. This could be important for understanding the etiology and pathogenesis of this disease. To test this hypothesis, Dr. Afsharian group from Iran have studied the association of PR-A/PR-B ratio and gelatinases expression in endometriosis. This study was recently published in the International Journal of Fertility and Sterility.
In this study, a total of forty women have participated. The twenty women were diagnosed with late-stage of endometriosis and the other twenty were healthy subjects. Total sixty tissues were obtained and RNA was extracted from these tissue samples. In order to know the expression level of PR-A, PR-B, MMP-2, and MMP-9, a real-time polymerase chain reaction was performed and compared their expressions between endometriosis patients and healthy people.
Compared to normal control, the expression of PR-B isoform was significantly decreased in ectopic tissues. The level of PR-A was not significantly different between the two groups. Also, the PR-A/PR-B ratio was not significantly higher or lower in either eutopic or ectopic samples compared to the control samples. The level of MMP-9, however, was significantly increased in endometriosis tissue.
In conclusion, Dr. Afsharian group have shown, for the first time, that MMP-9 expression is significantly increased in endometriosis patients with late-stage than healthy people. According to the result, PR-B expression was also significantly changed in endometriosis compared to the control. The authors believe that this change may be associated with MMP-9 overexpression which can be a key step of endometriosis pathogenesis.
---
---
Endometriosis
Gelatinases
Progesterone
Progesterone Receptor
DISCLAIMER
EndoNews highlights the latest peer-reviewed scientific research and medical literature that focuses on endometriosis. We are unbiased in our summaries of recently-published endometriosis research. EndoNews does not provide medical advice or opinions on the best form of treatment. We highly stress the importance of not using EndoNews as a substitute for seeking an experienced physician.
<< Previous Article

Next Article >>