Hysterectomy as a choise of chronic pelvic pain relief in endometriotic women.
Jul 15, 2020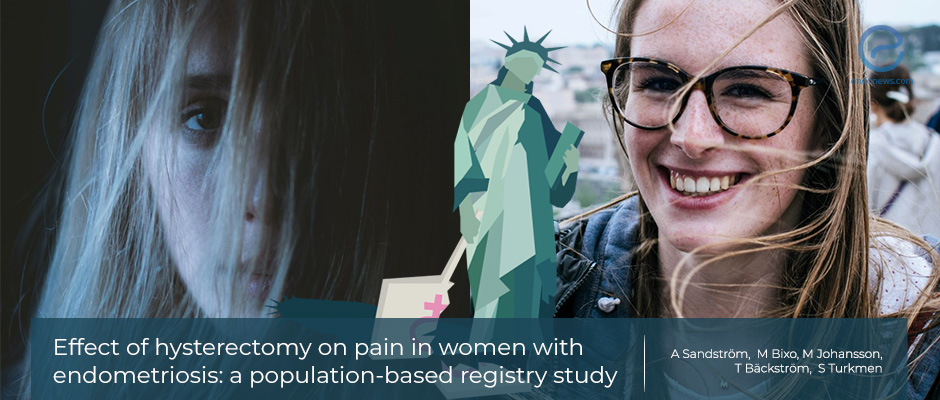 Endometriotic severe pelvic pain has benefited from hysterectomy with the possibility of ovarian preservation.
Key Points
Highlights:
Hysterectomy without oophorectomy may be a valuable treatment in endometriotic women who have completed their families and suffering severe pelvic pain.
Importance:
Hysterectomy with or without oophorectomy indicated no difference to improve the severe pelvic or lower abdominal pain of endometriotic patients.
What's done here:
This prospective study is planned in Sweden to compare the pelvic pain scores of endometriotic women before and after hysterectomy with a follow-up questionnaire.
137 women aged 18 to 45 years who underwent hysterectomy as the main indication of endometriosis between 2010 and 2015 assessed by reduction of their pelvic pain.
The authors evaluated their results under some titles as the duration and severity of symptoms, the stage of endometriosis, the type of operation, and the preference of preserved ovarian tissue.
Key Results:
Endometriosis was confirmed in all study group and staging was made in 59.9% of them during the operation by their surgeon.
At the time of surgery, the mean age was 41 and the mean duration of symptoms was 10 years.
87% of the patients were reported previous or ongoing hormonal treatment before hysterectomy.
Surgery limited to uterus and/or adnexa were 62.8% of the patients while the rest of them had additional interventions engaging the rectum, colon, peritoneum, and adhesions.
Women who completed the follow-up after 12 months of surgery and after 37-107 months of surgery were 72.3% and 68.6% respectively.
There was a significant decrease in the proportion of women who were suffering from severe or unbearable pain both 12 and 37+ months after surgery and this finding was independent of oophorectomy performed during the hysterectomy.
Limitations:
The relatively small number of patients for a population-based study that spanned 5 years and lost of long-term follow-up in 31% percent of patients.
A small portion of patients who underwent large pelvic surgery in this study could affect to obtain better results.
Lay Summary
Sandstrom et al. from the Department of Obstetrics and Gynecology of Umea University, Sweden, found a significant and long-lasting reduction in pain symptoms after hysterectomy among women with confirmed endometriosis and recently published their results in "BJOG".
The authors performed this prospective study on 18-45 years old 137 endometriotic women who underwent a hysterectomy in a time period of five years, from 2010 to 2015.
The follow-up questionnaire was sent to all of the participants, and the data retrieved from the Swedish National Quality Register of Gynecologic Survey, then combined with the endometriosis health profile questionnaire (EHP-30). The health-related quality of life was assessed using EHP-30 to put forth the contentment of social support, emotional wellbeing, and self-image issues after 3 years of hysterectomies.
The proportion of women who experienced severe pelvic pain due to their disease had felt a noticeable and statistically significant decrease in their pain severity after hysterectomy.
The majority of women were satisfied with the surgical result and the patient's perceived improvement of symptoms was indifferent between those who have bilateral oophorectomy to whose ovarian tissue was preserved. The authors announced a significant and long-lasting reduction in pelvic pain symptoms after a hysterectomy of confirmed endometriotic patients while they recommended preserving ovaries during a hysterectomy if it is needed.
This study confirms that hysterectomy alone significantly improves the quality of life with high levels of patient satisfaction in this particular group of endometriosis patients.
---
---
pelvic pain
lower abdominal pain
health-related quality of life
endometriosis health profile-30
hysterectomy
oopherectomy
endometriosis.
DISCLAIMER
EndoNews highlights the latest peer-reviewed scientific research and medical literature that focuses on endometriosis. We are unbiased in our summaries of recently-published endometriosis research. EndoNews does not provide medical advice or opinions on the best form of treatment. We highly stress the importance of not using EndoNews as a substitute for seeking an experienced physician.
<< Previous Article

Next Article >>