How to evaluate ureteral endometriosis : A review of the literature
By:
Selma Oransay
- Sep 14, 2018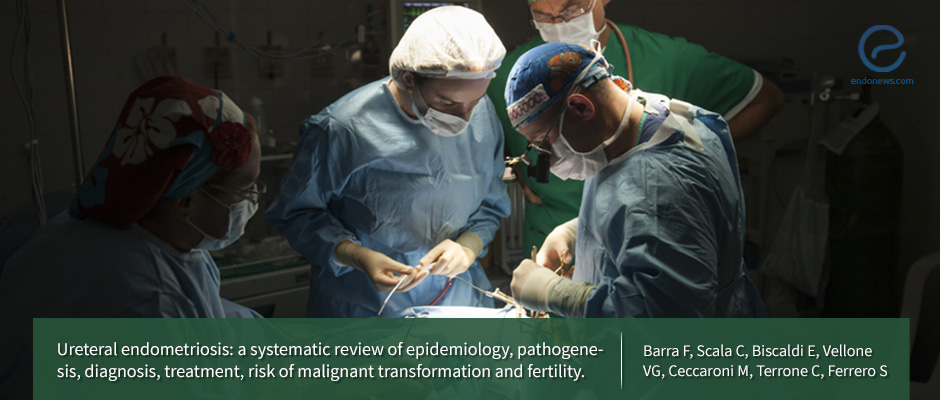 Women with rectovaginal endometriosis are at high risk of ureteral involvement.
Key Points
Highlights:
To avoid the potential complications during surgery, an accurate presurgical staging of DIE and in particular ureteral endometriosis is advised.
Importance:
During a long-term hormonal therapy of deeply infiltrated endometriosis, the gynecologist should periodically investigate ureteral dilatation, and/or hydronephrosis to avoid loss of future renal function.
What's done here:
Authors looked over the literature and widely discussed every theory and methodology published in abstracts, regarding which one is appropriate for UE pathogenesis, diagnosis, and treatment.
Key Results:
Among pathogenesis theories of endometriosis, the most adaptable one for ureteral endometriosis is Mullerian tract remnant theory.
Besides the rectovaginal manual examination, transvaginal ultrasonography and magnetic resonance technics; MSCT is the most helpful one to diagnose UE pre-surgically.
Definitive diagnosis for ureteral endometriosis will be histological.
Medical treatment is contraindicated once ureteral endometriosis diagnosed in women with DIE to prevent ureteral stenosis and hydronephrosis.
Surgical treatment of UE aims to relief ureteral obstruction and to avoid recurrences.
No evidence for the malignant transformation of ureteral endometriosis has noticed in the literature.
Limitations:
For a histologic diagnosis of ureteral endometriosis, the surgeon should be an expert to take a complete slice of the damaged ureter.
Lay Summary
In this recently published review of the literature, Barra et al. from Genova, Italy intend to provide a useful tool to guide physicians in the management of deep infiltrating endometriosis.
Authors elected 67 abstracts from Pubmed and Medline in accordance with PRISMA statement have been reviewed to access the epidemiology, pathogenesis, diagnosis, treatment and malignant transformation risk of ureteral endometriosis. The tables prepared by the authors to give important messages to the physicians, gynecologists and radiologists are:
1) Deeply infiltrated endometriosis, including ureteral endometriosis, has different pathological characteristics almost like adenomyosis, compared to ovarian and peritoneal endometriosis, which may mean that adenomyosis is not located only within deep myometrium but also in extrauterine locations.
2) One valuable conclusion is about to skip the diagnosis of UE which is related to the negligence of imaging the urinary tract before the surgery of deeply infiltrated endometriosis. Abdominal, and partly transvaginal ultrasonography is inadequate to detect the entire course of ureters, whereas multislice computed tomography is more sensitive.
3) In general, when ureteral obstruction diagnosed in patients with DIE, medical therapies are contraindicated to avoid hydronephrosis and loss of renal function in the future.
4) Surgical treatment for UE depends on the type of ureteral involvement.
---
---
ureteral endometriosis
hydronephrosis
ureterolysis
ureterectomy
ureteroneocystectostomy
deep infiltrating endometriosis
diagnosis
treatment
symptoms
surgery
magnetic resonance
transvaginal ultrasonography
abdominal ultrasonography
fertility
complications.
DISCLAIMER
Endonews is designed to strictly highlight the most recently published scientific research that focuses on endometriosis. It is not designed to provide medical advice or an opinion on the best form of treatment. We highly stress the importance of not using this site as a substitute for seeking an experienced physician, which is highly recommended if you have any questions or concerns regarding your endometriosis needs. We believe in the consciousness of our reader to discriminate that research is different than "standard of care," and trust that they can keep in mind that here at Endonews, we summarize the newest peer-reviewed scientific medical literature, without bias.