How are endometriosis patients managed clinically?
Sep 5, 2018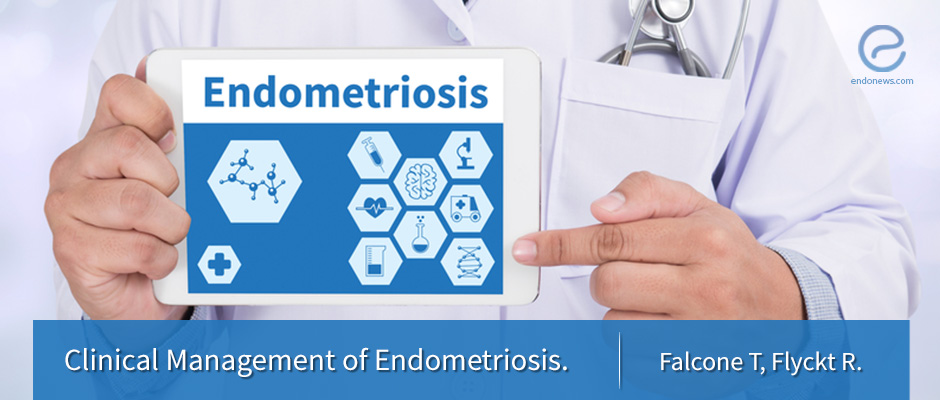 There are a variety of surgical and medical treatments for symptomatic women with endometriosis.
Key Points
Highlights:
The authors recommend starting with continuous combined oral contraceptives or progestin-only methods for symptomatic women with endometriosis.
If medical treatments fail, surgery is advised.
What's done here:
The authors discuss the strategies for treating symptomatic endometriosis patients.
Key Results:
Managing patients with endometriosis is complex. Surgery is the gold standard for definitive diagnosis.
Patients should receive long-term medical therapy to prevent recurrences and extra surgery.
There are numerous medical treatments to suppress endometriosis symptoms, but they do not increase fecundity or resolve endometriomas or deeply infiltrating disease.
The treatment choice is surgery in case medical treatment fails. Surgery can be conservative or definitive.
In women preferring only fertility, in-vitro fertilization should be the first approach.
If chronic pain remains after maximizing medical and surgical treatments, central sensitization and myofascial pain should be checked.
Limitations:
There are molecular dissimilarities between endometriosis lesions and eutopic endometrium. This creates difficulties in the development of new drug therapies.
Lay Summary
This review paper by Falcone and Flyckt, entitled "Clinical Management of Endometriosis" published in the journal Obstetrics & Gynecology aims to summarize the current strategies for treating endometriosis patients with pain, pelvic dysfunction, and subfertility related to their disease.
There are many medical treatments to decrease endometriosis symptoms, to prevent recurrence and repeat surgery. Medical treatment is suppressive rather than curative, it does not increase fecundity and does not resolve endometriomas, nor deeply infiltrating disease. Despite their widespread use nonsteroidal anti-inflammatory drugs alone have minimal effect in patients with endometriosis.
In this study, the authors recommend beginning with continuous combined oral contraceptives or progestin-only methods for symptomatic women with endometriosis. If hormonal suppression is not continued after surgery, pain symptoms will recur with a recurrence risk of 50% at 5 years. The ideal duration of suppression is at least 6–24 months. Danazol and aromatase inhibitors are also used. Aromatase inhibitors are not FDA-approved and may cause bone loss. New therapeutic investigations include oral GnRH antagonists and selective progesterone receptor modulators, and immunomodulators and antiangiogenic agents.
If medical treatments fail, the treatment option is surgery for women with endometriosis. Also, patients with adnexal mass or infertile patients should be treated with surgery. Patients can undergo conservative or definitive surgery such as hysterectomy. The ovaries may be kept or removed based on the spread of the disease, ablation or excision may be used for peritoneal lesions. Surgical intervention or ablation can cause ovarian damage and decrease ovarian reserve. Newer energy forms such as plasma energy can cause less ovarian damage compared to the knife excision.
Authors recommend keeping normal ovaries in women younger than 40 years of age. Suggested approaches to improve surgical outcome in patients with chronic pelvic pain are the use of indocyanine green during surgery, robotic surgery, uterine denervation or nerve transection procedures. The approaches to remove deeply infiltrating endometriosis of the rectum are rectal shaving, discoid excision of the disease with primary closure of the rectal opening, and segmental resection.
In vitro fertilization should be the first approach in women who are only interested in fertility. Oocyte and embryo cryopreservation, as well as ovarian tissue freezing for fertility preservation, should be considered in women with endometriosis.
For chronic abdominopelvic pain, specialized centers can combine medical and surgical interventions with physical therapy and pain management, biofeedback, nutrition and psychologic support. If pain remains after the treatments, doctors should check for central sensitization and myofascial pain.
Young postmenopausal patients with endometriosis may need longer duration hormone therapy.
---
---
endometriosis
clinical management
endometriosis surgery
endometriosis treatment
endometriosis therapy
endometriosis diagnosis
DISCLAIMER
EndoNews highlights the latest peer-reviewed scientific research and medical literature that focuses on endometriosis. We are unbiased in our summaries of recently-published endometriosis research. EndoNews does not provide medical advice or opinions on the best form of treatment. We highly stress the importance of not using EndoNews as a substitute for seeking an experienced physician.
<< Previous Article

Next Article >>