Highlights from the Endometriosis Foundation of America Medical Conference
Nov 2, 2017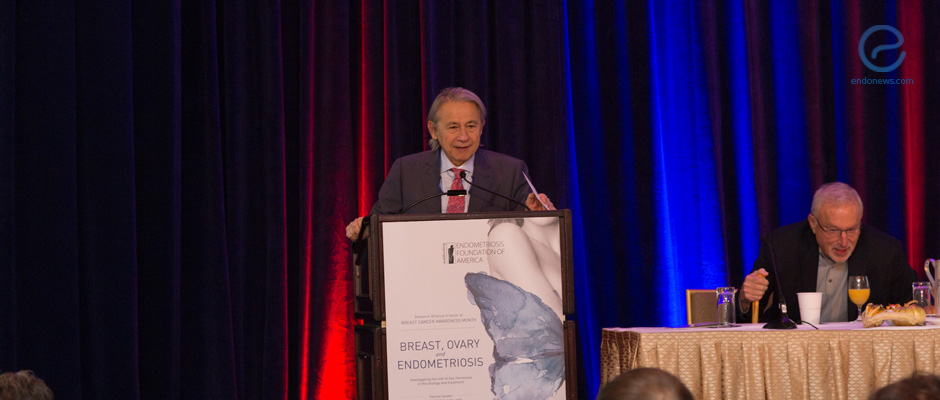 The conference was followed online by more than 5,000 people
The Endometriosis Foundation of America (EFA)'s 2017 Medical Conference was held in New York City on October 28. The conference titled "Breast, Ovary, and Endometriosis" was attended by more than 100 people and viewed online by more than 5.300.
Following the welcome address by Dr. Tamer Seckin, the co-founder of the EFA, the conference started with the presentation of Dr. Harry Reich, a pioneer in the field of laparoscopic surgery. During his presentation titled "Endometriosis, hormonal or surgical? My reality", Dr. Reich explained how he thinks endometriosis is not caused by retrograde menstruation, that it is a condition present from birth, and that it needs to be diagnosed by hand. Dr. Reich also added that he believes the medical treatment of endometriosis "never works", that hysterectomy is a poor choice, and that laparoscopy is "the way to go".
The rest of the conference proceeded in six consecutive parts where the disease was tackled from different angles.
In the first part, three eminent scientists shared their views about the role of estrogen in inflammation and cancer. Dr. Robert Taylor talked about the sensitivity of endometrial lesions to female sex hormones and cell singling molecules such as NF-kB and how this knowledge could be used to develop potential new treatments for the condition.
This was followed by an excellent talk by Dr. Marisa Weiss, the chief medical officer and founder of breascancer.org. Dr. Weiss explained why breast cancer is the most common type of cancer today, how women's modern lifestyle increases their risk of developing breast cancer, and how this risk could be lowered by making changes to their lifestyle.
The third presentation was by Dr. Stephanie Bernik from Lenox Hill Hospital about the importance of early diagnosis in young women for a timely intervention to treat breast cancer.
The second part of the conference focused on stem cells and their therapeutic potential in endometriosis and cancer. The keynote presentation was by Dr. Serdar Bulun, the chair of the department of obstetrics and gynecology at Northwestern University. Dr. Bulun explained how a woman's body did not catch up with her recent lifestyle choices and how the suppression of ovulation could decrease the risk of endometriosis as well as ovarian and breast cancer.
In the third part of the conference, Dr. İe-Ming Shih talked about the link between endometriosis and cancer and how genetic mutations found in endometrial lesions coupled with sex hormones could be linked to cancer. The second speaker of this session, Dr. Sarah Berga of Wake Forest School of Medicine talked about the effect of sex hormone on the brain.
The conference also included a section on research funding where Dr. Lisa Halvorson from the National Institute of Health (NIH) talked about the present and future of NIH funding focusing on gynecologic research, while Dr. Serin Seckin gave an overview of the projects funded by the EFA.
The penultimate section of the conference titled "The endpoint: Prevention for Cure" featured two very interesting presentations on plastic and gynecologic surgery for breast and ovarian cancer.
The conference concluded with a session on fertility. Dr. Kutluk Oktay talked about fertility preservation in women with mutations in genes known to be associated with breast cancer. Finally, Dr. Norbert Gleicher talked about the limitations of pre-implantation genetic testing in IVF treatments and how a large number of women may be given the wrong advice about their chance of becoming pregnant.
EFA's next meeting will be held in New York City on March 9-11, 2018.
Conference Videos: https://www.endofound.org/video/event/medical-conference-2017/1543
---
EFA conference
breast
ovary
endometriosis
DISCLAIMER
EndoNews highlights the latest peer-reviewed scientific research and medical literature that focuses on endometriosis. We are unbiased in our summaries of recently-published endometriosis research. EndoNews does not provide medical advice or opinions on the best form of treatment. We highly stress the importance of not using EndoNews as a substitute for seeking an experienced physician.
<< Previous Article

Next Article >>