Gal-3 can be a pharmacological target in endometriosis treatment
Mar 25, 2019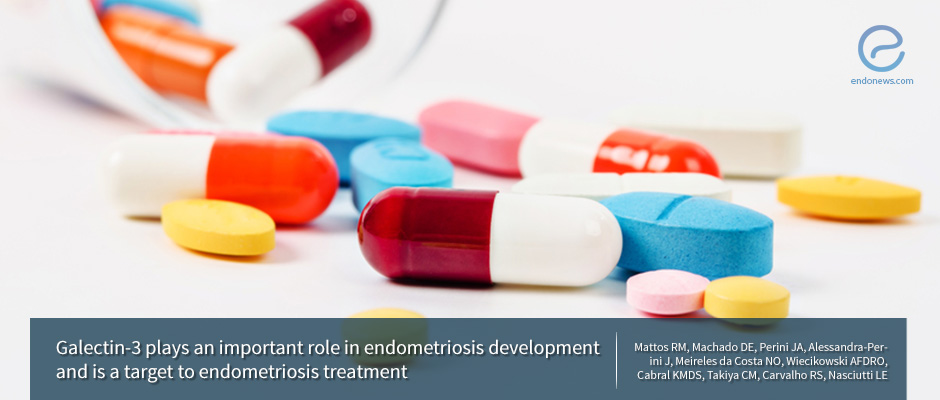 Gal-3 plays a role in development and maintenance of endometriosis
Key Points
Highlights:
Galectin-3 (Gal-3) plays a role in the development of endometriotic lesions:
Inhibition or absence of Gal-3 diminishes endometriotic lesions, mainly by reducing new blood vessel formation and inflammation.
Importance:
Data from this study indicate a relevant role of Gal-3 in endometriosis development and highlight a potential endometriosis treatment strategy utilizing Gal-3 inhibitor
What's done here?
Using healthy and Gal-3 knock-out mice, the role of Gal-3 in the development of endometriotic lesions was investigated, and the role of its inhibitor, Gal3c was explored as a potential treatment strategy.
Data:
Gal-3 expression was associated with an increased (approximate 11-fold) of endometriosis development, with larger lesions.
In Gal-3 knockout mice endometriosis, the expression of angiogenic factors and also the vascular density were higher.
When the presence of macrophages were examined thinking that macrophages are important inducers of angiogenesis and endometriosis is an inflammatory disease, a greater amount of macrophages in Gal-3 expressors compared to Gal-3 non-expressing lesions.
Gal-3C treatment reduced endometriotic lesions without toxicity.
Limitations of the study:
Studies are done in mice, thus, the results may not be readily translatable to humans.
Lay Summary
Galectins are known to play a significant role in angiogenesis, which is a key event contributing to the development of many disease conditions, one of which is endometriosis.
Past studies, upon examining several human endometriotic lesions, showed that Galectin-3 (Gal-3) was overexpressed in the endometrium of women with endometriosis compared to that of women without endometriosis; and in peritoneal as well as deep infiltrating endometriotic lesions. These findings formed the basis of the current study, which investigated a possible role for Gal-3 in the development and maintenance of endometriosis using mice models.
This recently published study in Molecular and Cellular Endocrinology, authored by Medina de Mattos et al., showed that Galectin-3 plays a role in endometriosis development; and its inhibition via a recombinant peptide, Gal3C, diminishes the endometriotic lesions in mice.
Specifically, the study showed that mice lacking Gal-3:
1) developed about 30% less endometriotic lesions when compared to the normal controls,
2) expressed lower levels of angiogenic factors – proteins that induce new vessel formation – such as VEGF and VEGFR-2, and
3) showed reduced inflammation.
In simplistic terms, without functional Gal-3, mice did not develop as many endometriotic lesions, as many new blood vessels, or a profound inflammation; indicating that blocking Gal-3 might be a viable treatment strategy for endometriosis. In fact, the authors, using Gal-3 inhibitors, were able to decrease endometriotic lesions in mice. This was achieved by reducing the expression of angiogenic factors and inflammation process.
The study concluded that Gal-3 affects the development of endometriotic lesions as well as new blood vessel formation and inflammation, three events that are indeed linked to each other. More importantly, Gal-3 was offered as a therapeutic target for the treatment of endometriosis, pending further investigations.
---
---
Angiogenesis
Endometriosis
Gal3C
Galectin-3
Therapeutic target
DISCLAIMER
EndoNews highlights the latest peer-reviewed scientific research and medical literature that focuses on endometriosis. We are unbiased in our summaries of recently-published endometriosis research. EndoNews does not provide medical advice or opinions on the best form of treatment. We highly stress the importance of not using EndoNews as a substitute for seeking an experienced physician.
<< Previous Article

Next Article >>