First-line surgery or first-line ART: A real challenge both for the clinicians and infertile women having DIE without colorectal involvement
By:
Hale Goksever Celik
- Apr 14, 2023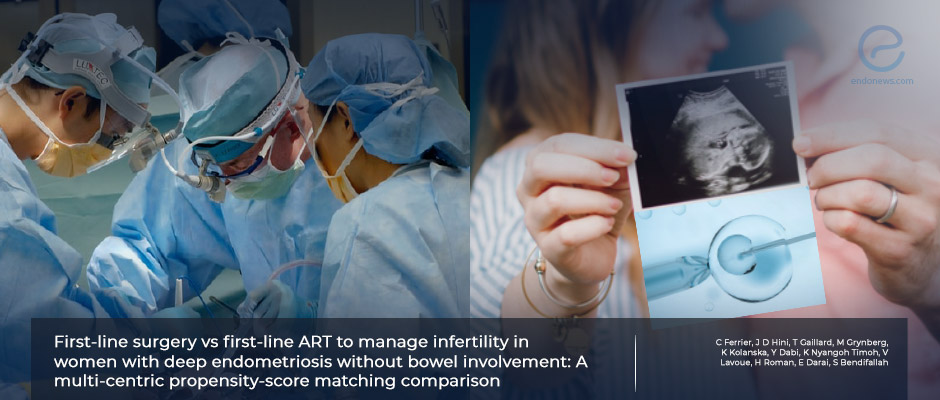 Although a patient-centered decision is recommended, the use of first-line surgery for patients with "DIE-associated infertility without colorectal involvement" is an advisable approach in terms of pregnancy outcomes.
Key Points
Highlights:
Importance:
What's done here?
Key results:
Strengths and Limitations:
Lay Summary
Deep infiltrating endometriosis (DIE) is defined as the presence of endometriotic lesions over 5 mm in depth under the peritoneal surface. These women suffer from chronic pelvic pain, dysmenorrhea, dyspareunia, chronic pelvic pain, bloody or painful bowel movements, and infertility. There is a dilemma about whether the treatment of infertility should be primarily surgery or ART in DIE-associated infertility.
Ferrier et al., from France, published a review titled "First-line surgery vs first-line ART to manage infertility in women with deep endometriosis without bowel involvement: A multi-centric propensity-score matching comparison" in the journal named European Journal of Obstetrics & Gynecology and Reproductive Biology. The authors aimed to compare the pregnancy results of infertile patients having DIE without colorectal involvement who underwent first-line surgery or first-line ART treatments.
Pregnancy rates and live birth rates were assessed as the primary outcomes while the secondary outcomes were cumulative pregnancy rate (CPR) and cumulative live birth rate (CLBR). The authors grouped the participants using propensity-score matching. The demographic and clinical characteristics did not differ between the groups. Pregnancy rate, CPR and LBR were found to be higher significantly in the first-line surgery group. Pregnancy rate and LBR were also significantly higher in the first-line surgery group in the subgroup analysis of women with good fertility prognosis and with at least one negative fertility factor. The age of the patient, the presence of endometrioma, and being managed by first-line surgery had a significant association with the probability of pregnancy.
"First-line surgery offers higher pregnancy and live-birth rates than first-line ART in patients with DIE without colorectal involvement." the authors added.
---
---
endometriosis
infertility
surgery
assisted-reproductive techniques
pregnancy rate
live birth rate
confounding factors
DISCLAIMER
EndoNews highlights the latest peer-reviewed scientific research and medical literature that focuses on endometriosis. We are unbiased in our summaries of recently-published endometriosis research. EndoNews does not provide medical advice or opinions on the best form of treatment. We highly stress the importance of not using EndoNews as a substitute for seeking an experienced physician.