Fertility assessment and surgical approach in endometriotic patients.
Jul 29, 2022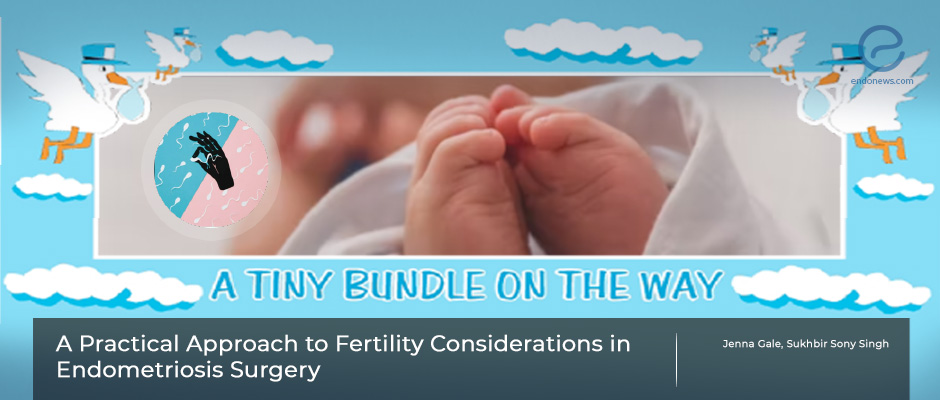 Fertility preserving surgery is the surgery that "reduces complications and optimizes postoperative outcomes".
Key Points
Highlights:
Endometriosis treatment necessitates a personalized approach, with complete history, physical examination, and imaging that will help the decision for surgery.
In the decision of surgery for a patient with endometriosis with fertility priority, postoperative adhesions and damage to ovarian reserve that can cause subfertility should be considered.
Importance:
In cases of suspected or diagnosed endometriosis, presurgical discussion of fertility prevention should be considered.
Ovarian surgery could have a possible negative impact on ovarian reserve and ovarian accessibility for a future oocyte retrieval procedure.
What's done here:
The clinical approach to fertility considerations in endometriosis surgery is summarized.
This summary covers every step of the clinical evaluation of an endometriotic woman.
It provides clinical tips and explanations to understand better how a gynecologist decides on surgery in the best interest of a patient with fertility concerns.
Key remarks:
The Endometriosis fertility index may help guide postoperative fertility management decisions.
An abdominal and pelvic exam of the patient to identify masses, allodynia/hyperalgesia, muscle tone- tenderness, injury scar, nodularity, uterine mobility, and patterns of pain.
Pelvirectal examination to identify recto-vaginal fullness/nodularity and speculum exam to identify vaginal lesions are crucial.
Preoperative-focused fertility investigations include ultrasound to evaluate ovarian accessibility, partner semen analyses, AMH for ovarian reserve, and HSG for tubal patency.
Counseling with a fertility specialist about fertility preservation is recommended before surgery for bilateral ovarian endometriomas.
Bowel and deep endometriosis surgery in centers with expertise usually result in spontaneous conception in one-third of the patients.
ART is the first choice after ovarian surgery for patients wishing to conceive and fertility is the main concern.
Lay Summary
The prevalence of endometriosis is around 50-70% in women with pelvic pain, and it has been reported as 50% in patients with infertility. Severe adhesive disease associated with advanced endometriosis is a cause of fertility impairment. The relationship between endometriosis and infertility could be due to distorted pelvic anatomy, cycle irregularity, impairment of follicular growth, lower oocyte and embryo quality, altered peritoneal function, and luteal phase dysfunction. The possibility of coexistence with other disorders such as adenomyosis and fibroids also makes endometriosis controversial in terms of fertility outcomes.
Drs. Gale and Singh from the University of Ottowa, Ontario, Canada, discussed the appropriate patient selection for endometriosis surgery, surgical techniques, and special considerations by taking into account the fertility concerns of patients. This summary article was recently published in the journal Obstetrics and Gynecology Clinics of North America.
Theoretically, surgical treatment of endometriosis improves the conception and pregnancy rates of endometriotic women. However, the approach should be individualized considering the surgical benefits and delay of assisted fertility treatments. Meticulous preoperative evaluation to determine the extent of endometriosis, and intervention goals should be made in advance. A personalized approach to endometriois care must be realized with a patient-care perspective. The planned surgical treatment should take the possible consequences and the risk of harm into account.
To avoid unwanted adhesions from ovaries to sidewalls or uterus, temporary ovarian suspension has been proposed as a method. This concept and data are promising to avoid adhesion formation in the long term but require more research with larger sample sizes.
Complete excision of endometriotic lesions is the gold standard of care for surgeons. But when it comes to "wishing to preserve fertility" this approach should be evaluated as a double-edged sword.
"The classical surgical perspective that dictates mandatory radical excision for treatment of endometriosis may be better replaced by goal-directed surgical treatment.", the authors concluded.
---
---
minimally invasive surgery
fertility
in vitro fertilization
deep endometriosis
endometriomas
endometriosis.
DISCLAIMER
EndoNews highlights the latest peer-reviewed scientific research and medical literature that focuses on endometriosis. We are unbiased in our summaries of recently-published endometriosis research. EndoNews does not provide medical advice or opinions on the best form of treatment. We highly stress the importance of not using EndoNews as a substitute for seeking an experienced physician.