Factors Associated with Endometriosis Risk
By:
Özge Özkaya
- Nov 14, 2018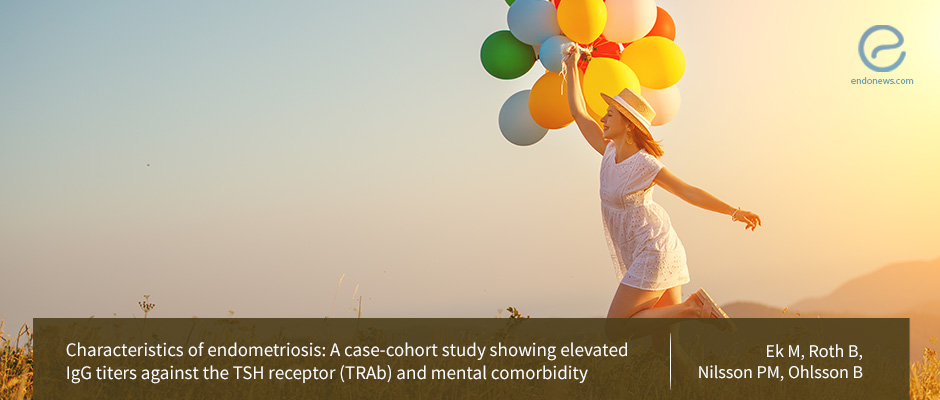 Socio-economic status, lifestyle, and psychological well-being may all play a part.
Key Points
Highlights:
There may be several factors associated with endometriosis including a woman's socio-economic status, lifestyle, and psychological well-being.
Importance:
Identifying comorbid diseases and associated factors affecting the well-being of endometriosis patients could help better manage the condition or even prevent it.
What's done here:
Researchers analyzed 172 women with endometriosis and compared them to women without the disease who served as controls.
Key results:
Alcohol intake, leisure-time physical activity, body mass index, and asthma are inversely associated with endometriosis.
Irritable bowel syndrome is positively associated with endometriosis.
Hypothyroidism and anti-TPO antibodies in the blood are not associated with endometriosis.
Impaired psychological wellbeing and current intake of antidepressant medication are associated with endometriosis, so is TRAb antibody titers.
Limitations:
The study included a relatively small number of patients.
The researchers did not know for sure that the women who served as controls did not have endometriosis or other diseases that could have influenced the findings.
Lay Summary
Socio-economic factors, lifestyle habits, and other physical and mental illnesses may be linked to endometriosis according to a new observational study published in the European Journal Of Obstetrics Gynecology And Reproductive Biology.
Endometriosis is a debilitating condition affecting as many as 1 in 10 women of reproductive age. The condition is characterized by tissue resembling the lining of the uterus growing elsewhere in the body, usually around the reproductive organs. This causes severe pelvic pain and can lead to reduced fertility.
The exact cause of endometriosis is not known and the condition has been associated with a number of factors including an overactive immune system and problems with thyroid.
In the present study, researchers led by Dr. Bodil Ohlsson at Lund University in Sweden analyzed 172 women with surgically-confirmed endometriosis. They asked the women to complete a questionnaire and also interviewed them about their socio-economic status, lifestyle habits, psychological well-being, and medical history. The researchers also took blood samples from the participants and analyzed the levels of IgG, a type of antibody that plays a role in the immune response and antibodies against thyroid-stimulating hormone receptor and thyroid peroxidase, to assess the function of their thyroid.
They compared the results to women without endometriosis who served as control.
They found that women who had endometriosis were engaging in a less physical activity for leisure, drinking less alcohol, and fewer of them had asthma. Additionally, their body mass index (BMI) was usually lower but this could be due to the difficulty of diagnosing endometriosis in overweight women.
More women with endometriosis also had irritable bowel syndrome, impaired psychological well-being, and currently taking antidepressants compared to control women.
"Lifestyle habits and asthma are inversely associated, irritable bowel syndrome and impaired psychological well-being are positively associated with endometriosis," the researchers wrote. They added that the fact that the levels of thyroid-stimulating hormone receptor antibodies were more likely to be elevated in the blood of women with endometriosis was supporting a potential link between endometriosis and auto-immunity and thyroid dysfunction.
---
---
lifestyle
thyroid
psychological well-being
gastrointestinal symptoms
DISCLAIMER
EndoNews highlights the latest peer-reviewed scientific research and medical literature that focuses on endometriosis. We are unbiased in our summaries of recently-published endometriosis research. EndoNews does not provide medical advice or opinions on the best form of treatment. We highly stress the importance of not using EndoNews as a substitute for seeking an experienced physician.
<< Previous Article

Next Article >>