Does deep infiltrating endometriosis affect sexual activity?
By:
Dr. Youngran Park
- Nov 13, 2018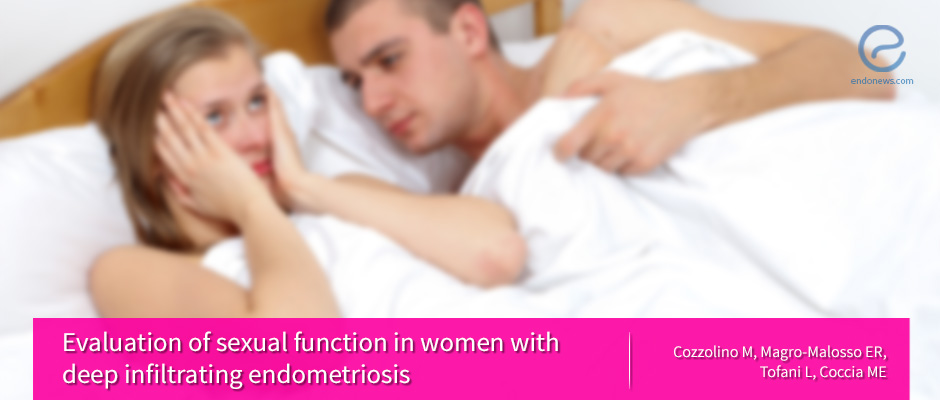 Dr. Coccia group evaluated sexual function in women with deep infiltrating endometriosis.
Key Points
Highlight:
What's done here:
Key points:
Conclusions and limitations:
Lay Summary
Endometriosis is one of the most common gynecological diseases in women of reproductive age, and pelvic pain and infertility are the most frequent complications. There are three different type of endometriosis lesions; superficial lesions, deep lesions, and ovarian cysts. In the patients with deep infiltrating endometriosis (DIE), the depth of infiltration seems to correlate with the intensity of pain, commonly presented as the form of dysmenorrhea, dyspareunia, CPP, dyschezia, and dysuria. Therefore, DIE is strongly associated with a significant reduction in quality of life and sexual function.
Here, Dr. Coccia group from Italy performed the prospective study to assess sexual activity and function in women with DIE using 'gold standard' of pain assessment indexes such as visual analog scale (VAS) and Female Sexual Function Index (FSFI).
A hundred and seventy women were participated after having a clinical and ultrasound diagnosis of DIE and histological confirmation of endometriosis. From this questionnaire-based prospective study, dysmenorrhea was reported to be severe by 66.5% of the study participants (113/170), dyspareunia by 41.8% (71/170), dyschezia by 32.4% (55/170), CPP by 67.1% (114/170) and dysuria by 6.5% (11/170). The mean FSFI total score was 20.50, which indicates significant sexual dysfunction. Interestingly, there were no statistically significant differences in FSFI scores in women with and without endometriosis lesions at particular sites, except for rectovaginal nodules, which were found to be strongly associated with impaired sexual activity and sexual function.
In conclusion, sexual activity was significantly impaired when a partial or total infiltration of the rectovaginal septum occurred than when it did not. Therefore, particular attention should be given to this site and the importance should not be underestimated.
One limitation of this study was that the questionnaire was administered only before surgery. To clarify the role of DIE surgery in the sex life of these women, administering the questionnaire with different time points would be necessary.
---
---
Deep infiltrating endometriosis (DIE)
Female Sexual Function Index (FSFI)
Sexual activity
Sexual function
Visual analogue scale (VAS)
DISCLAIMER
Endonews is designed to strictly highlight the most recently published scientific research that focuses on endometriosis. It is not designed to provide medical advice or an opinion on the best form of treatment. We highly stress the importance of not using this site as a substitute for seeking an experienced physician, which is highly recommended if you have any questions or concerns regarding your endometriosis needs. We believe in the consciousness of our reader to discriminate that research is different than "standard of care," and trust that they can keep in mind that here at Endonews, we summarize the newest peer-reviewed scientific medical literature, without bias.
<< Previous Article