Factors affecting risk of ovarian endometriosis malignancy
Nov 13, 2019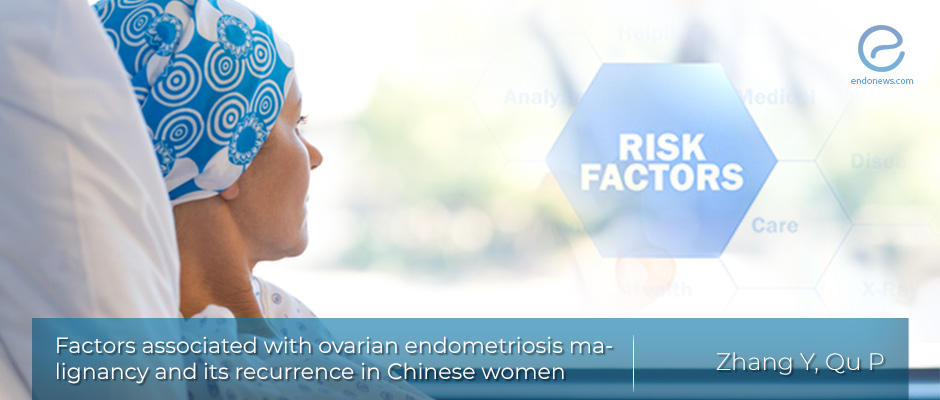 Study identifies factors affecting risks of ovarian endometriosis malignancy as well as those that promote its recurrence.
Key Points
Highlights:
Older age of marriage, time of ovarian endometriosis, shorter time in labor, and other benign uterine complications are factors associated with the risk of ovarian endometriosis malignancy.
Advanced clinical stage of endometriosis, clear-cell carcinoma, and fewer chemotherapy cycles are factors associated with the recurrence of the malignancy.
Importance:
Identifying risk factors associated with the occurrence of recurrence of a certain disease can help identify patients who are at high-risk to monitor them more closely, therefore, enabling timely intervention.
What's done here:
The researchers analyzed 564 ovarian endometriosis patients over a period of five years (from 2010 to 2015) in a hospital in China.
They looked at risk factors such as the age of marriage, abortion times, course of ovarian endometriosis, body mass index (BMI), other benign uterine complications, and labor times.
Key results:
113 out of the 564 women that the researchers analyzed (20%) had malignancies while 451 (80%) did not.
Of the 113 women who had malignancies, 49 had clear-cell carcinomas (43.4%), 35 had endometrioid carcinomas (30.9%), 9 had clear-cell carcinomas combined with endometrioid carcinomas (8.%), and 20 had mucinous carcinomas (17.7%).
Limitations:
Because this is a retrospective study, there might be a selection bias in women included in the study.
The number of women analyzed is relatively low, which may have an impact on the findings.
No conclusion can be reached about the effect of residual tumor sizes on the recurrence of ovarian endometriosis malignancy.
Lay Summary
Getting married when older, having had ovarian endometriosis for longer, giving birth in a shorter time, and other complications in the uterus that are benign may all increase the risk of ovarian endometriosis malignancy.
This is according to a study by Chinese researchers that was published in the Journal of Obstetrics and Gynecology.
According to the study, factors that seem to increase the risk of ovarian endometriosis malignancy to return include endometriosis being in an advanced stage, clear-cell carcinomas (a rare type of tumor found in the female genital tract), and fewer chemotherapy cycles to treat the malignancy.
It is important to note that factors associated with a certain disease are not factors that directly cause the disease. It is therefore not implied that factors listed above cause ovarian endometriosis malignancy or its recurrence but rather that these factors are associated or occur hand in hand with ovarian endometriosis malignancy.
Identifying such factors is still important though because it can help to identify women who may have an increased risk of developing the malignancy, or those in whom the malignancy may be more likely to return. This way, such women can be monitored more closely and timely treatment may be initiated.
According to the authors, retrospective clinical studies with longer follow-up periods are needed to further assess risk factors associated with the occurrence and recurrence of ovarian endometriosis malignancies.
Endometriosis is not a malignant disease but endometriosis cells have characteristics that are similar to cancer cells and some types like the clear cell, endometrioid and seromucinous ovarian cancers arise on the background of endometriosis. It is thought that the rate of ovarian endometriosis of becoming malignant or cancerous is 1:18.
---
---
malignancy
risk factors
ovarian endometriosis
recurrence
DISCLAIMER
EndoNews highlights the latest peer-reviewed scientific research and medical literature that focuses on endometriosis. We are unbiased in our summaries of recently-published endometriosis research. EndoNews does not provide medical advice or opinions on the best form of treatment. We highly stress the importance of not using EndoNews as a substitute for seeking an experienced physician.
<< Previous Article

Next Article >>