Exposure to toxic metals and the risk of endometriosis
By:
Selma Oransay
- Nov 13, 2022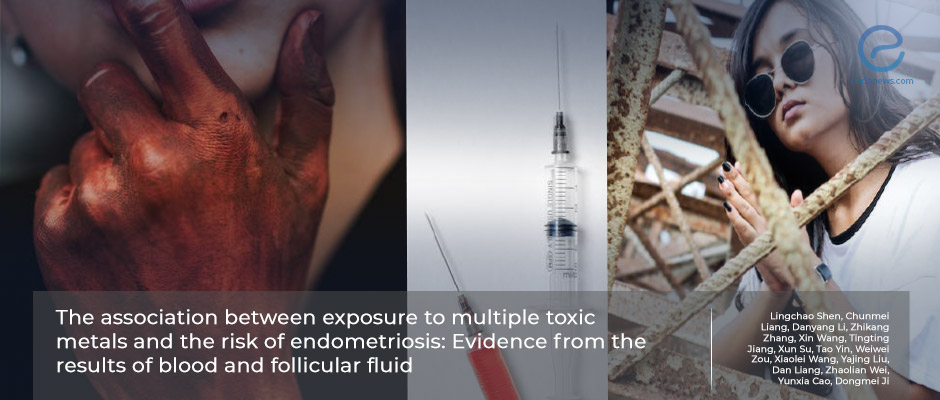 Arsenic has the highest effect on the risk of developing endometriosis.
Key Points
Importance:
Heavy metals can enter the body via ingestion, breathing, and skin absorption.
Slow deposition of toxic metals poses a strong potential threat to the nervous system and reproductive health.
Highlights:
This study indicated toxic metals alone or in combination may cause the risk of developing endometriosis.
What's done here:
This case-control prospective study measured some toxic metal concentrations in blood and follicular fluid to explore the possible link between heavy metals and the risk of endometriosis.
A total of 609 endometriosis patients and their controls were selected from a university Hospital in Hefei, China.
Key Results:
A total of 451 blood samples (217 cases and 234 controls) and 385 follicular fluid samples were collected.
Arsenic(As), Cadmium (Cd), lead (Pb), and mercury (Hg) were found to be positively associated with the development and occurrence of endometriosis.
Arsenic showed the highest contribution to these negative effects.
BKRM (Bayesian Kernel Machine Regression) analyses showed linear associations between metal mixture and risk of endometriosis.
Strengths and Limitations:
Statistical methods and patient selection are the strengths of the study.
The follicular fluid collected from a single ovary may lead to bias.
The half-life of toxic metals and the different chemical forms that can be found in the body have been underestimated.
Lay Summary
Mercury, lead, and cadmium are the best-studied heavy metals for several adverse effects on the human reproductive system. Mercury can induce DNA damage, oxidative stress, and mitochondrial dysfunction, and lead exposure is associated with menstrual disorders, preterm birth, and miscarriage. Cadmium exposure can cause breast and endometrial cancer. Environmental pollution in recent years is being worsened by coal burning, mining, and the use of pesticides and organic fertilizers. Although these toxic metals have been shown to have endocrine-disrupting properties, their role in endometriosis is still limited.
Shen et al. from the Department of Obstetrics and Gynecology of Anhui Medical University, China, set up a prospective study to evaluate the association between the heavy metal concentrations in blood and follicular fluid, and the risk of endometriosis.
The authors studied infertile couples undergoing their first IVF cycle with unilateral endometrioma. The women in the control group were also infertile, but the IVF indication was male infertility.
Blood and follicular fluid concentrations of mercury, lead, arsenic, and Cadmium were significantly higher than in the control group. The combined effects of metal mixtures on endometriosis showed linear relationships with increasing levels of the mixture in the blood and the follicular fluid.
The authors added their hope for further studies to concentrate the longitudinal analyses of heavy metals on the occurrence and prevention of endometriosis in their paper that was recently published in Science of The Total Environment.
---
---
heavy metals
trace element
arsenic
lead
cadmium
mercury
environmental
toxicity
BKMR
endometriosis.
DISCLAIMER
EndoNews highlights the latest peer-reviewed scientific research and medical literature that focuses on endometriosis. We are unbiased in our summaries of recently-published endometriosis research. EndoNews does not provide medical advice or opinions on the best form of treatment. We highly stress the importance of not using EndoNews as a substitute for seeking an experienced physician.
<< Previous Article

Next Article >>