Evaluation of the postoperative disability in women with endometriosis.
By:
Selma Oransay
- Feb 17, 2023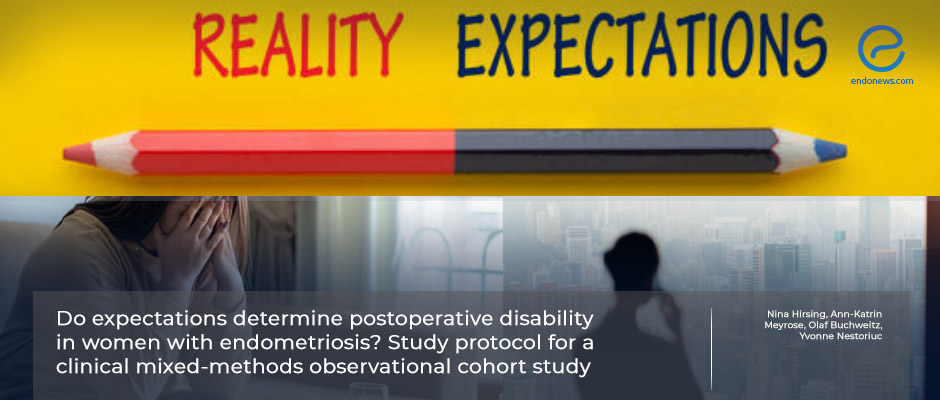 Preoperative expectations and depression are important in influencing postoperative outcomes.
Key Points
Highlights:
Understanding how treatment expectations and other physiological and medical factors influence the treatment outcomes after laparoscopy is essential to optimize the treatment.
Importance:
After a successful laparoscopic approach to endometriosis patients, 20-30% may suffer an endometriosis-related disability.
What's done here:
A longitudinal mixed-method study set up by a clinical physiologist, psychiatrist, and gynecologist research team from Germany with 300 women treated at a specialized laparoscopy center.
This 12-month clinical-cohort study is about one preoperative and eight postoperative interviews of endometriosis-related factors to predict postoperative disability in endometriotic patients.
Key Results:
Participants with more negative postoperative expectations, higher preoperative levels of depression, or higher preoperative pain catastrophizing reported significantly more postoperative endometriosis-related disability.
Medical factors such as advanced stage, deep infiltrating lesions, and duration of endometriosis symptoms do not affect postoperative endometriosis-related disability.
Lay Summary
Endometriosis is a chronic disease with a prevalence of 4,4% in women of reproductive age. It is also estimated that 23,8 of infertile women have endometriosis. Pelvic pain, dyschezia, dysmenorrhea, and dysuria are the symptoms of this disease that negatively influence daily activities, self-care, physical and mental health, social well-being, and sexual intercourse.
Laparoscopy, as a surgical treatment option for endometriosis, has a low-risk and minimally invasive type of surgery performed through small incision areas on the pelvis. However, even after a successful laparoscopy, 20-30% of the patients may still report related symptoms and disabilities.
Hirsing et al. from Helmuth-Shmitt University, Hamburg, Germany, investigated the prospective influence of expectations and other physiological factors on the patients' endometriotic symptoms before and after laparoscopic surgeries. This 12-month clinical cohort study includes one preoperative and eight postoperative interviews through an embedded two-step qualitative interview model with audio recordings, and an ambulatory smartphone-based diary module about the symptoms and disabilities concerning 300 endometriotic patients.
The "pain" symptom was considered the primary outcome, and the five most endometriosis-related symptoms, namely "dysmenorrhea, dyschezia, dysuria, dyspareunia, and pelvic pain, were the secondary outcomes. The authors simultaneously analyzed the physiological and endometriosis-related factors to predict postoperative disability.
This important article was published in the January issue of BMJ open. As a footnote, the authors concluded that their study will lead to a better understanding of the same course and the expectations of endometriosis-related disability after laparoscopy in women with endometriosis.
---
---
postoperative disability
pain
anxiety
depression
somatic symptoms
intraoperative complications
endometriosis.
DISCLAIMER
EndoNews highlights the latest peer-reviewed scientific research and medical literature that focuses on endometriosis. We are unbiased in our summaries of recently-published endometriosis research. EndoNews does not provide medical advice or opinions on the best form of treatment. We highly stress the importance of not using EndoNews as a substitute for seeking an experienced physician.
<< Previous Article

Next Article >>