Evaluation of patient self-reported outcome measures for endometriosis.
Jan 12, 2022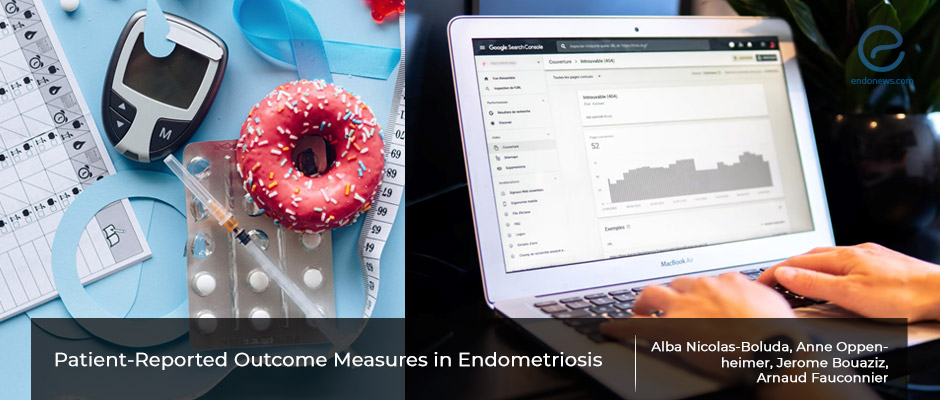 The use of self-reported perspectives in endometriosis will facilitate patient-centered care and improve the patients' quality of life.
Key Points
Highlights:
The development of digital tools using the patients' self-reported perspectives will simplify the communication between the patient and the healthcare provider, will construct patient-centered care, and promote the patients' quality of life, finally empowering the patients' self-management.
Importance:
To present an appropriate and accurate inventory for available self-reported measures for routine endometriosis care is important for both patients and clinicians dealing with endometriosis.
What's done here:
A literature search was conducted by French researchers to identify the "patient-reported outcome measure" tools employed in earlier studies.
Using the terms "quality outcomes", "quality indicators", "quality of life", "patient-reported outcomes", and "endometriosis", 743 studies were identified.
After using selection criteria, "patient-reported outcome measures" in 159 eligible articles were classified into separate categories based on the type of outcomes they measured.
Finally, 48 "patient-reported outcome measure" tools have been identified.
Key Results:
Outcome categories were (1) general quality of life, (2) endometriosis-related quality of life, (3) symptomatic impact, (4) painful symptoms, (5) psychological effects of pain, (6) sexual function, (7) fatigue, (8) depression and anxiety, (9) digestive function, (10) urinary function, (11) work impact, and (12) others.
The measures were separately evaluated for their standard clinical usage in endometriosis practice.
When the disease-specificity, reliability, responsiveness, and sensitivity to change from the patient's perspective, only 13 were found to be specific for endometriosis, although this does not mean that the remaining PROMS are not useful.
The determination and validation of reliable and appropriate measures should be followed by other steps:

Some qualitative and quantitative studies among patients and clinicians
The development of patient-centered panels.
Feasibility studies to determine their usage by patients and clinicians in both the care and self-management.
Randomized studies to assess how well the panels actually help to improve care, patient satisfaction, and outcomes.
Lay Summary
Endometriosis symptomology is multifactorial and it changes over time based on the patient's life experience, perceptions, and medical treatment. These changes require the agility of adaptation for both clinicians and patients to respond properly.
The documentation of the patient's specific centered pattern becomes important to adjust and create a patient-centered dashboard for endometriosis. The selected catalog of "patient-reported outcome measures" is a starting point for the integration of clinicians and patients who are dealing with endometriosis.
Nicolas-Boluda et al., from Paris, France published a preliminary study in the "Journal of Clinical Medicine" for the purpose of creating such a dashboard. After a systematic review from the literature database to identify earlier tools employed in clinical trials and studies, and among 630 articles, 159 were found to be eligible. Evaluating 159 articles, the authors selected 48 patient-reported outcome measures and evaluated them according to their reliability, validity, responsiveness to change, and construct popularity in women with endometriosis.
The selected 48 patient-reported outcome measures were separated into 12 groups by outcome types as the general quality of life, endometriosis-related quality of life, symptomatic impact, painful symptoms, physiological effects of pain, sexual function, fatigue, depression, and anxiety, digestive function, urinary function, work impact, and others. The authors then evaluated every questionnaire used in that 12 separate groups and specified their verification concerning validation, usefulness, or difficulties to use.
The authors clarified that "This selected catalog of PROM is the starting point for the integration of digital tools and will be able to support the clinicians to provide a decision in routine endometriosis care".
---
---
quality of life
sexual life
pain
symptms
depression
anxiety
outcome
self-report
endometriosis.
DISCLAIMER
EndoNews highlights the latest peer-reviewed scientific research and medical literature that focuses on endometriosis. We are unbiased in our summaries of recently-published endometriosis research. EndoNews does not provide medical advice or opinions on the best form of treatment. We highly stress the importance of not using EndoNews as a substitute for seeking an experienced physician.
<< Previous Article