Etiopathogenesis of Endometriosis and Links with Endometrial Cancer
By:
Nasuhi Engin Aydin
- Nov 8, 2021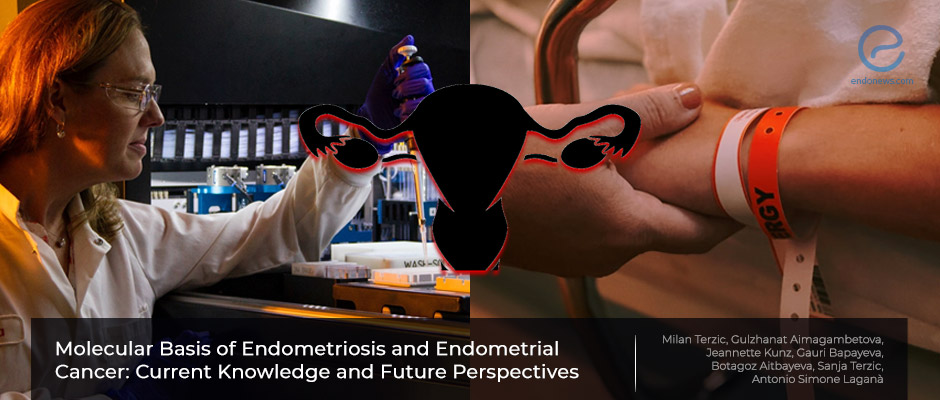 Controversial findings on endometriosis and malignant transformation waiting to be resolved
Key Points
Highlights:
Endometrial tissue undergoes cyclic changes through the menstrual periods and the regeneration process is thought to be dependent on progenitors/stem cells of the basal layer.
In spite of scientific research focusing on endometriosis, the etiopathogenesis and progression to endometrial cancer remain largely unknown.
Importance:
Scientific research over the last decade has yielded new insights into the pathophysiology of endometriosis.
Clinical point of view on endometrial cancer is in need of integrated molecular risk profile identifying women with endometriosis who are at risk of malignant transformation.
What's done here:
This is a comprehensive review presenting the contemporary molecular scientific basis of endometriosis pathophysiology and its potential impact on the development of endometrial cancer.
Key results:
Studies to date have reported inconclusive data for a relevant association between endometriosis and endometrial cancer.
Large-scale investigations are required to clearly demonstrate this putative link.
Molecular studies are expected to yield relevant scientific data on the properties of native endometrial tissue and endometriosis:
This would clarify endometriosis pathogenesis better, and also could yield hints on malignant transformation of endometrial tissues.
Lay Summary
Professor Terzic and colleagues from the Medical School of Nazarbayev University, Kazakhstan published their review on the molecular aspects of endometriosis and endometrial cancer in "International Journal of Molecular Sciences".
The etiopathogenesis of endometriosis has remained controversial, with recent studies suggesting a pelvic inflammatory condition, i.e. "sterile peritonitis". The peritoneal fluid has an increased concentration of activated macrophages besides an inflammatory profile in the cytokine/chemokine molecular status. There is also further evidence on hormonal and immune factors creating a pro-inflammatory milieu supporting the persistence of ectopic endometrium.
It is a well-known fact that endometriosis has multiple genetic and environmental factors also, contributing to etiopathogenesis. On the other hand, most of the genome-wide association studies failed to confirm a clear-cut link between endometriosis and specific risk loci. The stem cell origin theory of endometriosis has gained attention recently following advances in molecular and genetic science. Further studies are needed to understand stem cell function and regulation on eventual changes behind the endometrial pathologies.
There are studies reporting links between endometriosis and endometrial carcinoma reflecting overlapping etiopathogenetic factors between the two pathologies, mainly endogenous or exogenous hyperestrogenism and ovulatory dysfunction. However, epidemiological studies have not confirmed an association between the diagnosis of endometriosis and the risk of malignant transformation.
At the moment, scientific research data has been inconclusive in providing an association between endometriosis and malignant transformation, i.e. endometrial cancer. Large-scale research may help in resolving this dilemma. Molecular scientific research on endometrial tissue function and endometriosis could yield novel findings on the real cause of the condition and the factors leading to cancer development.
---
---
endometriosis. cancer
molecular medicine
corpus
endometrium
genome
link
stem cell
etiopathogenesis
association
research
hormones
inflammation
DISCLAIMER
EndoNews highlights the latest peer-reviewed scientific research and medical literature that focuses on endometriosis. We are unbiased in our summaries of recently-published endometriosis research. EndoNews does not provide medical advice or opinions on the best form of treatment. We highly stress the importance of not using EndoNews as a substitute for seeking an experienced physician.
<< Previous Article

Next Article >>