Endometriosis: Less is better. How to improve the integration between surgical and medical therapy - Errico Zupi, MD
By:
Özge Özkaya
- Dec 17, 2020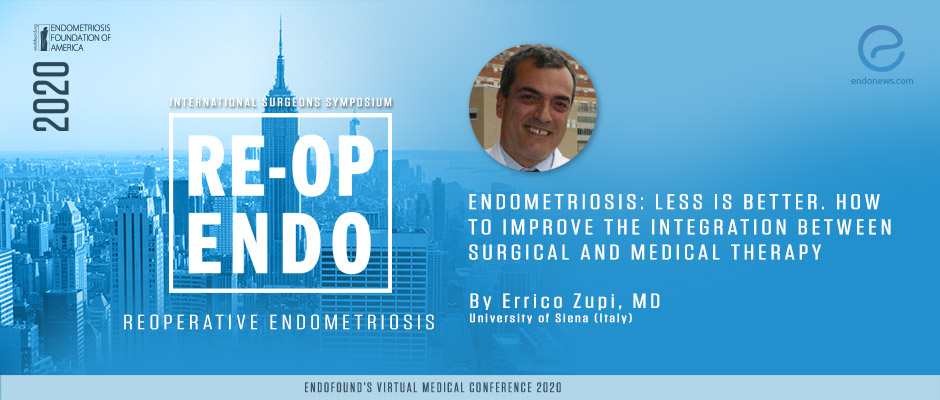 An integrative approach of medical and surgical treatment is paramount.
Key Points
Information about the presenter: This presentation is by Dr. Errico Zupi, M.D., Associate Professor in the Department of Obstetrics and Gynecology at the University of Rome "Tor Vergata" in Italy. Dr. Zupi's presentation is titled "Endometriosis: Less Is Better. How to Improve the Integration Between Surgical and Medical Therapy" and is about the importance of both approaches to offer women the best possible treatment.
Highlights:
The accurate preoperative diagnosis of endometriosis is paramount and should be done via non-invasive imaging.
A multidisciplinary team approach is essential for the best treatment of endometriosis.
Importance:
An accurate diagnosis can allow patients to receive the right counseling before surgery.
Patients need to understand that endometriosis is a chronic disease often requiring medical treatment following surgery.
Remarks:
Both medical and surgical treatment is necessary for the management of endometriosis.
The first step in the treatment of the disease is an accurate diagnosis before surgery, which should be done using non-invasive imaging.
An ultrasound scoring system that can determine the size and location of the pathology can help develop a surgical scoring system that can help surgeons to be better informed before the surgical procedure.
A multidisciplinary team approach comprising of general surgeons, urologists, and gynecologists is essential.
Endometriosis is a chronic disease and medical treatment is necessary after surgery.
The more precise the preoperative diagnosis is the more accurate will be the patient counseling.
An algorithm based on preoperative imaging is in place for the selective bowel resection to treat bowel endometriosis.
Lay Summary
In this presentation, Dr. Errico Zupi, Associate Professor in the Department of Obstetrics and Gynecology at the University of Rome talks about the importance of an integrative approach comprising of both medical and surgical interventions to treat endometriosis.
"The first step is an accurate preoperative diagnosis", Dr. Zupi says and adds that in the past there was a lot of confusion about the best possible method but that currently non-invasive imaging, not laparoscopic surgery, is the best approach. According to Dr. Zupi, non-invasive imaging before surgery can provide information about the localization and depth of the lesions, and allow surgeons to be better prepared for the procedure. Good preoperative imaging will also ensure patients get the best possible counseling, he adds.
Dr. Zupi then covers cases when surgery will be mandatory, such as suspicion of malignancy, lesions are bigger than 10 cm in diameter, if the disease is unresponsive to medical treatment, and if the patient is trying to get pregnant.
According to Dr. Zupi, a medical approach should be preferred in case of pain but no obstructive symptoms, if the patient cannot or does not want to be operated on and does not want to get pregnant, in case of repetitive surgery, and to prevent or treat recurrence. Dr. Zupi then moves on to talk about available medical treatments such as esto-progestins, progestins, and GnRH analogs in combination with non-hormonal treatments.
The guidelines in case of spontaneous pregnancy, Dr. Zupi says are to offer excision or ablation of endometriosis plus adhesiolysis (a surgical procedure that removes abdominal adhesions) for endometriosis not involving the bowel, bladder, and ureter, and laparoscopic ovarian cystectomy with the excision of the cyst wall in patients with endometriomas. Finally, Dr. Zupi talks about the situations when medical treatment should not be used. These include the patient having obstructive bowel symptoms, urinary symptoms or obstructions, pain that is unresponsive to medical treatment, and is willing to become pregnant, he says.
Dr. Zupi concludes his presentation by stressing that it is not always easy to choose the right treatment approach and that the more precise the preoperative diagnosis is the better.
---
---
medical treatment
surgery
diagnosis
imaging
mc2020
DISCLAIMER
EndoNews highlights the latest peer-reviewed scientific research and medical literature that focuses on endometriosis. We are unbiased in our summaries of recently-published endometriosis research. EndoNews does not provide medical advice or opinions on the best form of treatment. We highly stress the importance of not using EndoNews as a substitute for seeking an experienced physician.