Endometriosis involving the superficial peritoneum in Adolescents: Surgical Management
Apr 1, 2019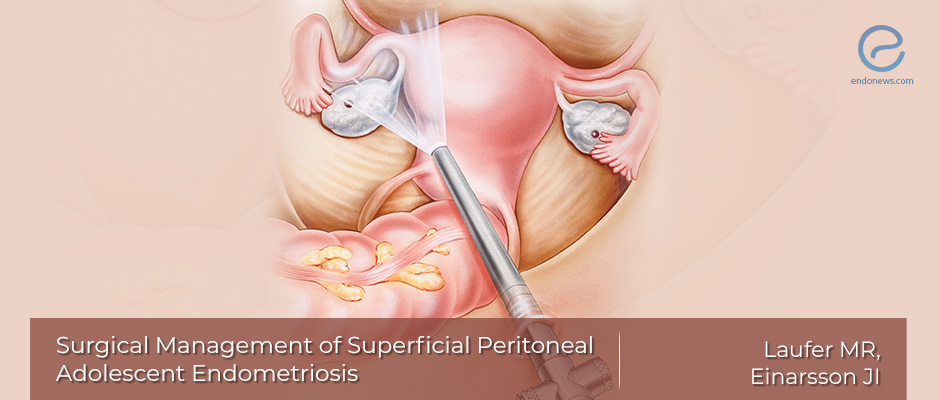 Case report displaying the risks of non-curative excisional endometriosis surgery in a young patient with superficial peritoneal endometriosis
Key Points
Highlights:
The risks of radical excisional therapy and the indication in superficial peritoneal endometriosis requires further study.
Key results:
Post-operative hormone therapy for endometriosis management should be strongly considered in patients undergoing excisional endometriosis surgery.
Specialized endometriosis Ob/Gyn surgeons should consider the risks involved in radical excisional surgery for young patients with superficial endometriosis.
The long-term benefit in the surgical management of superficial endometriosis requires further benefit when considering radical excisional surgery.
What's done here?
This study aims to present a complicated case of an adolescent with a significant history of chronic pelvic pain which was later found to have superficial peritoneal endometriosis.
After her initial surgery failed to prevent the recurrence of her pelvic pain, excision of the peritoneal lesions was performed without postoperative hormonal suppression, causing a significant increase in symptoms.
The third operation with hormone therapy was needed to achieve symptom relief for this patient.
Limitations:
This is a case report regarding radical excisional surgery and its potential complications. Further randomized, controlled studies are needed to provide further insight into the utility of radical excisional therapy and the need for post-operative hormonal therapy to lessen post-operative symptoms as well as decrease the chance of symptom recurrence.
Lay Summary
Endometriosis is a chronic disease whereby endometrial glands and stroma grow and survive outside of the uterus. In some cases, endometriosis may become symptomatic and cause debilitating, chronic pelvic pain. Among pelvic organ and other surfaces that endometriosis can involve is the peritoneum. The peritoneum is a connective Endometriosis that affects adolescent girls typically presents as Stage I with superficial peritoneal disease (SPD) and less commonly as Stage III or IV with deeply infiltrating endometriosis (DIE).
A 15-year-old adolescent female with a history of 2 prior laparoscopies for pain and an ovarian cyst removal presented after these procedures with continues chronic pelvic pain. After a third laparoscopy was performed, superficial peritoneal endometriosis was found to involve multiple areas of the pelvis that were not noted in her prior surgeries. The lesions were then surgically cauterized, and adhesions were lysed. Unfortunately, she presented again a few months later with continued pelvic pain and underwent a 4th surgery for radical excision of what was seen to be a more peritoneal disease involving the peritoneum in the anterior cul de sac and pelvic sidewalls. She was not given hormonal therapy after radical excisional surgery. After the surgery, her pelvic pain became worse. The patient self-referred to another provider and at that time, was given 6 months of medical hormonal therapy that did not significantly reduce her symptoms. 8 months after the radical excisional surgery, she elected for a 5th laparoscopy which revealed extensive pelvic and ovarian adhesions. The adhesions were once again lysed and the endometriotic lesions were excised. Post-operatively, her symptoms improved, and she remained on combined hormone suppression. On a two-year follow-up, her symptoms remained to be improved.
This case report reflects the risks of radical excisional surgery in young patients with endometriosis involving the superficial peritoneum. After the radical excisional surgery, the patient continued to have symptoms that worsened. This was a sign that the radical excisional surgery at the time was not curative. However, her final excisional surgery improved the patient's pain and endometriosis burden. Thus, further randomized, controlled studies are needed to provide insight into the utility of radical excisional therapy and the need for post-operative hormonal therapy to lessen post-operative symptoms as well as decrease the chance of symptom recurrence.
---
---
fertility
endometriosis
surgery
radical
endometriosis surgery
DISCLAIMER
EndoNews highlights the latest peer-reviewed scientific research and medical literature that focuses on endometriosis. We are unbiased in our summaries of recently-published endometriosis research. EndoNews does not provide medical advice or opinions on the best form of treatment. We highly stress the importance of not using EndoNews as a substitute for seeking an experienced physician.
<< Previous Article

Next Article >>