"Endometriosis", "Fibromyalgia" and "Autoimmune diseases"
Jun 28, 2019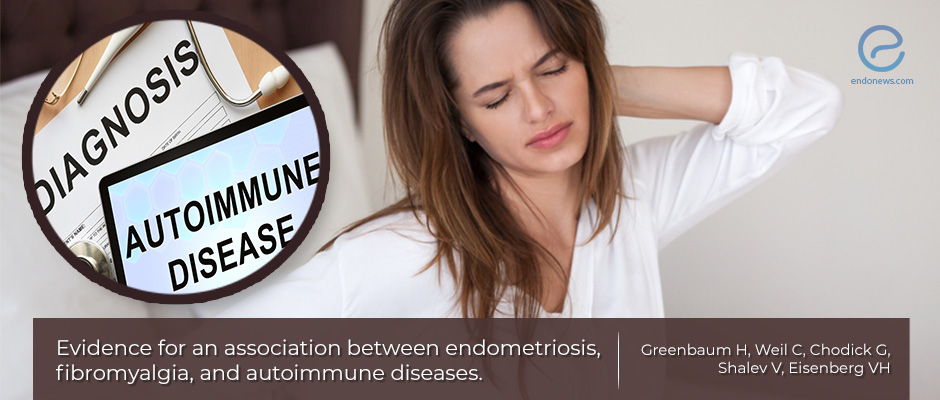 Autoimmune diseases are more prevalent in patients with endometriosis and/or fibromyalgia.
Key Points
Highlights:
Co-occurrence of endometriosis and fibromyalgia is associated with a high burden of autoimmune diseases, anxiety/depression, and healthcare resource utilization.
Importance:
Diagnosing endometriosis and/or fibromyalgia should prompt a search for other autoimmune diseases which need to be ruled out in order to achieve appropriate patient care.
Objective:
The authors aimed to investigate the prevalence of endometriosis and fibromyalgia, their co-occurrence, and their association with autoimmune diseases and healthcare resource utilization.
What's done here?
The authors carried out a retrospective cross-sectional study using the computerized databases of Maccabi Healthcare Services which is a big healthcare organization in Israel.
They calculated age-sex-specific point prevalence rates of endometriosis and fibromyalgia and described socio-demographic characteristics, healthcare resource utilization, co-morbidities, including autoimmune diseases and depression or anxiety.
Key results:
The prevalence of fibromyalgia is found to be higher in women with endometriosis (6%) than in the general population (3.2%); it is also higher in older women.
Endometriosis and fibromyalgia were often diagnosed in the same year or fibromyalgia preceded endometriosis. This can be explained by the triggering effect of traumatic events or infection on the development of co-existing fibromyalgia and endometriosis.
Women with both endometriosis and fibromyalgia more likely to have autoimmune diseases, anxiety/depression, and are characterized by increased use of healthcare services.
Limitations of the study:
Since endometriosis diagnosis may be missed in asymptomatic women and symptomatic women who have varied and nonspecific presentations, the prevalence of endometriosis may not be exactly assessed.
In this study, the diagnoses were based on clinical data accompanied by clinical tests and most of the women did not undergo laparoscopic surgery which is the needed method for definitive endometriosis diagnosis.
Since diagnostic criteria of fibromyalgia has changed over time, and these changes may affect the estimates of time since diagnosis.
Lay Summary
Greenbaum et al. from Israel, investigated the prevalence of and the association between endometriosis, fibromyalgia and autoimmune diseases in a large population database and described healthcare resource utilization in affected women. Their study has been published in the "American Journal of Reproductive Immunology".
The authors performed a retrospective cross-sectional study using the computerized database of Maccabi Healthcare Services which has over 2.1 million members in Israel. Women aged ≥15 years who were registered in Maccabi Healthcare Services on 31/12/2015, had at least 1 year of continuous enrollment, and were ever diagnosed with endometriosis and/or fibromyalgia were included in this study. A comparison group was defined as a random 10% sample of the general population who had no indication of endometriosis or fibromyalgia in their medical records.
Authors collected data on patients' age, socioeconomic status, residence area, and birth region. Autoimmune diseases were defined according to ICD-9 diagnoses for Graves' disease, Hashimoto's thyroiditis, systemic lupus erythematosus, Sjögren's syndrome, multiple sclerosis, and inflammatory bowel disease. Chronic co-morbidities such as cardiovascular disease, diabetes, hypertension, and chronic kidney disease, and infertility were defined using the Maccabi Healthcare Services automated patient registries. Cancer history was based on the Israel National Cancer Registry. The smoking status of the patients was extracted from physician reports. Anxiety or depression was defined by ICD-9 diagnoses supported by at least two separate purchases of antidepressants. Annual healthcare resource utilization was also described by obtaining the data on the frequency of visits to primary care physicians, rheumatologists, and gynecologists.
Of a total population of 781,571 adult women, 6,647 had endometriosis and 25,425 had fibromyalgia. A total of 401 women had both conditions. The mean age of the women diagnosed with endometriosis and fibromyalgia was 42 and 55 years, respectively. Those 401 women were characterized by increased healthcare resource utilization and a high prevalence rate of autoimmune diseases compared to the control group. The prevalence of fibromyalgia in women with endometriosis was 6%.
In this study, women with endometriosis or fibromyalgia were found to more frequently have autoimmune diseases, including systemic lupus erythematosus, Sjögren syndrome, and inflammatory bowel disease than women with no indication of either condition, suggesting that both endometriosis and fibromyalgia may have an autoimmune component.
To conclude, this is the first study to show the association between endometriosis and fibromyalgia and autoimmunity in a large community-based database. The findings may also be relevant to populations other than Israeli. This study may contribute to developing a more comprehensive approach to managing the complex needs of these patients. Endometriosis patients with poor response to treatment should be investigated to rule out associated fibromyalgia and autoimmune diseases.
---
---
endometriosis
fibromyalgia
autoimmune diseases
anxiety
depression
healthcare resource utilization
DISCLAIMER
EndoNews highlights the latest peer-reviewed scientific research and medical literature that focuses on endometriosis. We are unbiased in our summaries of recently-published endometriosis research. EndoNews does not provide medical advice or opinions on the best form of treatment. We highly stress the importance of not using EndoNews as a substitute for seeking an experienced physician.
<< Previous Article

Next Article >>